Nakuru traffic officers on the spot over motorist assault
Independent Policing Oversight Authority (Ipoa) is investigating an incident where three traffic officers were captured on camera assaulting a motorist in Nakuru.
The officers had put a roadblock at Barnabas trading centers along the Nairobi-Nakuru highway when the incident occurred on December 23 at around 5pm.
"Ipoa on its own motion has this afternoon launched investigations into the assault and injury of the two people. In the course of investigations, if culpability is found or further misconduct established the Authority will make appropriate recommendations against the police officers to the Director of Public Prosecutions, the National Police Service, the National Police Service Commission or any other State Agency," read a statement issued by the agency on Saturday.
The Standard team caught up with Kenya Broadcasting Cooperation (KBC) cameraman Simon Mbugua alias Simon Ben who captured the clip that went viral.
Mbugua claimed that he was also attacked by the officers while taking the video using his mobile phone.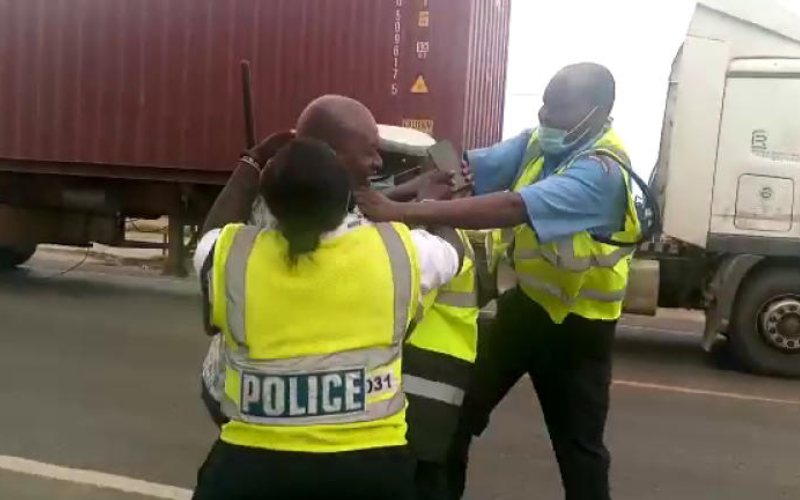 "The officer confiscated my two mobile phones and ordered me to delete the clips I had taken," said Mbugua who has reported the incident to Nakuru Central Police Station via Occurrence Book no. 107/23/12/20
Region traffic boss Dorothy Muleke, dismissed claims that traffic police assaulted the motorist. She said the motorist, Francis Koigi, defied orders and instead got out of his vehicle and began harassing the policeman on duty.
"My officers were checking traffic flow, but unfortunately, they were provoked by one of the motorists who overlapped and attacked them," said Muleke in a phone interview.
National Police Service also took to Twitter to respond to the claims saying the clip does not show the full incident.
"We wish to respond to a video circulating on social media where officers are seen subduing a motorist in an attempt to make an arrest. The said motorist was stopped while overlapping along the busy Nairobi Nakuru highway. Upon stopping he assaulted the police officer."?