Sudi eludes officers after night long search as locals fight to block arrest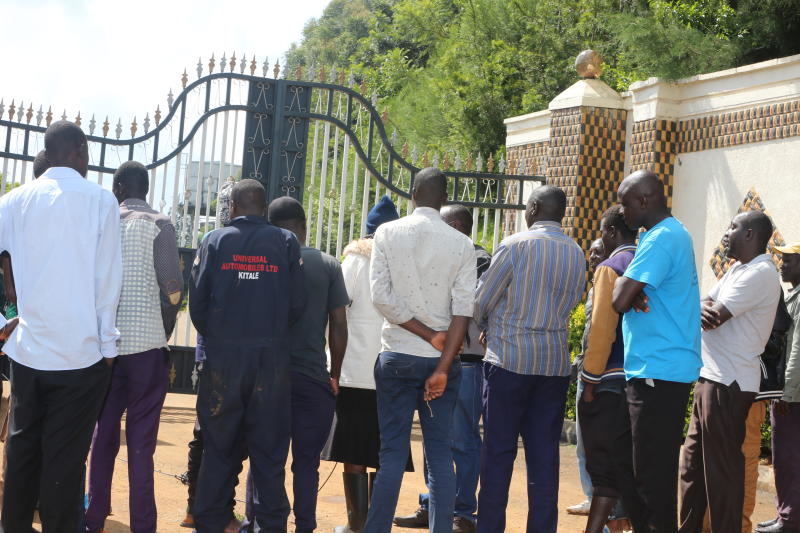 The puzzle over the impending arrest of Kapseret MP Oscar Sudi continued to unravel yesterday, as a heavy contingent of police officers camped outside his home for the second night in a row.
Police reports indicated that Sudi is wanted for hate speech, which is under investigation by the National Cohesion and Integration Commission.
On Friday, a standoff ensued after police claimed that occupants of the residence refused to open the gate. Officers were forced to gain entry through the fence of the compound.
During the standoff between police and residents, a GSU officer was hacked on his right hand with a machete, while one man was also shot in the shoulder and five others arrested.
The police report further indicated that at least three officers later confirmed to be working with the Presidential Escort Unit were found inside the compound.
Two Presidential Escort Unit officers are said to have engaged their colleagues in a scuffle before they were apprehended. Those arrested are expected in court tomorrow to face various charges, police aware of the plans said.
On Friday the MP held a demonstration in Eldoret town streets stating that he will continue to advocate for a just society despite calls to him to apologise for disrespecting the First Family.
"No one will silence us. You do not see me addressing anything just for the sake of it. We have the freedom of expression in the Constitution and no one should intimidate us," he said.
Sudi had earlier taken to social media to dare police to arrest him over the remarks.
The MP reportedly sneaked out of his home in the company of a police officer from the presidential escort team.
A source said he had been traced to a house in Nairobi, but police were restrained from proceeding there because they would cause "embarrassment" to the owner.
Take a quick survey and help us improve our website
Take a survey
"We know where he is hiding and we are avoiding embarrassment on the owner. It is a shame he is hiding there yet he has been daring police to go and arrest him," said an official aware of the development.
After he sneaked from his home, he was driven to board a lorry that ferried him to Karen, Nairobi. Those close to him said he plans to surrender either today or tomorrow for processing and possible arraignment.
There was drama on Friday night and yesterday morning when the MP's supporters blocked the Eldoret-Kapsabet road to stop police from arresting him.
A contingent of police officers led by Uasin Gishu County Police Commandant Johnstone Ipara camped outside Sudi's compound and asked his lawyer Gladys Boss to persuade him to surrender.
Ms Boss, who is Uasin Gishu Woman Representative told Mr Ipara they should wait until daytime to serve Sudi a warrant of arrest, if there was any.
The MP's lawyer accused the police of disconnecting power to the residence.
Police had a hectic time controlling youth who barricaded the road leading up to Sudi's residence.
The MP took to social media to castigate the police for unlawfully trying to gain entry to his home at night.
The police were forced to keep vigil outside the gate.
Around 3am hell broke loose after police were reinforced by GSU officers, who removed barricades and the locks at the MP's gate, and doors were shot open. They fired sporadically in the air and lobbed tear-gas canisters to disperse residents.
But the officers did not find the MP in the house and they extended the search to his Elgon View residence. Locals claimed three people, including Sudi's brother and an uncle, are admitted in hospital with gunshot wounds.
"Let it be clear that we shall not allow our MP to be taken at night. We do not know who these people are. They might be hit men sent to eliminate Sudi," the residents said.
Susan Mutai, a local, claimed that police terrorised residents the whole night.