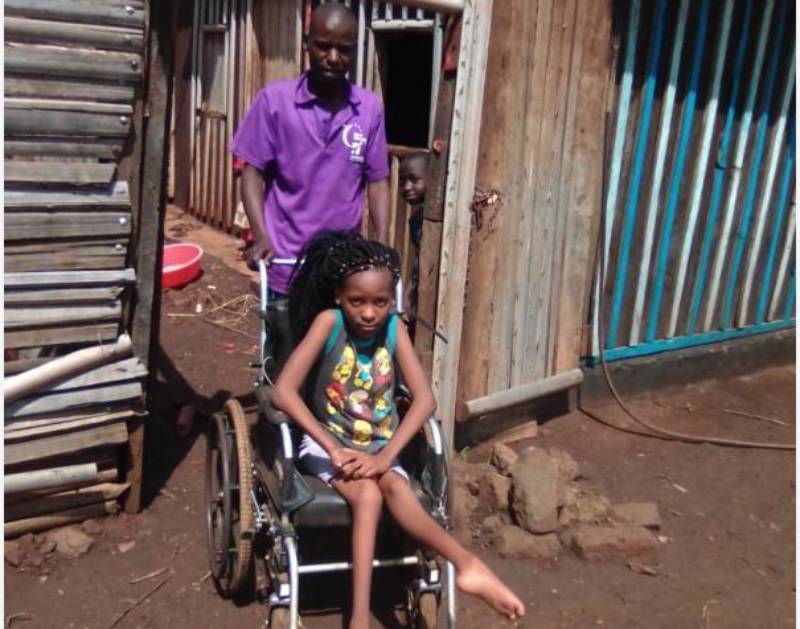 Like all newlyweds, Francis Kinyua and his wife Rukia Gacheri were overjoyed to learn that they were expecting their first child.
All was well in their young marriage until it was time for the baby to come.
It all started on October 9, 2007, when Kinyua, who worked as a guard, received a call that his wife had been rushed to hospital for delivery.
When he got to Kiengu Nursing Home in Maua, Meru County around 6pm, he was shocked to learn that his wife had given birth to twins. All along, they thought she was carrying one baby.
Like any curious parent, when Kinyua asked the doctors how this happened, they casually told him that his wife may have missed out on attending prenatal clinics.
Read More
"They came to this conclusion because when they asked her for a clinic card before admission for delivery, she failed to produce it," says Kinyua.
But the parents were in for more shocking news.
The couple was told that their newborns were not only twins, but were conjoined with one severely deformed; a case of a paralytic twin.
A parasitic twin is an identical twin that has stopped developing during gestation, but is physically attached to the fully developing twin. The fully developed twin is also known as the dominant or autosite twin.
The doctors explained that the dominant twin, named Glory Kinya, had more chances of survival than her parasytic sister, who was totally reliant on Kinya.
Painful bus ride
"Before I could digest all this information, the doctors told me that there was nothing more they could do to save my babies and referred us to Kenyatta National Hospital," recalls Kinyua.
And that is how the long, lonely journey of searching for help for their baby started.
The new mother was immediately discharged. Fresh from delivery, mother, father and their newborns boarded a bus to Kenyatta National Hospital in Nairobi.
"It was painful to watch my wife. Still weak and sore, seated in a bus headed to Nairobi to seek answers. She cried silently. The babies screamed. It broke my heart."
After a long torturous journey, they finally arrived at the referral hospital.
The doctor told them to come back on October 15, a week later. On the appointed day, they were told to come back after seven days.
"For two-and-a-half-months it was back and forth because there were no beds available for admission. Because we had no money for accommodation, we would merge seats and use them as beds. In the morning, we would look for a cheap place to freshen up and eat a small meal," recalls Kinyua.
After three months of an endless pursuit, a frustrated Kinyua had a mental breakdown and ran out of the hospital screaming.
Someone called the media who highlighted his situation. The story caught the attention of a doctor at Kijabe Hospital, who agreed to separate the twins for free.
"Before the operation, the doctor told us that the parasytic twin will not survive on her own. He also told us that they were suffering from spinal bifida. He said Kinya may not be able to walk. But we kept hope alive," narrates Kinyua.
The separation done in December 2007 was successful. Sadly, the parasytic twin died in the process. And for the surviving twin, Kinya, it was a long and agonising journey to healing.
Wife left
In 2009, Gacheri, having had enough, left Kinyua to take care of the ailing child alone.
"One afternoon, I received a call when I was at Kenyatta with Kinya and the caller said my wife had packed her belongings and left. I was devastated that she had left without telling me, but what could I do? I had to focus all my energy on my daughter's healing journey," says Kinyua.
Alone, Kinyua continued to take care of an infant who solely depended on him for everything, from feeding to bathing.
Sometime in 2009, young Kinya then aged two, developed a rash around the incision point and on her abdomen, which became a septic wound.
Since she did not have an opening from which to pass stool, Kinya also underwent a colostomy in 2010 where they shortened her colon and removed the damaged part to create an opening in the abdominal wall.
In a month, she uses diapers worth Sh7,000 and Sh60,000 worth of colostomy bags.
Already, the 12-year-old has undergone 13 surgeries with the most recent one performed two months ago. But like other teenagers, she still dreams big and hopes for a brighter future.
"I home school her. I have bought her revision textbooks to enable her study from home. A teacher from a local private school brings her exams, which she does and the teacher marks them," says the proud father.
Although she has been through so much, Kinya holds dear her dream to be a pilot.
To help that vision come true, Kinyua has unsuccessfully tried to enroll his daughter in several special schools for children living with disabilities.
"All schools for the disabled that I approached refused to admit her and told me to take her to another school because they were not equipped to handle her unique challenges," says Kinyua.
At home, Kinya likes to dress in her school uniform as she reads her textbooks.
For her independence now that she is approaching teenage, she has since learnt to change her own diapers.
The financial strain that Kinya's medical bills put on the family drove a desperate Kinyua to sell 40 acres of ancestral land to seek specialised care. Tough as it may be, he soldiers on.
Conjoined twins
Conjoined twins are a rare occurrence especially in Kenya where there is no data on the same.
According to global estimates, however, conjoined twins occur in about 1 in 50,000 to 1 in 100,000 births.
According to Dr Kimani Ndung'u, a gynaecologist at Consolata Hospital in Meru, the rare condition can be detected prenatally.
"A pregnant woman should ideally have an ultrasound done early in the first trimester to identify presence of twins and if they are sharing a placenta or not. Subsequent ultrasound scans will establish if there are organs shared by the twins. This info will help in planning for safe delivery," said Kimani.
While there is a genetic predisposition to getting twins, conjoined twins are not genetic but the result of a chance occurrence during feotal development.
Conjoined twins arise when a single egg from the female is fertilised by one sperm. The resulting pregnancy then splits into two but fails to split completely. The delivered foetuses are physically joined at some point on their bodies.
Contrary to popular belief, family planning methods cannot cause this condition.
Although occurrence of conjoined twins cannot be prevented, early detection during prenatal visits can help doctors plan for the safe delivery and care of the babies.