Kinyanjui: Service delivery in counties will stall in three months' time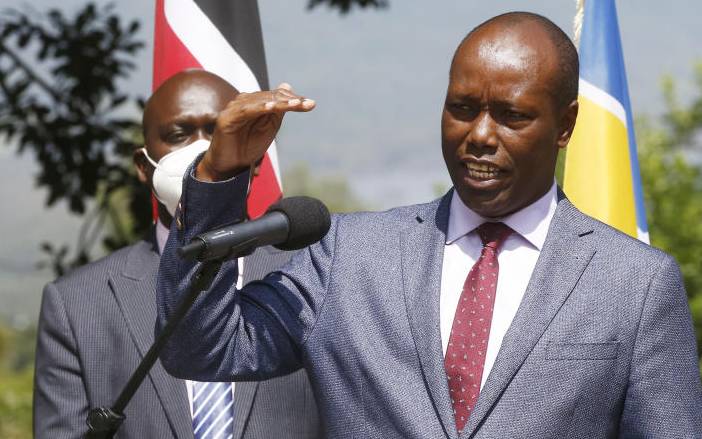 Counties operations might grind to a halt in three months due to lack of funds, Nakuru Governor Lee Kinyanjui has warned.
Addressing the Press, Mr Kinyanjui said the continued delay by the Senate to approve a revenue-sharing formula would result in counties shelving most of their operations and only focus on the health sector.
"If the Senate doesn't approve a workable formula, service delivery in the counties will stall. Currently, we can only support the health sector for three months," he said.
The governor called on the Senate to expedite passage of the third generation formula, expressing his disappointment at the stalemate that has denied the devolved governments funds.
"We need to stop gambling with the lives of Kenyans. Without these funds, we shall not be able to efficiently run the health sector, which needs heavy financial support now to save lives," said Kinyanjui.
Nakuru County is among other counties that are yet to pass the 2020/2021 budget as the resources to be budgeted for depending on the allocation they will get after Senate's resolution.
"Our budgets are in limbo since we don't know how much is there to allocate to development and service delivery. We need to hire more health workers but we can't budget for that without knowing what we will get from the national government," he said.
He praised Nakuru Senator Susan Kihika for standing her ground on the formula, saying that the county would gain what it has for many years been denied under the previous formulas.
"As a county, we congratulate Senator Kihika for standing firm on this matter, fighting for more resources to come to Nakuru. These are resources that we deserve but we have been denied all along," he said.
The governor backed the third generation formula, which gives priority to the population as the main parameter in the sharing of resources. He said the county has a huge population that contributes a sizeable percentage of the country's Gross Domestic Product.
"Nairobi, Nakuru, Kiambu, Mombasa, Kisumu and Uasin Gishu receive the least revenue share while their total contribution to the GDP is 43.2 per cent," he said.