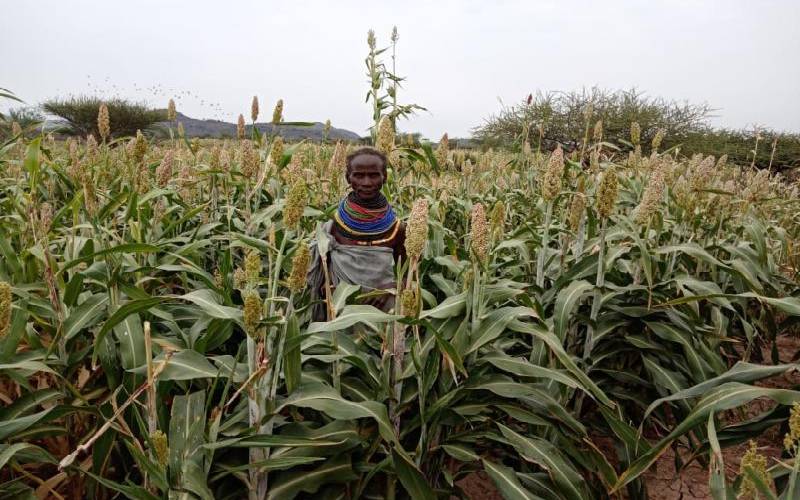 For decades, residents of Kajukjuk in Turkana North have been ravaged by droughts and famines leaving them dependent on relief food from the Government and well-wishers.
With the help of county government and GIZ, a German development agency, over 300 households at the Kajukjuk Irrigation Scheme have a reason to smile as they can now produce food crops to sustain their families.
Mary Lokomauten Natoo, a beneficiary of the scheme, now sells cow peas at nearby markets of Kachoda, Kaalem and Kaaleng which enables her to feed family of six children without straining.
"I sell the leaves to livestock farmers and make Sh200 per day," she said.
During the dry season, the community migrated from the area in search for pasture and food but currently, sorghum is fodder to their livestock.
The project has offered a ray of hope to locals who have braved the negative effects of famine.
Kajukjuk irrigation scheme chairman James Lemuya Erot noted that spate irrigation technology utilises flood water from Lagas as source of water for food production.
He added that the floods that have long been viewed as disastrous can also be utilised for food production through spate irrigation technology.
He added that project which is being undertaken at Kaleng Kaikor Ward said the project costs Sh6.3 million and Phase Two of the project will commence next year.
Loomwa Loochi, a farmer who benefited from the project said he expects to harvest 13 bags of 50 kg from his piece of sorghum plantation.
"We have been depending on relief food year in year out, but we want to change the image of the perceived Turkana as ravaged by famine," he said.
Speaking to The Standard, the project's resident engineer Charles Ekeno said floods have always been regarded as disaster but with the use of spate technology, floods are utilised for irrigating arable lands in lowlands of Turkana county.
Some 300 households will directly benefit from the project and 1,200 people will also benefit indirectly.
"The acreage of the project is 100 acres with potential of increasing to 300 acres. Kajukjuk spate irrigation is breaking records with its first harvest in history which was bountiful," he added.