Sicily takes 2022 battle to Kimemia's doorstep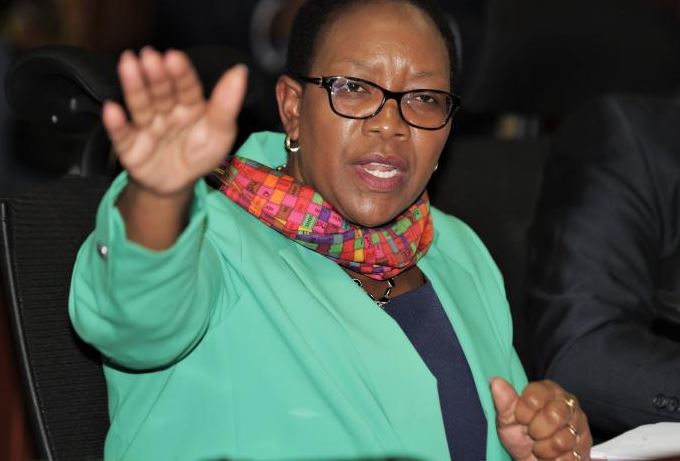 A supremacy battle has erupted in Nyandarua County pitting Water, Sanitation and Irrigation Cabinet Secretary Sicily Kariuki (pictured) and Governor Francis Kimemia.
The county chief, who has not taken Ms Kariuki's 'development tours' in the county well, is now accusing the CS of using State resources to launch her 2022 gubernatorial campaign.
Although she has not declared interest in any political seat, word has it that Kariuki might be eying Governor Kimemia's seat.
Speaking while distributing subsidised fertiliser to farmers at Njabini Farmers Training Centre, Kimemia took a swipe at Kariuki, saying she should declare her interest in the county.
"We have seen people going round the county pretending to be inspecting government projects when we know they are campaigning. We do not want politics, especially during this time when we are fighting the Covid-19 pandemic," he said.
Pundits say the CS is keen on dethroning Kimemia and is using her Cabinet position to build political clout in the region where her husband hails from.
Before she was transferred from the Health ministry, Kariuki organised a series of medical camps in the region which pundits say were an attempt to endear herself to the electorate. She also oversaw the construction and opening of Ndaragwa Kenya Medical Training Centre.
Now heading the Water ministry, the CS has toured the Sh200 million Karagoini water project in Ndaragwa constituency several times and is said to be the force behind the Sh100 million Rutara dam being put up at Milangine Sub-county.
But it is the CS's most recent tour last week in which she distributed more than 10,000 avocado tree seedlings that seemed to have rattled the governor.
Although agriculture is a devolved function, there was no representative from the governor's office in the CS's tour. The event was held at the local county commissioner's office.
Contacted for comment about Kimemia's reservations and her political ambitions, Kariuki referred The Standard to the Water ministry's legal adviser, Nderi Ndiani, who denied that his boss was engaging in politics.
"We are distributing the avocado seedlings in some 31 counties. This is not politics but service delivery," said Mr Ndiani.
He described the CS's tour of Nyandarua to distribute avocado seedlings as 'coincidence.'
"This was a directive from the president when he toured the area earlier and we have to deliver the seedlings as promised. Let us not engage in politics when we are serving Kenyans," said Ndiani.
He denied claims that his boss was eyeing a political seat in Nyandarua.
"What I know is that she is fully dedicated to her work as CS. She is not in politics as some people think," he said.
Political analysts in the region see the CS's tours as a tip of the iceberg.
"We are yet to see more of these tours. The CS, in most of her meetings in Nyandarua, refers to herself as one of the county's daughters. This means that she is free to vie for any seat when the time comes," said Thuo Gachino.
Nyandarua County Assembly Speaker Ndegwa Wahome, a close ally of the CS, said Kariuki was free to traverse the country to inspect development projects.