Bleak future for local traders after closure of game reserve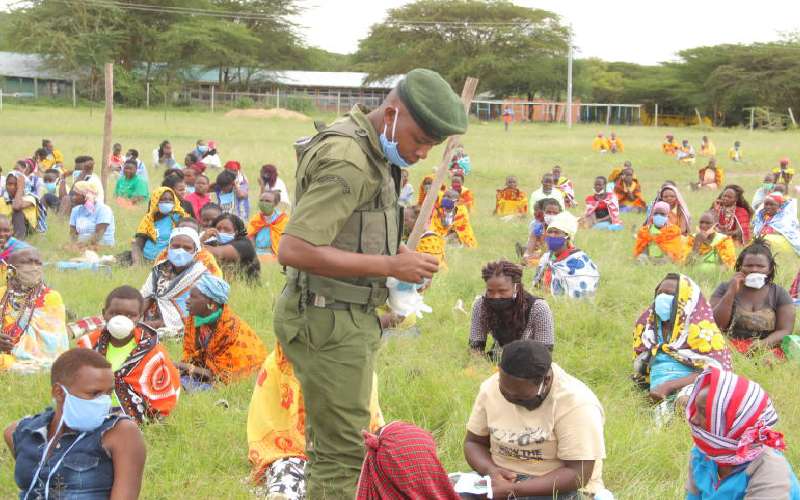 Nashuluni Maitai always looks forward to the annual wildebeest migration spectacle.
But this year, things are different.
Ordinarily, June to October is the busiest season but with the closure of the Masai Mara Game Reserve, Maitai is staring at a bleak future because the wildebeest migration means a windfall for her as she sells bead work and other artefacts.
Like other women who used to sell their wares at the Sekenani Gate, the 35-year-old resident of Narok County is now forced to stay at home.
"I had bought beads and materials ready to make many ornaments that I could sell.
"I have been preparing since January but now I am grounded because of the Covid-19 pandemic," Ms Maitai says.
Following the coronavirus outbreak, the Narok County government which manages the Masai Mara park closed it a month ago.
Take a quick survey and help us improve our website!
Take a survey
After the cancellation of international flights, the hotels and tented camps in the Mara closed down indefinitely with most of them sending their workers home.
The local community who depended on tourism at the game reserve including tour guides and drivers, waitstaff, conservancy owners and small traders are now on the brink of poverty.
no income for them
Hellen Kereto, 33, another bead maker who resides in Talek village in Narok West sub-County says life has almost been unbearable in the past two months.
"I used to hawk beads at the Talek Gate where I could make up to Sh2,000 per day and Sh2,500 on good days. Right now, I am unable to put food on the table," she said.
According to Rose Sairowua, the Beadwork Production manager at Maa Trust, a local non-profit organisation, about 700 women are contracted by the organisation to make bead work crafts which the organisation buys from them and sells to curio shops in the lodges.
"We have about 17 women groups in conservancies near Masai Mara who depend solely on bead work.
"Right now, they have no work, meaning no income for them," Ms Sairowua said.
Sairowua said they would make up to Sh30 million from the sale of the artefacts annually, however, with Covid-19, they have nothing to smile about.
However, it is not only the women artisans who are suffering from the closure of the park.
Leonard Sadera, a freelance tour guide has retreated to his village in Marianda to herd livestock after he was rendered jobless.
"I had bought a new Land Cruiser to be ferrying tourists. My target was the wildebeest migration season, but now I have no work.
"My vehicle is just parked yet I still have to repay my loans. Life is hard," he told The Standard.
Masai Mara Game Reserve is the biggest revenue earner for Narok County and brings in billions of shillings.