MCAs now want contractors banned for stalling projects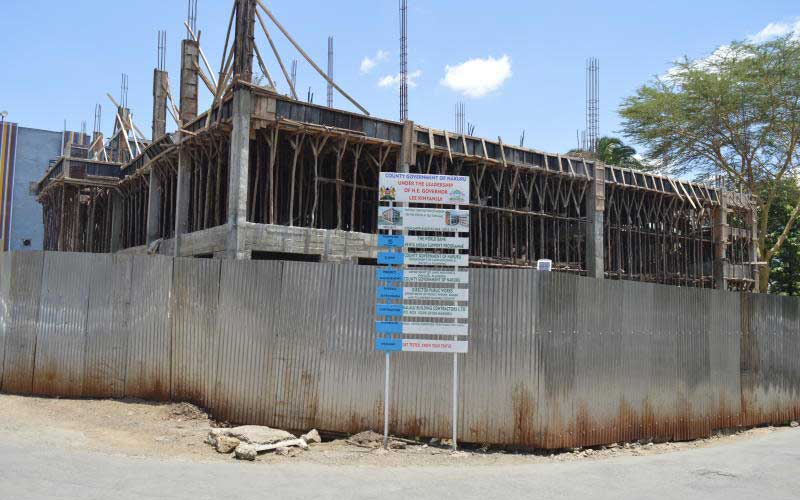 Members of the Nakuru County Assembly have protested the inexplicable delay in implementation of projects by contractors.
The MCAs lamented that projects worth over Sh3 billion factored in the 2018/2019 financial year had either stalled or failed to kick off.
Earlier in the week, the MCAs passed a motion in which they resolved to have contractors who have failed to complete projects within stipulated timelines without justifiable reasons profiled and blacklisted from further engagements. But Governor Lee Kinyanjui refuted claims that some mega projects have stalled, indicating that they were in different stages of implementation.
"The first phase of Nyayo garden is complete and was done at a cost of Sh20 million. This included construction of an information centre, rehabilitation of the monument, toilets and two gates. The second phase, which will cost Sh15 million is at the tender stage," Kinyanjui said.
Structural stability
On the fire station, he said construction was halted after completion of its first floor to allow routine structural stability audit.
"The audit has been done and the report is out; the contractor will resume construction work next week," the governor said.
Viwandani MCA Eric Gichuki, who moved the motion, complained that some projects which are on course or have been completed across the 55 wards were substandard yet for some, payments have already been effected.
"The county is dotted with projects that only exist on paper while others have been done halfway and abandoned. In 2018/2019 fiscal period we had projects worth nearly Sh3 billion failing to kick off leading to a rollover," said Gichuki. Kaptembwo MCA Peter Kajwang' seconded the motion, saying the blacklisted companies should be barred from undertaking county projects for at least two years. "Nakuru has experienced undue delay in completion of projects due to laxity of some contractors. In most contracts, they are given a period of over one year yet the same can be implemented in a few months but still they fail," said Kajwang'.
The MCAs protested that they have been sidelined in the implementation of the same projects which they are expected to oversight leaving the residents with stalled or substandard works.
"Contracts are being undertaken haphazardly. Electorates and MCAs are not notified when a project starts or is completed. Contractors overstay on site and eventually take off or rush at the last minute, leaving behind substandard projects," said Elburgon MCA Njuguna Mwaura.
Deputy Speaker Samuel Tonui noted that completion certificates were being issued by the executive without involvement of MCAs, thereby permitting payments for poorly done projects.
"During the previous term there were numerous documents that MCAs had to sign as they oversaw the projects. They are no longer coming to us yet poorly done projects are being paid for," he said. Among projects whose delay has raised concern include the over Sh30 million rehabilitation of Nyayo Gardens, Sh160 million fire station, Keringet Sports Academy and Sh300 million Naivasha Level Four Hospital upgrade.
Isaac Wahome of Kiamaina Ward noted that the executive has been approving payments for shoddy work done on roads which are rendered unusable shortly after completion.
"We have an incomplete market. On roads, I have written two letters to the chief officer not to pay certain contractors as the quality of the work they did was poor," said Wahome. Irene Chebichi, Soin Ward said the poor quality of an ECDE classroom constructed in her area last year is wanting. "I was never involved neither did the residents who passed a budget for it. The final product is not something we can be proud of," she said. Stanley Karanja of Naivasha East Ward blamed cronyism on failed and stalled projects.
"The problems we are experiencing today are due to briefcase companies that have no capacity to undertake projects but still get contracts," he said.
On awarding of contracts, CEC Member for Finance and Economic Planning Peter Ketyenya dismissed claims of irregular awarding of contracts, saying that the process is always transparent. "The county always advertises for companies to be prequalified for different categories and ensure that those who apply for work meet set requirements. Any contractor who fails to meets their obligation is blacklisted and cannot be given any other work in the county," said Dr Ketyenya.