The man who penned failed coup statement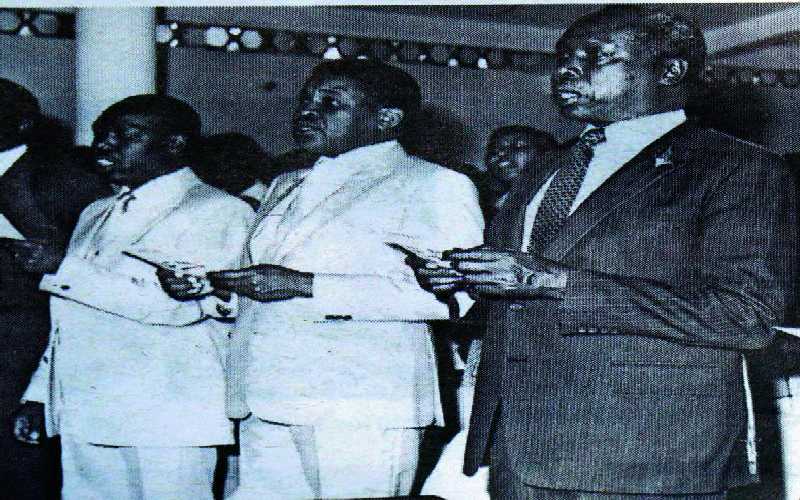 Cornelius Nyamboki, a former Presidential Press Unit (PPU) Director is not very well known, unlike his successor Lee Njiru.
Mr Nyamboki steered that institution for 10 years until he handed its reins to Mr Njiru, a more famous name.
Mr Njiru stayed on until Moi died last Tuesday in Nairobi, aged 96. On Monday, The Standard visited Nyamboki at his home in Rongai Constituency, Nakuru County, just a few minutes' drive to Moi's Kabarak residence.
During the visit, Nyamboki relived the memories of his time serving Moi. He eulogised him as a friendly boss, who was keen on details.
"I would still choose to work for him again. He was like a father and a great friend. That is why I am his neighbour," Nyamboki said.
He averred that the most memorable moment when serving the departed Head of State was during the 1982 attempted coup.
Moi had just opened the annual agricultural show in Kinoru stadium, Meru, but there was unease in the crowd.
Something was amiss. The PPU team, together with Moi, was taken out of the stadium. Moi went straight home to Kabarak.
"The coup caught us unaware. It was a tough time and everyone was confused. Hours later, Moi agreed to be evacuated from Kabarak to Nairobi, as news came through that the coup had failed.
"It was at this moment that calm prevailed. Moi hugged me. It was brotherly love," Nyamboki said.
"He was happy and could not contain it. That is when he told me to convey a statement through walkie talkie to the Police Commissioner. Unfortunately, the statement was not delivered."
Nyamboki said for the better part of the day he experienced a bitter-sweet feeling. The coup had failed, but the country was not aware. The mood was still tense.
"We had to rush to Nairobi. We avoided major routes by passing through Kawangware. We got the President to Statehouse through Gate C. But then, I had a statement to deliver to the Voice of Kenya (VoK), but could not drive to its offices because of the chaos," said Nyamboki.
"Everyone was walking with their hands held up in surrender. I, too, walked with my hands held up with my written statement stuck between my lips. I managed to deliver it to VoK, who read it out," he said.
For Nyamboki, it was a torturous but memorable moment.
"Moi trusted me so much and I had to do everything to get the statement to the studios to be read out. It did not matter if it got there soaked in saliva or sweat, the important thing was that the statement be delivered for the sake of peace," he said.
In 1985, Nyamboki would be awarded the Silver Star commendation by the president. His commitment to Moi's philosophy of peace, love and unity won him the award.
Not all memories that Nyamboki harbours of his tenure at State House are filled with tension. There were some poignant ones, like the time during a church service in Melbourne, Australia, when Mzee forgot his wallet and Nyamboki had to loan him $100.
Another case was the time Moi's famous rungu broke and a new one had to be shipped in.
"Mzee never missed church. Sometimes back, we were in Melbourne when he told me to look for a church we would attend on Sunday while we were in that city for some other business," said Nyamboki.
"But it seemed when we got into the church, Mzee had forgotten his wallet. He whispered to me to loan him $100 so that he could make an offering. It was humbling. He could not leave church without making an offering no matter what."
Broken rungu
Again, while disembarking from a plane in Honolulu, Moi broke his rungu. It slipped from his hands, hit the rails and landed on the tarmac.
"Mzee called home for another rungu to be flown to Australia," Nyamboki said.
Before rising to be PPU boss, Nyamboki worked with a local daily newspaper.
He had scooped the Journalist of the Year award for three consecutive years while engaged as a political reporter starting 1979.
Nyamboki worked at Parliament. His journalistic prowess saw him get picked to head the PPU.
"That was how I stated working with the former president. What I know is that he tried on many occasions to fight tribalism. After my PPU stint, I was deployed to the VoK to reorganise it," Nyamboki said.
He added that he was inspired by Moi's generosity to donate a huge chunk of his Nakuru land to a local church.
To date the 76-year-old scribe, who left PPU in 1989, says he would not have wished for a better boss.