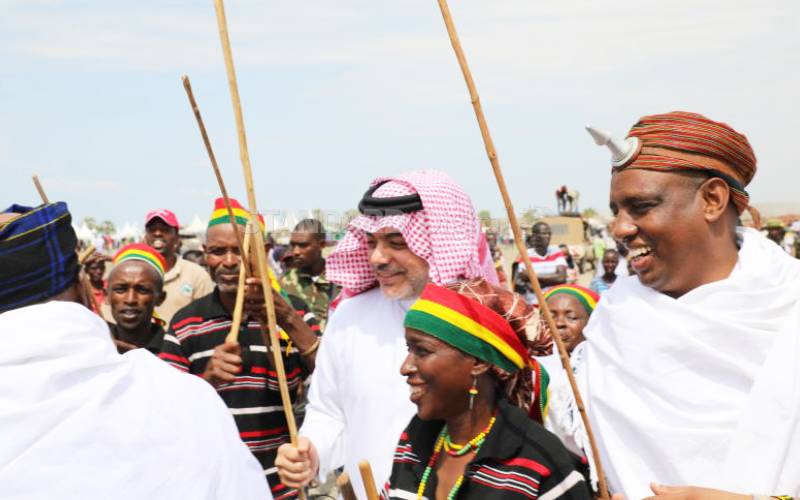 An annual cultural festival has been praised for fostering peace and boosting the rural economy of Marsabit Country.
Speaking during the edition 12 of Marsabit-Lake Turkana Cultural Festival that ended on Sunday at Loiyangalani, Governor Mohamud Ali said in the last six years that the event had been held, tourism had been booming locally.
Loyangalani is in the eastern side of Lake Turkana.
"The cultural festivals have resulted in peaceful coexistence between the communities and has perfectly promoted tourism. Hotels have emerged since the festivals were started and locals, especially here in Loiyangalani, have immensely benefited," said Governor Ali.
Read More
However, the county boss said despite the economic boost, some parts of the county still faced security challenges due to banditry.
He said to counter the challenge, the annual festival was mainly focused on uniting the communities and empowering them economically.
"We pick the ethnic groups from the four sub-counties and all the groups are given a chance to showcase their cultures. These activities will bring the community together, as we are all focused on preach peace," Ali said.
The festival that is organised by the county administration through the departments of tourism and culture was rescheduled from June to this month due to drought.
It was started by women groups from Loiyangalani village, with the help of the German Embassy and has since become an international fete.
It brings together some 14 communities living along the Lake Turkana.
Marsabit County Sports, Culture and Festival executive Umuro Godana said close to 5,000 people attended the three-day festival.
It was officially opened by the Deputy President William Ruto last week.
Several groups from the different communities showcased their culture, including food, artifacts and dances. There was also beach volleyball and half marathon along the lake's shores.
According to Mr Godana, who also chairs the committee that plans the fete, during the festivals the communities are encouraged to intermarry to curb ethnic animosity.
"Loyangalani is a small village but hosting several ethic communities. Through showcasing and sharing cultural practices, there is cohesion. This has stabilised relations between various communities," Godana said.