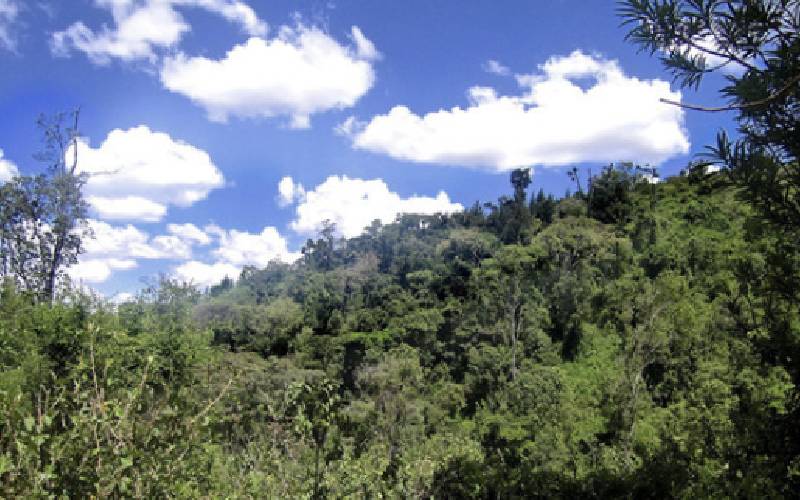 More than 1000 families living in Marmanet forest in Laikipia County have vowed to go to court to block the government's planned eviction order. The affected families have protested an order by Environment Cabinet Secretary Keriako Tobiko to move out or be evicted forcibly, saying they have valid title deeds issued by the Government. Through their spokesman John Barno, they threatened to move to court to challenge CS directive saying it was the same Government that issued them with title deeds. He maintained that they were not on forest land and they should therefore not be evicted or harassed.
SEE ALSO: Polluters to be seized as Michuki Park opens
"We have lived here for the last 15 years and we have nowhere else to call home. We will not vacate this land unless we are resettled elsewhere," he said. Jane Muthoni, another resident, wondered how and why the Government would issue title deeds on a forest land. "The Government is even today issuing title deeds for locals here, we wonder why the change now. We will not be evicted from the homes we have known for the last decade," he said. The water catchment area, a vital source of water for lakes Bogoria and Baringo, and Ewaso Ngiro River has been degraded and destroyed through human activities.
Eviction directive
SEE ALSO: Balala orders probe in local tourist's ordeal
During a tour of the forest land last week, Tobiko ordered those who have encroached on the forest land to immediately move out to pave way for conservation. The CS decried the state of forest that has been converted into large scale commercial farm lands. The forest which originally measured 19,600 hectares has been reduced into commercial wheat and maize plantations. "We will move in and conserve this forest and as the government, we kindly urge those who have encroached on it to immediately move out before we use force. It is a shame that people have even obtained illegal title deeds and we will not tolerate this," maintained Tobiko during the tour. He said the government intends to plant more than 10 million trees on the forest this year. In an effort to reclaim and restore the water catchment area Safaricom and Kenya Prisons have each adopted and replanted portions of the expansive forest.
SEE ALSO: State not keen to demolish Langata houses