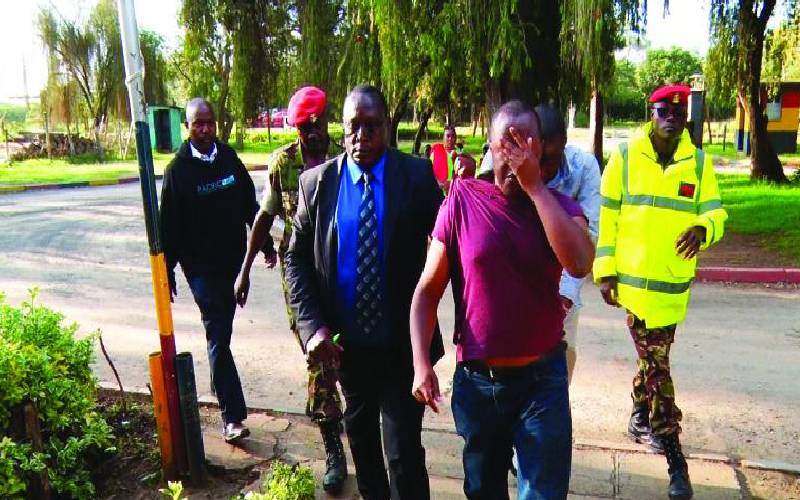 A military officer has been arrested following the disappearance of his estranged lover and two children. Maj Peter Mugure, who is based at Nanyuki's Laikipia Airbase, was arrested yesterday evening after spending the entire day at Nanyuki Police Station and recording three statements. "We will take him to court on Monday and seek more time to detain him for further interrogations and investigations," said Laikipia East Criminal Investigations Officer Jacob Muriithi. Mugure's estranged lover Joyce Syombua, 31, and their two children Shanice (10) and Prince Michael (5) disappeared three weeks ago when they went to visit him in Nanyuki. Almost a month since the visit, Syombua's mother Maua Malombe and the family are painstakingly still searching for her and the children. It all started on Friday, October 25 when the three started their journey from Nairobi's Kayole Estate where they lived. The visit was at the request of Mugure, Syombua's partner of 13 years. Mrs Malombe says the relationship between the two had been on and off. "Peter requested that he needed to spend time with the children after schools closed. He sent Joyce fare and they were excited when they left for Nanyuki," says Mrs Malombe. Several hours later, Syombua texted her that they had arrived safely. She was also in communication with her childhood friend and namesake, Syombua Kateng'u, who she texted at 11pm. At 8am the following day, Syombua texted her friend again. "In the text message she told me that when she came from the bathroom, she did not find Peter and the children. She also told me when she called him, he said he was taking them on a tour of the facility and would be back," Ms Kateng'u says. After a few hours, Syombua texted Kateng'u that Mugure was back, but without the children. "When she asked him the whereabouts of the children, he said he had left them at a friend's house because they needed privacy to iron out their differences," narrates Kateng'u.
Journey to the unknown
At 7pm, Kateng'u called Syombua who told her the children were yet to return and that Mugure had stepped out. She called her again after some time but her phone was off. That was the last time the family and friends heard from Syombua and her children. Kateng'u says the same night, she called Mugure – whose number she had been given by Syombua. He informed her that he had escorted Joyce and her children to board a matatu back to Nairobi that night. But the three did not arrive back to their house in Kayole, throwing the family into panic. Mrs Malombe reported a case of missing relatives at Soweto Police Station that Sunday. The matter was booked and was advised to make a follow-up report at Nanyuki Police Station where the disappearance occurred. It was at Nanyuki where Malombe met Mugure who had also arrived to record a statement.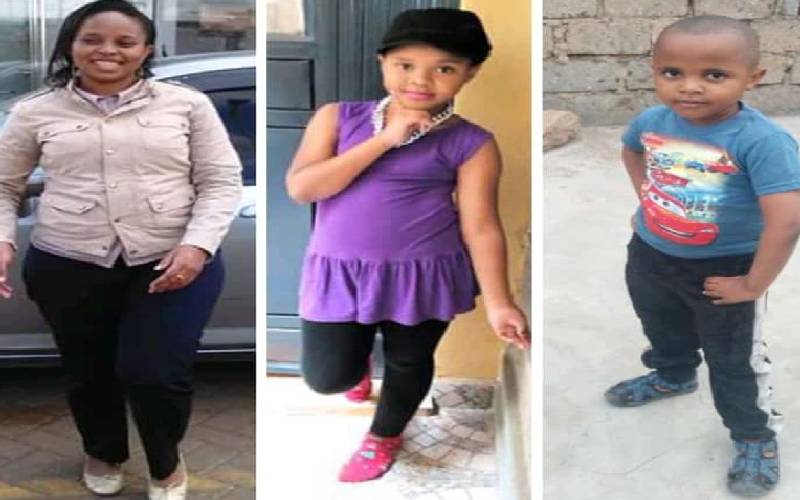 In his statement to the police, the military officer indicated that at around 6.30pm on October 26, he escorted Syombua and the children to the bus stage. He said he left the three at the stage waiting for a matatu and went back to his workplace, therefore he did not know which vehicle they boarded. When the Saturday Standard reached out to Mugure, he directed us to the police. "Contact the right channels and you will obtain the information you need," Mugure said on the phone. An officer at Nanyuki Police Station, a Mr Kiptoo, who has been investigating the matter, said it was a complicated case that needed a lot of time and travelling. "I have handed over the file to the DCIO Laikipia East because I realised it needs a lot of travelling and effort," the officer said. Muriithi said, "We have established they were not in good terms as a couple." Hope that the family would be traced through telephone signals dwindled after a cellphone believed to belong to Syombua was on Wednesday found inside a matatu registered with 4NTE Sacco in Nanyuki town. An official of the sacco denied that their vehicle ferried the three to Nairobi. "We do not ferry clients at night, the vehicle in which the phone was found was on a private duty that day." The family is now appealing to DCI boss George Kinoti to take up the matter and unravel the mysterious disappearance of the three.