Abandoned pits turn into death traps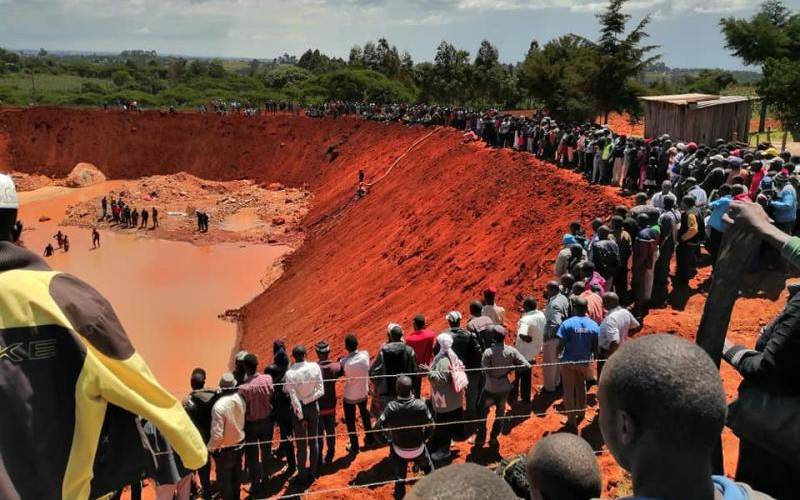 Borrow pits dug by road contractors and left unfilled for months in the North Rift region have become death traps.
This year alone seven people, four of them pupils, have drowned in open pits that get filled with water during rainy seasons.
Last Friday, 35-year-old Evans Kimutai died after he attempted to rescue a neighbour who had fallen into one of the pits at Kitany in Elgeyo Marakwet.
Last Sunday, 24-year-old Victor Felix Kipkogei and Collins Kiprono, 10, died in another borrow pit in Kipkabus, Uasin Gishu County.
In the Kitany incident, locals accused a Chinese contractor constructing the Nayaru-Iten road of not filling the borrow pit, almost a year after abandoning it. The contractor was excavating soil for the road construction last year.
Angry residents, led by Kimutai's father Joseph Cheptoo, yesterday said they would not bury the body until the pit is filled.
"When my son jumped into the pit to rescue a friend and got stuck in it, we called the Chinese contractor, whose site is not far from here, but he took too long. The contractor arrived more than three hours later," Mr Cheptoo told The Standard.
Take a quick survey and help us improve our website!
Take a survey
Francis Chumba, the area assistant chief, said Kimutai got stuck in the mud in the borrow pit.
Mr Chumba said the Chinese contractor drained the water but it was too late, as Kimutai was dead by that time.
He said there were two other borrow pits abandoned and never filled by the Chinese contractor in Chebior.
"The borrow pits that have turned to dams are not fenced. We are asking the contractor to immediately fill them to prevent more deaths," the assistant chief said.
In the Kipkabus incident, Kipkogei had joined Leltot villagers in efforts to retrieve the body of Kiprono, who drowned at an abandoned quarry in Ainabkoi Constituency.
The victim was among the other five children in a swimming expedition in the pit turned pool.
"He came out of the water gasping for breath and tried to reach for a helping hand from his fellow divers, but he was overwhelmed and sunk in the deep end of the quarry. Other divers managed to come out of the water," said Moses Kemboi, one of the villagers.
The deceased's twin brother Oscar Kiptum told The Standard that on a fateful day, they spoke at length together on many issues.
"We last talked with him on the phone at around 6 am and he told me about his plans of buying another motorcycle and that he wanted some cash from our elder brother. But around noon, another villager called to inform me of the tragic turn of events," said Kiptum.
Locals accused a Chinese contractor currently tarmacking Naiberi-Drys road of abandoning pits after excavating the soil and murram.
"We have several such abandoned quarries, which are posing a safety threat to both human and livestock. Already this particular one has claimed two people and we do not want the same to recur," said Rhoda Komen, a resident.
She said as long as the quarries remain open, more disasters will happen.
In March, two sisters drowned at Rotuga in Uasin Gishu County.
The two girls aged 17 and 10 are said to have slid into the water pan left by contractors working on a nearby road.
In June, a rescue mission turned tragic after two pupil drowned in a dam at Tugen Estate, Moiben Constituency in Uasin Gishu.
The Standard Eight pupil at Chepngochoch Primary School drowned while attempting to rescue his younger sibling from the borrow pit.
North Rift National Environment Management Authority (Nema) official Anne Owino said it was the responsibility of road contractors to rehabilitate borrow pits soon after excavation.
Ms Owino said Nema had written several letters to contractors to ensure guidelines on the rehabilitation of pits were adhered to.
"We have reined in several contractors. Some of them make agreements with farmers without involving us. We have also several meetings with contractors and they know what to do," she said.
She, however, said contractors who made deals with individuals to excavate soils or murram in their farms without involving Nema made monitoring difficult.