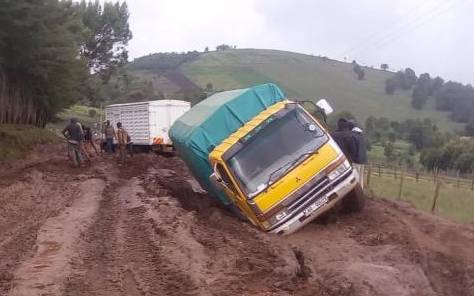 Heavy rains have rendered roads impassable, making it difficult for farmers to ferry their produce to the market in good time.
Potato farmers from Lelan and Kapyego wards are the worst hit, given that this is the potato harvesting season. Many have been left watching helplessly as their crops rot in the farms because of the poor state of roads.
The rains have been pounding North Rift region from July, paralysing transport.
Yesterday, County Meteorological Department Director Simon Cheptot warned that the rains will continue until October.
Read More
Joseph Toroitich, a potato farmer from Lelan, told The Standard that he might suffer losses amounting to Sh300, 000 if the rains do not subside in the next few days.
Mr Toroitich usually transports his produce to the nearby Kapcherop Market and to bigger markets in Eldoret, Kitale and Kisumu.
"I harvested 200 bags of potatoes a week ago. It has been impossible to transport the produce to Kisumu," said Toroitich.
"The lorries we rely on to transport the potatoes have been struck on muddy roads for days now."
Another farmer, Mary Rotich, said she has delayed harvesting her potatoes until the rains subside.
Ms Rotich said most traders who buy potatoes from her farm are yet to arrive because of the rains.
Locals in Lelan yesterday volunteered to expand the Kamasat-Kaptegaa feeder road, which leads to the main Lelan-Cheptongei road.