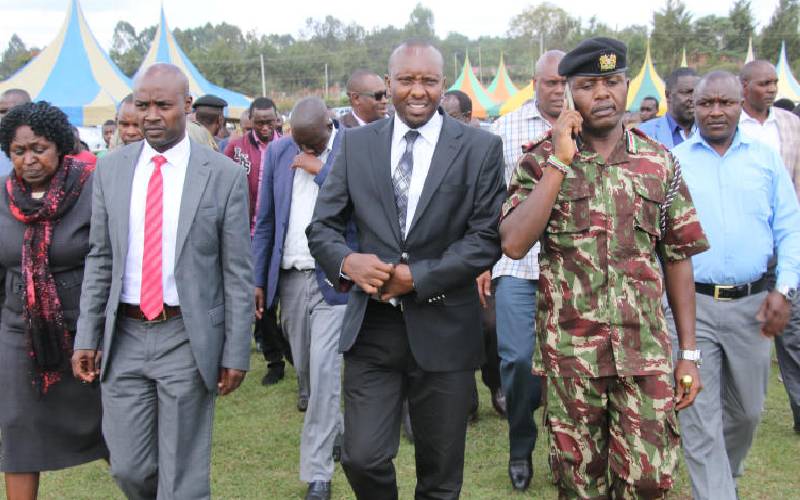 Deputy Governor Hillary Barchok will be sworn in on Thursday to officially take over the county's leadership following the death of Governor Joyce Laboso.
The ceremony which will be held at Bomet Green Stadium will also be used to showcase the late Laboso's achievements two years after taking office.
A number of leaders have come out in support of Dr Barchok.
Senator Christopher Langat said leaders will support Barchok and ensure that Laboso's vision for Bomet is realised.
"We know you are up to the task, our role will be to show support and ensure you get that ample time to develop the county," Langat said.
The deputy governor has also received public support from MPs Dominic Koskei (Sotik), Gideon Koskei (Chepalungu), Brighton Yegon (Konoin), Beatrice Kones (Bomet East) and Ronald Tonui (Bomet central).
The MPs said that as a mark of solidarity and in honor of Laboso, they were committed to backing Barchok to serve the remaining term as governor.
"We do not want anything to distract your plans in delivering Laboso's vision for the people of Bomet," said the Sotik MP.
"What Laboso pledged must be delivered at all cost and moving forward we will come in as leaders to see to it that her dream is achieved," said Koskei.
The leaders pledged to compel the national government to actualise the Sh20 billion Bosta water project saying provision of clean water was one of Laboso's main agendas.
"Bosta Water project will ensure that residents of Bomet, Kericho and Narok get water. It is our duty to put pressure on government to implement it urgently," said Tonui.
"Laboso promised water to residents of Bomet. To make sure her wish comes true, we will push for quick implementation of the project," he said.
The County Assembly Speaker Shadrack Rotich and leader of Majority Josphat Kirui also pledged support for the new governor saying they would go out of their way to ensure Laboso's development plans are implemented.
"The cordial relationship between MCAs and Laboso will be extended to Dr Barchok to ensure that he runs the county smoothly," said Kirui.
"We do not want any hitches as MCAs as you set out to do what late Laboso had planned for people of Bomet," he said.
Still, pressure is mounting on Barchok to nominate a woman as his deputy once he assumes office. A number off residents are also pushing for the new deputy governor to be picked from Sotik.