Drought ravages villages in Turkana as 30,000 pastoralists flee to Uganda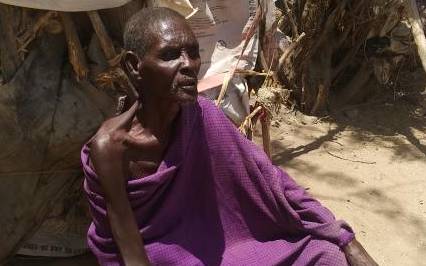 As the sun scorches intensely at cradle of mankind, wind blows from all directions making it impossible for villagers of Kakwayang to fend for themselves, and they have to huddle under the drying trees.
Flies here are the lucky ones and have currently descended on a carcass of a lamb that never made it due to the drought that has swept Turkana central and other parts of the region.
For Mzee Wilson Kokuro 65, the death of his livestock is not new. Every time there is drought, he loses animals.
His lamb born two months ago would have been an addition to the few animals he took pride in but it has now become a death statistic - a clear picture of the impact of drying wells and lack of pasture.
Kokuro sits pensively outside his hut which he has covered with cement bags in order to make it cooler.
The father of six is among those currently facing starvation in Turkana County. Inside his little hut are empty sufurias. The last time he had a complete meal was two months ago when one of his sons bought a bag of flour and greens.
Protruding bones
The protruding shoulder bones, visible veins on his hands and feet covered with dust paint an image of what starvation can do to an individual who until the onset of drought was healthy and quick to fend for his family.
His wife and children have left the homestead in search for food.
"Life has not been easy. Last year we did not experience such a situation. Everything has dried and there is no one to come to our rescue," he said.
Already, news is trickling in that two people have died and Kokuro does not know what the next day holds if he does not get food.
He is part of the 800,000 Turkanas that require immediate assistance.
The current picture is a complete contrast of what the county witnessed last year when heavy rains caused floods.
Turkana recently saw the invasion of locusts, which invaded most parts of the region, with the leadership hard pressed to explain long term interventions to ensure there is food sustenance through irrigation schemes.
Adjust budget
Mercy Alimlim, a resident of Nanyaa says she is not sure if she will benefit from the food distribution taking place miles away from her homestead.
"The distribution centre is in Oropoi, some 40 kilometres away. Why should I trek so far under the scorching sun only to be given four kilogrammes of maize? I better eat mkoma (wild fruits)," she said.
Already 30,000 pastoralists have left their homesteads to Uganda, Ethiopia and South Sudan in search of pasture and water. They fear their remaining livestock may die.
"I lost more than 30 animals to cattle rustlers, and the remaining ones have started dying due to drought. I will be driving them this week to the border of Uganda, where my colleagues are currently sharing the remaining pasture and water," said John Eperit, a resident of Nakwamoru in Turkana South.
Turkana Governor Josphat Nanok said it has allocated Sh200 million to cater for relief food and an additional Sh150,000 from the emergency fund if the drought persists.
His administration will be distributing 36,000 bags of maize and 10,000 kgs of beans. Locals will also receive 10,000 cartons, each 20 litres, of cooking fat.
Mr Nanok said the county might be forced to adjust its budget on development projects in order to contain the effects of drought.
"We are also undertaking additional interventions including screenin, vaccination, treatment and drug provisions in all the health centres," he said.