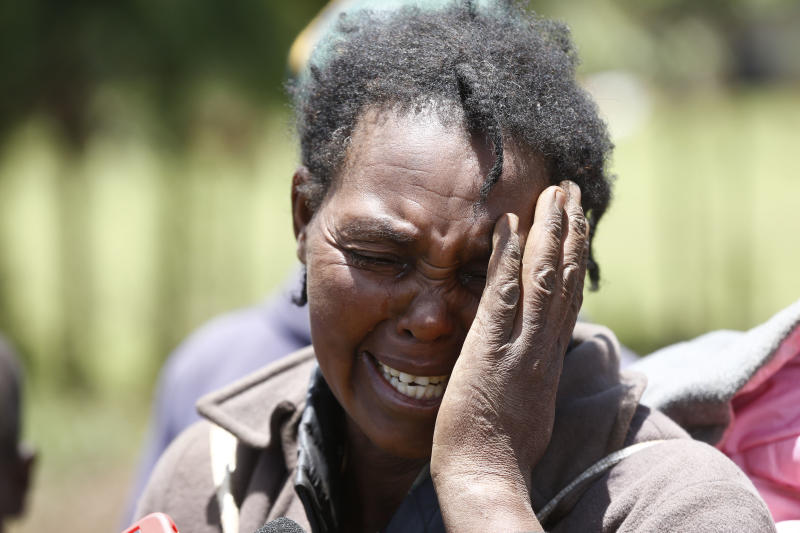 Sudden. This word aptly describes the ethnic flare-ups in three wards within Eastern Mau in Nakuru County last week. The clashes, which have seen villages gutted, have claimed several lives. It all started with hearsay, then tension built up, and small flare-ups, which ballooned into an arrow fight that has now claimed six lives. Several other people are fighting for their lives in hospitals.
SEE ALSO: Tension in Narok South as two boys killed
Besides the deaths and injuries, the clashes in Nessuit, Marioshioni and Mauche wards, have left behind a trail of destruction. Trading centres, stores and houses have been reduced to ashes, and politicians, administrators and individuals locked up in police cells. In what is alleged to have been a spill-over of clashes earlier witnessed in Narok County, the tribal clashes between two communities started with allegations of cattle theft, before taking a more frightening dimension-land. "There has been tension in these areas for almost a week before someone was allegedly attacked on Monday morning on his way to work in Nessuit. The tension lasted until Tuesday night when war cries rent the air and the two communities started attacking each other and burning houses," Mr Jackson Kumare, a resident said. Among the first casualties from Mauche was a Class Eight pupil at Tachasis Primary, who was shot with arrows while herding cattle. Eleven other people from the village are nursing injuries at NakuruLevel Five Hospital. "By Tuesday, the situation was really bad and the pupils did not report. Residents rushed to schools to seek refuge. Houses were burnt down in the process," Jackson Mburuo, a teacher at the school said.
SEE ALSO: Court ruling puts fate of Mau water tower on the balance
And while the two warring communities are blaming the skirmishes on cattle theft, issues related to land ownership, unclear boundaries between settlement schemes and forest as well as loomingPhase Two evictions have also emerged. "The biggest challenge that has caused all these problems is not about alleged cattle theft, it all boils down to land issues and looming evictions. Sadly, leaders seem to have ignored this despite it being the key issue," Stephen Kipkemei, a local, said. "I bought land here. I have the documents, but our counterparts have been blaming us, saying we grabbed their land," he adds. Kipkemei said those who sold land have supported the eviction. "Most of these people sold land. Others sold land without tittles and are coming out publicly to support eviction. The clashes are a bid to drive out those who bought land so that initial owners can repossess it," he said.
SEE ALSO: Resurgence of ethnic clashes underscores importance of unity
But others disagree. "We supported the evictions because of the continued destruction of forests, especially by our counterparts who encroached deeper into the forest land. Those who did not support the eviction, however, started the war, stealing our livestock in a move to stop the evictions," Alex Koech, also a local, said. In the clashes, both communities, which have lived for long as neighbors, have recorded massive losses. "We have all become victims. We have been good neighbours and there is need to solve these matters amicably instead of turning against each other yet we both speak the same language and our children attend same schools," Jane Sigei, a resident, said. Ogiek community chair for lands John Sayaya said matters to do with land had been a source of conflict in Mau over the years. "Surveying and demarcation of land in this area started in 1994, but stopped in 1997 after the introduction of caveat after influx of racketeers who took advantage of the goodwill. Some of those who had been allocated parcels started selling them, while others moved deeper into the forest," Mr Sayaya said. When a blanket caveat was enforced, restricting land transactions, those who owned land started selling it without documentation, a trend that continued, attracting more people into the forest land. He said the existing caveat, unclear boundaries and eviction notices might have ignited the flare-ups.
Buffer zone
"A lot has taken place since the caveat was introduced. There are many who sold land, and others who bought land, others encroached deeper into the forest, clearing it and creating parcels. Although the initial buffer zone was put in place, others went past it while others created imaginary cut-line, bringing in more confusion," he said. In 2001, the Government excised more than 67,000 hectares of forest reserve land, mainly in the Mau Complex. The largest excisions affected Eastern Mau Forest Reserve and South West Mau Forest Reserve, where 35,301 hectares of forestland, representing 54.3 per cent of the forest, was excised in Eastern Mau to create settlement schemes in Mauche, Nessuit and Marioshioni wards. Mau land issues have over the years stalled with many cases in court. "The Ogiek have several cases on Mau land issues. We have two cases awaiting implementation, others pending determination while others are still new. The National Land Commission (NLC) is aware of all these, but seems to have failed to implement the cases. The ruling of the African Court case is yet to be implemented," Joseph Towett, the Ogiek Council of elders chairman, said. Recently, officials from NLC toured Nakuru County while on a mission to issue title deeds under the National Titling Programme. They, however, kept off Mau land due to the caveat. The eviction notice targeted more than 300 families who encroached the forest at Kiptunga, Kapsita, Bararget, Nessuit, Tachassis, Likia, Saino Teret and Vikingi Mpya. The families living beyond the cutline, a more than 20km buffer separating the forest from human settlement, started moving out after the notice, while others stayed put. "Some communities came up strongly supporting the eviction notice, while the others seemed not to have supported it. Again, unclear boundaries worsened things and created tension. Others had sold their lands, others had encroached yet there was no clear boundaries, making the communities clash," Mr Kumare said. The second phase of evictions in Eastern Mau and South Western Mau targets 40,000 people who do not have genuine titles. The Ogiek People Development Programme noted the clashes might have erupted as a result of looming evictions. "This is a crude attack between the communities. The Government should hasten the process of settling Mau land issues to stop further disputes that might erupt as a result," Daniel Kobey, the director of the programme, said. Njoro Deputy County Commissioner Wambua Muthama blamed the situation on incitement after the eviction notice, saying politicians and local administrators had made inflammatory remarks. "Some weeks ago, we had talked to those who had moved in beyond the cutline to move. Political leaders seemed to have told them not to leave, which also sparked the skirmishes. We are warning politicians not to wade into the issue," Mr Muthama said. On Friday, Nessuit MCA Samuel Tonui and five other people were picked up by police. They are expected to appear in court today. On Saturday, the Government banned political gatherings in the area and security personnel were given firm instructions not to allow any politician to hold meetings or address rallies. Rift Valley Regional Coordinator Chimwaga Mongo further ordered families to return to their homes, and schools to reopen on Monday, besides imposing a dawn-to-dusk curfew to restore order. Even as an uneasy calm returned in several villages, the residents expressed concern that issues had not been adequately addressed. "People still fear returning to their homes because of the mistrust, evictions are still looming, buffer zones are still not clear and land ownership and documentation is still a stumbling block as a result of the caveat and the numerous court cases," John Sigei, a resident said.