Fires in Serengeti delay spectacular wildebeest migration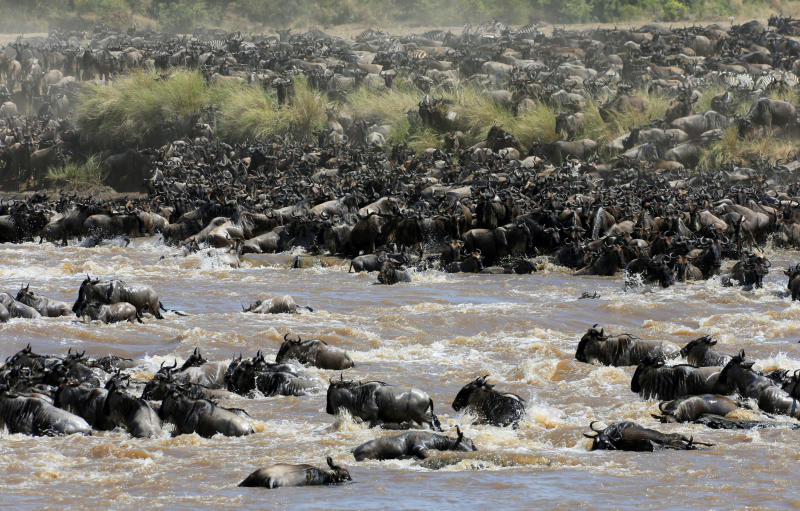 Fire in Serengeti has delayed annual spectacular wildebeest migration between Serengeti National Park and Maasai Mara Game Reserve.
Tourists and guides visiting the Mara-Serengeti ecosystem have reported seeing billows of smoke and fire around the Serengeti in the northern parts of the park.
According Kimani Njoroge, a tour guide, the fire has scared wildebeests from crossing to Maasai Mara side.
Ahmed Samir, a tourist who visited Mara-Serengeti ecosystem, said he witnessed burning of grass and termed the situation as 'appalling'.
Alice in Africa Safaris Manager George Kinutha said the slightest distraction causes delay of wildlife migration as it scares the animals, driving them further away from danger.
Long rains
He said as much as the delay could be attributed to the long rains which have kept the pastures greener on the Tanzanian side, the burning of grass had aggravated the situation.
"Because it is nature, migration will finally take place, although it might be late. A lot of gnus and zebras have been spotted converging in large numbers towards the crossing points," he said.
He said the delays had, however, not affected tourist numbers as the bookings were high.
"It is definitely a peak season and most of the tourists understand all about the delay as result of pasture. The number of tourists visiting the Mara-Serengeti ecosystem is high and hotel bookings are also high," Mr Kinuthia added.
Paul Meli, a safari manager, said the current delays were driving some herds from the migration routes.
"It is currently misty on the Serengeti side as a result of smoke from the fires that have been razing the ecosystem for a while. A few animals can be spotted on the other side may be escaping the looming danger," he said.
He, however, added that although safari companies are still recording high number of bookings from tourist following the peak season, most of the tourists are dejected by the delays.
He added the fire on the Serengeti side was also killing the vital ecosystem, including vegetation, birds and snakes and other wildlife.
"As much as those starting these fires have reasons to do so, the exercise is also detrimental to wildlife, their habitat and more so the annual wildebeest migration," he said.
Narok County Executive for Tourism and Wildlife Joseph Koila said although the wildebeest migration had been delayed, large herds were already converging on the crossing points.