Residents of Elgeyo escarpments anxious over landslides
RIFT VALLEY
By Fred Kibor | May 24th 2018 | 4 min read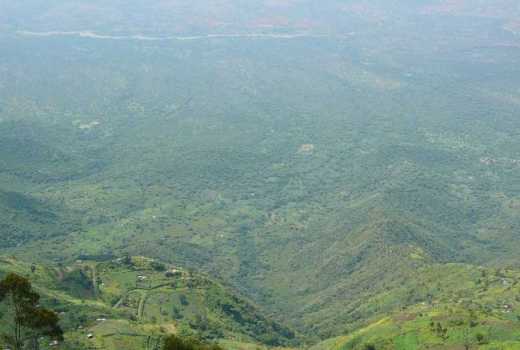 Patrick Chebet sits perched on a stone at his Rokocho home at the slopes of Elgeyo escarpment. He stares at the horizon, as a dark cloud gathers up the sky.
His worry is the unending heavy rains. The area has already experienced landslides.
In 2012 his family was affected by landslides, which killed 16 people and rendered more than 1,500 homeless.
"Five years ago, people, livestock and other property were swept down the escarpment by massive landslides," he recollects, adding: "We are disturbed by the impeding rains because we suffered massively in 2012. We fear the same may happen again with the ongoing rains."
Chebet said there is a lot of apprehension among the locals since the ongoing rains will trigger landslides.
"At night, there is a lot of rumbling on the ground, as torrential rains sweep everything in its way. It is by luck that our homes are still intact," he said.
A traveller on the meandering Iten-Kabarnet road will be confronted by hundreds of charcoal sacks and firewood strategically lined up waiting for potential customers.
This is a clear indication that the environment on the scenic Elgeyo Escarpment is being destroyed, to the detriment of the natural ecosystem.
The unchecked illegal human activities is a blatant disregard of environmentalists' warning that the area should be left in its natural form since it is susceptible to landslides and widespread soil erosion.
Breathtaking landscape
It is a common site to see smoke bellowing from numerous charcoal kilns across the breathtaking landscape. Huge rocks have dangerously been exposed and might roll down, as scrubs on the hilly ground are replaced by patches of farmland.
And for the past two days, motorists have been forced to endure delays after huge boulders and deluge blocked sections of the road rendering it impassable.
Chebet says the Government had promised to relocate them, but this is yet to happen.
"We feel abandoned by the Government after the tragedy struck and left us impoverished. This region is said not to be suitable for human habitation," said Chebet.
Ms Jelagat Komen said they want a land transfer programme with Government, where the latter would take parcels declared unsafe for human habitatation in exchange for land in a safer areas.
"The rains have brought great loss of property and lives due to steep gradient of our land. We need a permanent solution to this recurring problem," said Ms Komen.
Elgeyo Marakwet Meteorological Services director Simon Cheptot said the threshold of rainfall that can trigger landslides have been surpassed and little more can affect thousands of residents. "Residents have planted up to hilltops, which is prohibited, making the escarpment susceptible to landslides. A thorough conservation strategy should be put in place to save the escarpment," he stated.
Area governor Alex Tolgos said they are working with the national government to sensitise residents on the need to conserve the fragile ecosystem. "As a county we want the escarpment gazetted as a water tower to ensure it is conserved to prevent catastrophe. We have also banned charcoal burning since it is a major contributor to environmental degradation," said the county boss.
Mr Tolgos said with the help of security officials, they will arrest those planting crops on the prohibited areas of the escarpment. "We are preparing a Bill that will be presented in the county assembly to prohibit interference of the escarpment. We want to restore a colonial map, which proscribed farming on certain areas of the escarpment," he said.
A county disaster committee report it indicates that more than 10,000 households are living on the escarpment across the entire Elgeyo Marakwet County, which predisposes them to imminent catastrophe. Of these, more than 4,000 families are living in high risk areas that have fault lines and may roll down.
He said residents encroached beyond the 'Spencer Line' leading to wanton destruction of the fragile ecosystem.
'Spencer Line' was coined after a colonial administrator William Spencer demarcated a boundary on the escarpment beyond which no human activity was allowed.
He said he wants to restore the boundary and reverse the devastating ecological consequences occasioned by the destruction of the ecosystem, which is also a home to wildlife.
Landslide prone areas in Marakwet East are Embolot, Embotut, Endo, Kaben and Mumol. In Marakwet West, Kapcherop, Chebororwa and Kipsaya are the danger zones.