Police lorry busted ferrying donkeys to slaughterhouse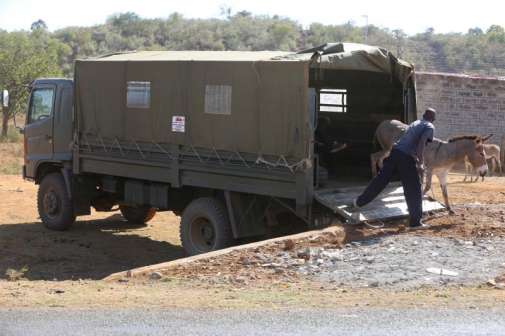 Police officers have been battling cattle rustlers in Baringo County for several years now.
However, with all their firepower, they are yet to rout out the criminals, who keep on striking now and again and carting away stolen cattle after bloody confrontations with the livestock owners.
While it is hard to tell why it has taken so long to vanquish the criminals, it appears that some officers are more concerned engaging in livestock trade rather than fighting the livestock thieves.
On Wednesday, The Standard found some of the officers engaging in donkey trade at the expense of their core business.
We found them offloading a truckload of donkeys at the recently opened donkey slaughterhouse in Mogotio.
Shockingly, the officers from the Anti-Stock Theft Unit (ASTU) had ferried the animals to Goldox donkey slaughterhouse using a Government truck (Reg GKB 666F).
The officers, who had already offloaded several beasts of burden, tried to cover the number plate of the vehicle when they realised that our photographer was taking pictures, but to no avail.
They then drove away with some donkeys still inside the truck to escape being photographed.
Two of their accomplices fled on foot after the driver unsuccessfully attempted to knock down The Standard team's cameras.
Later, Baringo County Police Commandant Peter Ndungu told us that misuse of police vehicles by officers will not be tolerated, and warned that those involved would be dealt with ruthlessly.
"That is wrong and nobody will be spared on this one. The lorries and the officers have their work cut out and those thinking they will engage in illegal activities will regret it,'' he said.
This is not the first time that police officers have been found misusing public vehicles supposed to be in the operation zone.
In November last year, two police lorries belonging to administration and regular police were impounded transporting sandalwood in Nakuru and Arabal respectively. The Sh20 million sandalwood was illegally harvested by security officers deployed to end cattle rustling in Baringo South and Tiaty.
Police helicopters
The vehicle belonging to Baringo County, East Pokot Sub-County Administration Police (AP) unit was impounded at Kiamunyi estate in the outskirts of Nakuru town at around 3am after officers acting on a tip-off from members of the public intercepted it.
Four suspects; Willy Sergon, Augustine Munyamba, Simon Kangethe Thuo and Atanal Rondo, an AP officer, were arrested while offloading the sandalwood. Three others escaped in a private vehicle that had been following the lorry.
The latest incident comes at a time when cattle raiders have carried out several attacks along the border of Baringo and Elgeyo-Marakwet counties in Kerio Valley. Two weeks ago, 14 people were shot dead in Lomelo after clashes broke out between members of Turkana and Pokot communities.
Goldox management, when asked why the officers were using Government to transport the donkeys, said: "It's not our business to determine the mode of transport. We are ready even to receive donkeys delivered to our slaughterhouse using police helicopters," Goldox Kenya Director Lu Donglin said.