By Caroline Nyanga
After a long absence from the music scene, gospel musician Angeline Ngesa is back with her second album, Narudi.
The Kisumu-based artiste has kept a low profile and there were murmurs in some quarters that she may have quit music as a result of twisted fortunes. But the mellow voiced singer dispels the rumours.
"I have not quit music. I am still very much in the game. For me, music is a long journey hence the need to take time and come up with the right product. Besides I have been busy finalising my music-related projects," she says.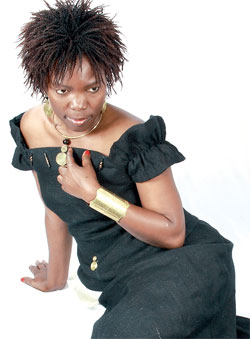 Angeline Ngesa

The Kisumu-based musician, who has been doing music for more than a decade, has bounced back with her second album, Narudi, which has been well received, and is working on a third album.

"It was just a matter of time before I broke the silence and kept the fire burning," she says.

Ngesa cites dealing with different producers as one of the challenges she has had to face.

"It was not easy finding the right producer to work with, let alone one who understands the kind of product you want.

"I came across various producers who took advantage of me by squandering my money and giving me the wrong product simply because I was new."

At some point, she was forced to re-do her work after her producer, Jack Odongo, informed her the computer containing her work crushed. Ngesa, who has also worked with producer Robert Kamanzi, popularly known as RK, says this is not the sole reason for her silence.

She cites poor quality studios in Kisumu, during her initial stages of recording, as another setback.

"I was forced to re-do my first album in Nairobi with producer cum singer Reuben Kigame after realising that it was substandard."

Ngesa, a banker, says the nature of her work is time consuming, leaving her with limited time to do music.

"The fact that I was busy working most times made it difficult to fit in the schedule of my producer," says Ngesa who was widowed in 2000.

Ngesa says the reason she has not quit is because of her love for singing.

"I perform occasionally with Reuben Kigame's Sifa Voices Band at various functions when called upon.

She says she is inspired by American gospel singer Cece Winans and Reuben Kigame whom she describes as "serious musicians who know what good and serious music entails".

Ngesa is currently putting together her third album, which she describes as unique.

"Unlike the other two where I use Kiswahili and English languages, this one is a six-track album Dholuo, and recorded by Reuben Kigame."

Born to the late Hezekiah Rambim and Phoebe Rambim in a family of five (four girls and a boy), Ngesa says music has been a big part of her ever since she was a pupil at Lake Primary School and Asumbi Girls High in Nyanza Province.

"I was an active participant in School Music and Drama Festival during which I led the school to the nationals most times," she says.

She advices young upcoming musicians to remain focused in whatever they do.

The musician has two albums under her cap Siku Ya Kutubu and Narudi, comprising 11 tracks. Some of her songs like Narudi, Ahsante Baba, Spirit of Love and Siogopi are being accorded immense airplay in various radio FM stations. Her latest single Nibadilishe is equally a force to reckon with.