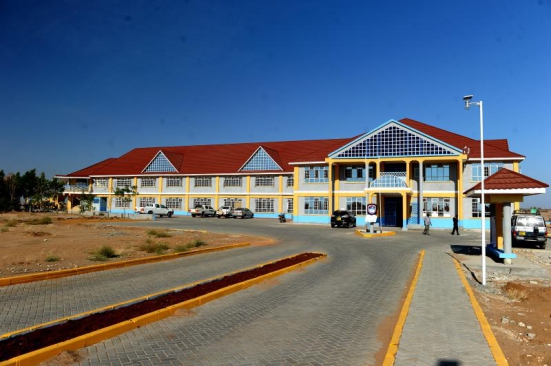 The discovery of oil has been a boon for the people of Lodwar. The town, long associated with hunger and famine, is turning into an investment destination for real estate and hotels.
The number of building plans being submitted to the Lands, Housing and Physical Planning office, is proof that the real estate sector us growing. This according to Mark Ewoi, Turkana County's chief officer for Housing, Lands and Urban Physical Planning.
Five years ago, there were no storey houses. Today, a few have been completed and some are under construction.
The construction of the World Bank-funded Lapsset project, which will include the Kitale-Lodwar-Nadapal road, is expected to open up the town for more investment.
Roads
For a long time, the road from Kitale to Lodwar has been bad, affecting the cost of of goods. For instance, a 50kg bag of cement in Lodwar goes for between Sh1000 to Sh1050 compared to nearby Kitale, where it retails at between Sh700 to Sh800. This is blamed on the poor road network.
According to Mr Ewoi, the county has completed the Spatial Urban Planning process for Lodwar, which will guide the development of the town. "We just finished the plan, the cabinet and county assembly approved it. The plan for the eight remaining towns is ongoing and we expect it to be completed by the end of this financial year," says Ewoi.
However, he says that the growth and development of the town has caused both solid and liquid to become a challenge. To that end, there is a new dump site already in use.
Plans are also underway, according to Ewoi, to build an international airport in Nakwei.
Storey buildings
According to Tumaini Eswant of Kaa Na Watu Property Agency, the town is growing very fast. "Five years ago there were no storey buildings but today, they exist and others are coming up," says Mr Eswant, who blames lack of title deeds for the slowing pace of real estate development.
According to Eswant, a piece of land measuring 50 by 100 feet that was selling for between Sh50,000 and Sh150,000 five years ago, is today going for between Sh500,000 and Sh700,000.
"However, lack of title deeds is hampering real estate development considering land in the county is community land. Allotment letters and survey maps are being used to prove land ownership," says Samson Nalumio, a businessman in the town.
Ewoi says they are working with the National Land Commission and the national government to fast-track the process of land ownership in Turkana.