Mavoko's latest estate treat
By Allan Olingo
In the east of Nairobi, approximately four kilometres from Athi River town, lies Moke Gardens, a leafy, quiet and upper-middle income suburb.
The landscape is a mixture of acacia trees and well-manicured gardens. Given the low population density here, this gated community stands out. It is less than 20 minutes away from the proposed Malili ICT village.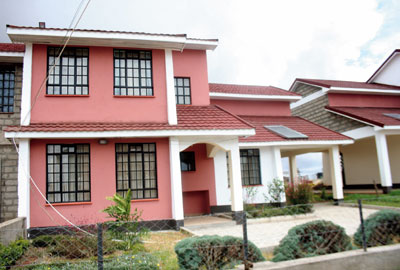 The estate is a quiet middle-income suburb. [PHOTOS: ALLAN OLINGO/STANDARD]

A development plot, approximately an acre, costs three million shillings while the price for a four bedroom maisonette is going for not less than Sh8.5 million while a three bed room house is going for Sh7.5 million on average. Rental rates in this neighbourhood start at Sh45,000 for a three bedroom house and Sh60,000 for a four bedroom house.

The Eastern and Southern bypasses as well as its proximity to the Malili ICT hub has contributed much to the increased property activities within this area. The Daystar police post, just opposite Daystar University, serves the residents of Moke Gardens Estate. Moreover, most houses have put extra security measures such as guards, electric fences and alarm systems.

Accessible

The area is easily accessible with matatus plying the Mombasa Road-Daystar and Mombasa Road Crescent. A cab from the city centre costs an average Sh1,000.

Health facilities easily accessible to this estate are in Athi River and Kitengela, like Athi River Health Centre and Madaraka Health Care. There is also the Agha Khan University Hospital Centre, Kitengela Health Centre and Kitengela Clinic, all in Kitengela.

Lukenya Girls High School is located at the far end of Moke Gardens neighbouring Daystar University. Other educational institutions that have acquired land in this area include Strathmore University and Hope University.

The major shopping centres within this area are found in Athi River, even though this estate has its own supermarket, a business centre, a health club and a day-care centre amongst other amenities. The small Daystar shopping complex also offers a shopping stop. There are also a lot of modern hostels within this area targeting students from the university.
Italians bring art to Malindi
Italians are a creative lot, love beautiful things and have a close relation with art. This is benefiting Malindi, which has come to be known by some as "Little Italy in Africa".