Ramadhan lockdown not a bitter pill for all Muslims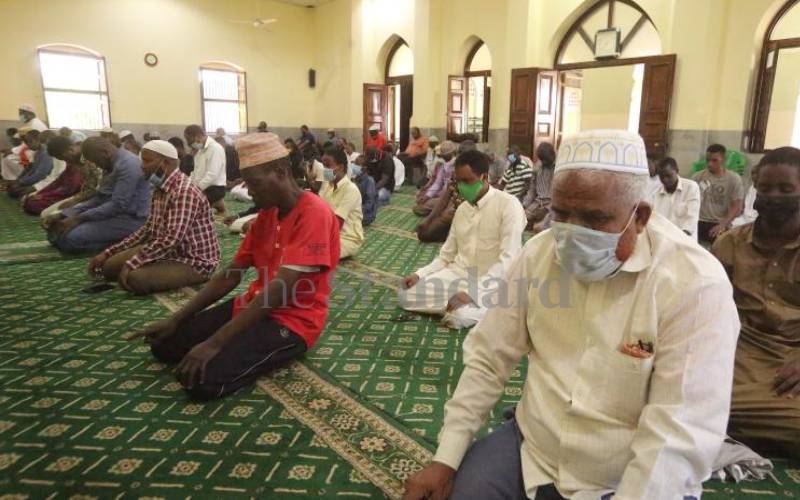 araweeh is a special prayer that can only be performed during the month of Ramadhan after the last prayer of the evening.
The country is in a partial lockdown.
The experience is bitter-sweet for two camps of Muslims: Those in Nairobi and four other counties under lockdown measures who cannot perform prayers in the mosque at a time when mosques are usually filled with worshipers.
And those in the other counties who are praying and worshiping under conditions that are not so strict; enjoying a nearly normal Ramadhan.
"While our brothers around the country are enjoying their Ramadhan with all the trappings that come with the holy month, we have to fast under restrictions yet again," said Brother Noordin Aden who spoke to The Standard on phone from Eastleigh.
"I doubt we can score as highly as people going to the mosque freely and even performing taraweeh."
Taraweeh is a special prayer that can only be performed during the month of Ramadhan after the last prayer of the evening.
Muslims have an attachment to this prayer and it can be said many feel as though their Ramadhan is incomplete without this exclusive act of worship.
The story is the same in Kiambu, Nakuru, Machakos and Kajiado. "Muslims in those counties are lamenting their misfortune, comparing their fasting experience to that of their brothers who are having a normal Ramadhan, complete with congregational prayers; bonding with brethren at the mosques and sharing iftar meals," bemoaned Abdirazak Marjan, a Kibera resident.
Consequently, Muslim scholars have moved in to assure faithful that Ramadhan, despite fasting under lockdown, is in no way inferior.
Sheikh Yusuf Abdi, a scholar with a huge social media following said the lockdown should not affect the quality of fasting.
He pointed out that we are all going to get rewarded according to our niyya (intention) in spite of what we were able to achieve.
Sheikh Yusuf gives the analogy of a time when the prophet announced to companions while they were participating in Jihad that those left behind in Madina will get a full reward as those who were fighting.
In Jibran Mosque, Mombasa, Sheikh Rishad Rajab said those fasting under lockdown have the luck of enjoying the full benefits of fasting and will subsequently earn a full reward.
"They might even end up being more spiritually fulfilled than those congregating in mosques," said Sheikh Rishad.
He said the only thing faithful in lockdown areas lack is the jamaa (congregation) and the chance to bond and promote Islamic brotherhood.