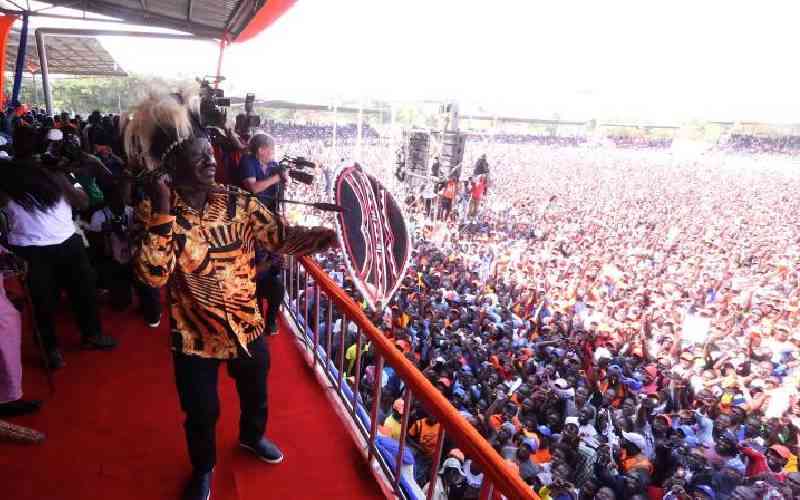 Kisumu and Vihiga were yesterday brought to a standstill as Azimio la Umoja One Kenya Coalition presidential candidate Raila Odinga and members of his coalition stormed the region for a final scramble for the region's 5.6 million votes.
Promising goodies to a region that has been steadfast behind his past failed attempts at the presidency, Odinga, and his brigade said he is the best bet to transform and unite the country.
In Vihiga, Odinga promised to include former ally Musalia Mudavadi in his administration should he clinch the presidency while in Kisumu, jubilant crowds welcomed the ODM leader with celebrations.
The development came as Odinga lambasted his rival Deputy President William Ruto over claims by the DP that the coalition was attempting to use State machinery and chiefs to influence the outcome of the elections in their favour.
The ODM leader termed Ruto's claims as baseless and told his traditional strongholds that he will defeat his opponent, promising to continue with the journey to unite and transform the country's economy.
"Don't come with shadow boxing. All those claims are baseless. We do not need chief or assistant chiefs to win the elections. We will win the elections through the votes of the people of Kenya," Odinga told off Ruto.
In a show of solidarity and optimism for his fifth stab, the region, gave Odinga their blessings with the ODM chief and his allies exuding confidence in trouncing their opponents at the ballot.
And in a passionate appeal, the Azimio brigade pleaded with the region to ensure that they register 100 per cent voter turnout to help guarantee a landslide win for Odinga.
He described his last rally in the region as a symbolic rally that can only be compared to the rally that was held in the region in 1961 after the release of Jomo Kenyatta from detention.
In Kisumu, Luo elders conducted a traditional ritual to crown him a warrior and handed him the symbolic spear and shield to prepare him for the political contest that awaits him on Tuesday when Kenyans head to the polls.
Odinga appealed to the region to ensure that they turn up in their numbers and ensure that the entire Nyanza region comes out and cast their votes in favour of him and his troops.
He said that his forays across the country had strengthened his support and claimed they are optimistic about winning the polls in a clean sweep and without any help as their opponents are alluding.
"There is no doubt that on Tuesday, the people of Kenya are going to vote wisely. They are going to vote blue and will vote Azimio. I have come to tell you that I want 100 per cent turnout this time," said Odinga.
The presidential hopeful said that he is on a mission to unite the country and is committed to realising the dream the country's founding fathers had to ensure that the country is united.
"President Kenyatta has finished and is going home, but the work of uniting the people of Kenya must continue. That is why I have told our competitors to leave the president alone. If you have a problem, face Raila and Karua squarely," said Odinga
He described next week's elections as a face-off between the corrupt and the development-oriented.
"The vote you are going to cast will be between corruption against economic change, thieves against developers. Any votes cast for Kenya Kwanza is a vote for corruption," said Odinga.
Leaders, who accompanied him including his running mate Martha Karua, said that the country is assured of success if they trust their coalition with its leadership.
Karua lauded the handshake between Odinga and President Kenyatta and said that they are committing to bringing economic transformation and unity to the country.
"Let us ensure that we cast all votes for Odinga. This is the election in which we must decide who we can believe in. The only person who can save the country is Odinga," said Karua.
She said that they will prioritize the fight against corruption and shared their economic plans for the country.
"We will deal with corruption. We will be the whip that will cane the corrupt in the country," she said.
For a region whose confidence had been running low as a result of past election losses, the changing political dynamics appear to have sent a fresh wind of change and optimism across the region ahead of next week's polls.
And what appears to be a change of strategy, Odinga opted not to drum up support for the controversial six-piece voting and instead, urged the region to ensure maximum voter turnout.
His allies, however, including his wife Ida Odinga and ODM chairman John Mbadi urged residents to consider only ODM candidates in Luo Nyanza.
Wiper leader Kalonzo Musyoka urged Nyanza to ensure that they deliver 100 per cent of the votes.
"The Kambas have said they are going to vote 100 per cent. Nyanza community must come out 100 per cent this time round. We are expecting to get more than 70 per cent in entire Kenya," he said.
Washington Onyango, Olivia Odhiambo and Brian Kisanji