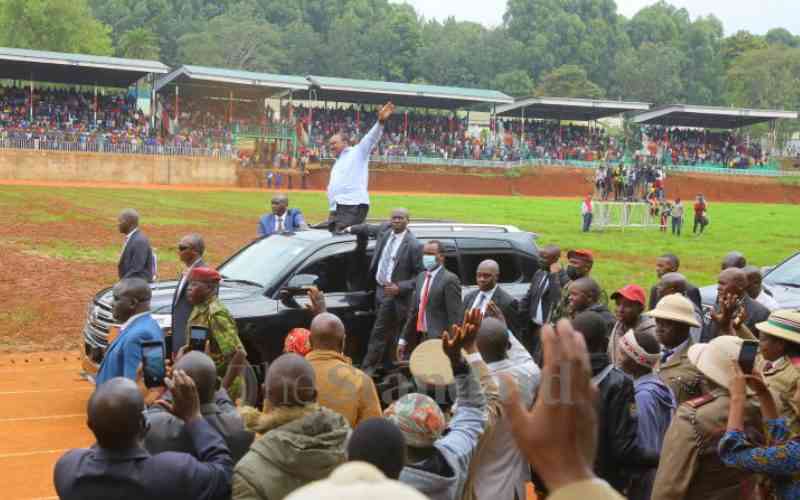 President Uhuru Kenyatta has lifted the lid on their fallout with his deputy William Ruto and claimed that his deputy went against their development plans and opted to take a different path.
This came as his criticisms for Ruto continued as curtain falls on his term. He urged Kenyans to ignore his deputy and instead back ODM leader Raila Odinga when the country heads to the polls on Tuesday next week.
President Kenyatta was speaking at the Kisii Mini State Lodge where he campaigned for the Azimio La Umoja Presidential candidate Raila Odinga a day after the former premier campaigned in the region.
Using figurative speech, President Kenyatta likened his administration to a bus and claimed that as the driver of the bus, there were several complaints from passengers accusing his conductor of theft. He said that a number of issues pushed him to change his mind about backing his deputy and claimed Ruto was anti-development.
"There is a saying that wise men change their mind, yes I changed my mind to support my Deputy because of so many issues. He was against part of our development agenda, the tires were stolen, seats thrown out and left with a shell."
The Head of State said he had achieved a lot after the Handshake arguing that those criticising his leadership style were only interested in looting the country to their benefit.
"Kenyans were lied to that the Building Bridges Incentive was to my benefit. Our interest was to empower people and do away with the mentality of living on handouts. We have inequality in the manner resources are distributed; this is what we wanted to cure."
He said some of them are wealthy, but some are not. "My government officials have stood for the rights of Kenyans, those others want the hardworking officials replaced by their own cronies."
The President said; "I had no say on the BBI report and there were key issues in the report that were all about the benefit of the common Mwananchi. We wanted an expanded government; some communities were being left out of the national share. I have come to bid you farewell, but remember it is Kenyans who are suffering for the failure to pass the report."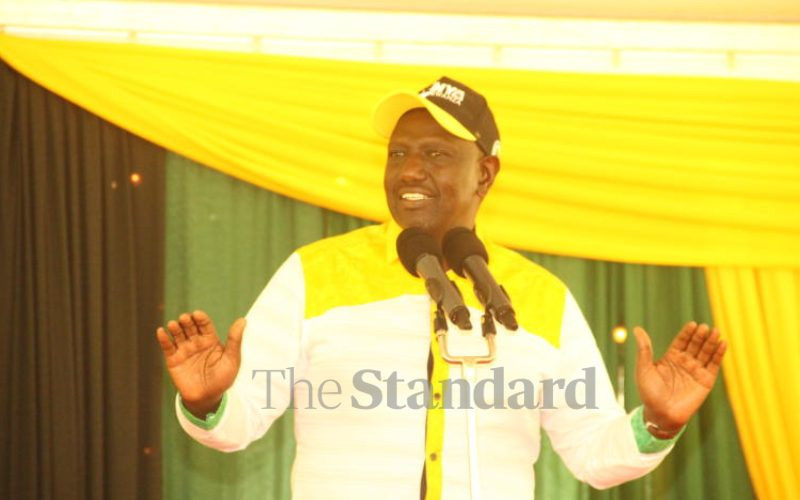 According to President Kenyatta, Raila is all about ensuring that Kenyans are equally represented.
"Raila is all about integrity and principle. We can't allow Kenyans to depend on individuals who have stolen from them. Let us do the right thing for the country. They are for the short term but we are telling you that ours is for the posterity of this country. They are abusing me yet I am the President, what will happen when they are in power?"
Uhuru said he is not supporting Raila for the sake, "We have told him that he has to maintain our people in government, they are our soldiers. I don't know how to force but to request."
In the meeting, Uhuru asked local politicians to stop the endless wrangles and chaos he said has been common in the recent past in Kisii. "You will never succeed as a politician if you lack ambition. Raila will only win if those of us within the alliance stop fighting. The secret to good leadership is when you win fairly without being an antagonist."
The President called on those seeking governor position in KisiiCounty under Azimo to conduct their politics with respect. "We maintain on being on the winning team then we can gain from other levels of government. Everyone will be accommodated in the Government. Look for your votes, but don't kill one another."
Interior Cabinet Secretary Fred Matiangi, Solicitor General Ken Ogeto and Health Principal Secretary Susan Mochache thanked the Head of State for appointing them to government positions.