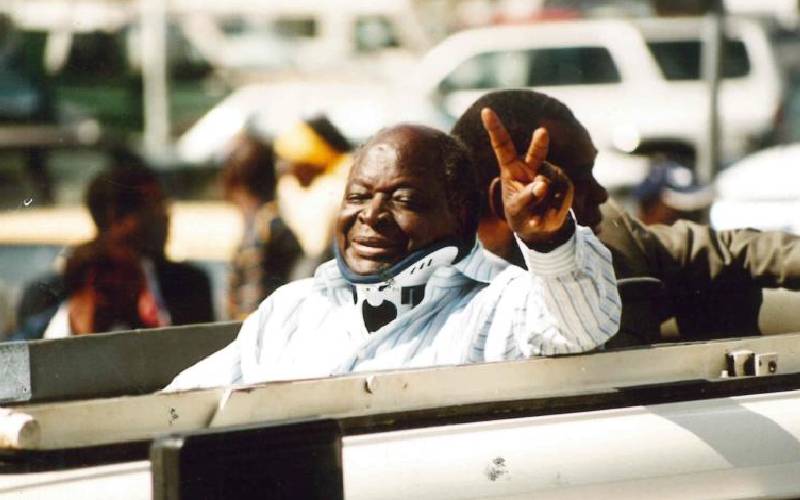 Mwai Kibaki will be judged a mixed bag, a paradox and easily Kenya's ultimate political enigma in his time.
A taciturn character who spoke little, even when socialising with close friends, it was difficult to tell what was on his mind. Even more difficult was to predict his next move. Friends tell of an affable gentleman who listened more and talked less. He would fix his penetrating eyes on the speaker, almost as if he was sieving fact from fiction, the wheat from the chaff.
What he made of what you said remained in private spaces in his mind. Few, therefore, knew what he was up to. It remains difficult to tell whether the great things that happened in his life were happy coincidences, or factors of strategic moves.
When he resigned from Kenya's last one-party Cabinet on Christmas Day in 1991, many expected that he would join the newly emerged Opposition. The move caught both the Opposition and Kanu chiefs totally unawares. The editor who allowed the news to break on TV at 1pm lost her job.
Mwai Kibaki had openly opposed the push for multiparty democracy. He had stated in public that it would be better to correct the mistakes in Kanu from inside, instead of forming new parties that would divide the country along ethnic lines. "Let us wash this shirt even when it is on the body instead of removing it," he had said, curiously. Yet here he was, now quitting President Moi's government. It was not done in that age. What could he be up to, many asked?
Measure of disquiet
The answer came within hours. A new political outfit, the Democratic Party (DP), had been born. It orbited around Joseph Munyao, Njenga Karume, John Keen and a certain Joe Swanson who remained largely a smoky background figure, who never quite came to be known to the Kenyan public.
They announced that Kibaki would contest for the presidency in the 1992 elections. They chose the lantern lamp as their party symbol, to presage the new light they purposed to bring to the country. The hope that he was going to join the then still solid Forum for Restoration of Democracy (Ford) were quickly put to rest.
The birth of DP was received with a large measure of disquiet in the Opposition. Even without its entry, caustic internal strife was already tearing up the star-studded Ford, whose galaxy read like who-was-who in the Opposition in Kenya. They included such names as Jaramogi Oginga Odinga, Masinde Muliro, Kenneth Matiba, Charles Rubia and Martin Shikuku. The entry of Kibaki was only going to make the field a little more crowded and the vote scattered.
Was he a Kanu project? Many asked. Why could he not join up with the others? There was pulsating tedium with Kanu and the feeling was that the Opposition should approach the 1992 election as a solid bloc. The arrival of DP a stand-alone entity was, therefore, received with much mistrust among those who had been in the trenches for several years now.
Some speculated openly that it was, in fact, a Kanu inside ploy, to defeat the Opposition. Ford chiefs advised Kenyans to shun Kibaki and DP. It did not help matters at all that Ford eventually split into Ford-Kenya, under Jaramogi and Ford-Asili, under Matiba.
Maintaining his trademark silence, Kibaki dug in, regardless. He went all the way to the wire. In the subsequent election he emerged third with 1,049,308 votes, behind Matiba's 1,419,308 and the victor's (Moi's) 1,970,771. Jaramogi was fourth with 959,088.
The combined poll by Kibaki, Matiba and Jaramogi by far exceeded President Moi's. But it was too late to do anything about this defeat. The performance of the rest of the candidates George Anyona, Mukaru Ng'ang'a and Chibule Wa Tsuma with dismal.
When the restored multiparty Parliament opened for business in January 1993, Kibaki found himself in unfamiliar space, having been in government since independence to Christmas Day the previous year. He could not even claim the Leader of Opposition perch.
Impressive results
This went to Matiba, by virtue of having more MPs than Kibaki. DP, however, returned impressive results with notable victories outside Nyeri and Kirinyaga districts, where most of DP's victories were confined.
Some notable outcomes were in Ntonyiri (Maoka Maore), Tigania (Benjamin Ndubai), Imenti North (David Mwiraria), Tharaka-Nithi (Bernard Njoka), Kangundo (Joseph Mulusya), Makueni (Agnes Ndetei), Kitui Central (Charity Ngilu), Changamwe (Kennedy Kiliku) and Bonchari (Protus Momanyi).
Ford Asili, however, suffered a setback that began turning Kibaki's fortunes. A number of MPs from Western defected to Kanu and went to by-elections in which Kanu captured the seats. They included Apili Wawire (Lugari), Japheth Shamallah (Shinyalu) and Benjami Magwaka (Ikolomani).
Kanu's victory tilted the parliamentary balance in the Opposition in favour of DP. Kibaki took over from Matiba as the Leader of the Official Opposition. It was a position in which he would remain and serve all the way to 2002, for in the elections of 1997 Matiba stayed out – citing lack of confidence in the electoral system.
Kibaki came in second, bringing along most of the Mt Kenya constituencies that had previously gone to Ford Asili, which had itself suffered natural attrition and existed only in name.
As Leader of the Opposition, Kibaki and DP were particularly keen watchdogs on the economy, at a time when Kenya was in the worst books of the global donor and lending community. They stoked the fires of suspension of international aid to Kenya by the donor community.
They pushed for reforms in the economy and, especially, for the war against corruption as preconditions for restoration of foreign aid. A keen Shadow Cabinet was named, to keep Kanu on its toes. The spinoff of the aid freeze was liberalisation of the economy, and reforms and sale of key State-owned companies and liberalisation of the money market.
It was at this time that President Moi was forced to form the Dr Richard Leakey-led Dream Team that was tasked with the reform of the public service, with a keen eye on the economy. Key reforms here included liberalisation of the airwaves and opening up of broadcasting space for radio and television in the country.
Others were reform of the Kenya Ports Authority, conversion of the Income Tax Department to the Kenya Revenue Authority, and floating of Kenya Airways shares to the public. There were also reforms in the energy sector and in agriculture.
Nursing the dream
Kibaki meanwhile continued to nurse the dream of becoming Kenya's third president. With the imminent departure of President Moi, he started looking for potential partnerships.
The Opposition was learning fast that confronting Kanu in splinters would never dislodge her from power. There was blatant hubris about the perceived invincibility of Kanu. Both President Moi and his party secretary general, Joseph Kamotho, bragged loudly that Kanu would rule Kenya for one hundred years.
Efforts to bring the Opposition together continued to be elusive. In 1998, Raila Odinga, then an emerging forceful political personality, began talking of taking his National Development Party (NDP) into partnership with Kanu.
The new amity with Kanu was palpable. The leaders of the two parties spoke the same language of national unity and political cooperation as early as January 1998. NDP began exhibiting aspects of the kind of political conceit that defined Kanu. A working formular was soon established between the two now kindred parties. It was now just a matter of time before they began exploring the possibility of fusion into one. The merger eventually came on 18 March 2002.
The Opposition having lost a key figure to Kanu, Kibaki reached out to two of the remaining stalwarts, Charity Ngilu – now of the Social Democratic Party (SDP) – and Michael Wamalwa Kijana of Ford-K. Details of their regular consultative meetings remained scanty. They talked of "sharing a cup of tea," while their detractors taunted them with such snide remarks as, "What are two men always doing in hotels with one woman?"
They say that fortune favours the prepared. The triad of Kibaki, Wamalwa and Ngilu would soon demonstrate the true meaning of the expression, "Government in waiting." The Raila foray into Kanu soon enough proved to be the poisoned chalice in the independence party's lap. The poison was, moreover augmented with the hugely unpopular Uhuru Kenyatta for president project.
When President Moi announced in September 2002 that Uhuru was his preferred successor, the die was cast. Kanu was set on the road to disintegration with Kibaki as the foremost beneficiary. The informal National Alliance Coalition (NAC) that he had crafted with Wamalwa and Ngilu quickly morphed into the National Rainbow Coalition (Narc), whose remnant of Narc Kenya, former Justice and Constitutional Affairs Minister, Martha Karua, still hold on to.
The transformation of NAC to Narc was occasioned by an avalanche of migration from Kanu to the Liberal Democratic Party (LDP) by a massive swathe of hitherto pliant MPs and other politicos in the independence party.
Led by their only recently elected secretary general, Raila, they resigned in droves into the new space, recently acquired LDP. The new LDP leadership got into multiple fronts of dialogue that swiftly massed the Opposition into one front for the first time, barring insignificant exceptions by persons like Ugenya MP, James Orengo, who went on to run for president on the Social Democratic Party that had once brought him together with Ngilu and Kisumu Rural MP, Prof. Peter Anyang' Nyong'o.
Ensconced next to Raila
Both Nyong'o and Ngilu were, meanwhile, comfortably ensconced next to Raila, only waiting for the conclusion of who should lead the massed up troops to the election. It came to pass on September 22, 2002, when Raila posed to a frenzied mammoth rally the now famous rhetorical question, "Si hata Kibaki anatosha?" Which is to say, "Is not Kibaki suitable (to be the President of Kenya)?
The rest was a roller-coaster campaign assignment all the way to power, with the exception of the December 2002 car accident that nearly turned fatal, while returning from a campaign mission in Kitui and Machakos. While he was flown out of the country for specialised medical attention in the UK, his troops — under the joint command of Raila, Wamalwa and Moody Awori — did a sterling job.
Kibaki was elected Kenya's third president on December 27, 2002, with a resounding majority of 62.2 percent of the vote. His main opponent, Uhuru, polled 31.3 percent, while Simeon Nyachae of Ford People only managed 5.9 percent of the vote.
Very interesting, and often messy and turbulent times lay ahead. They were informed of totally unexpected schemes, betrayals and violence. And yet, despite all these, Kenya still thrived under President Kibaki and made monumental milestones with profound implications for future generations.
- Dr Muluka is a strategic communications adviser.