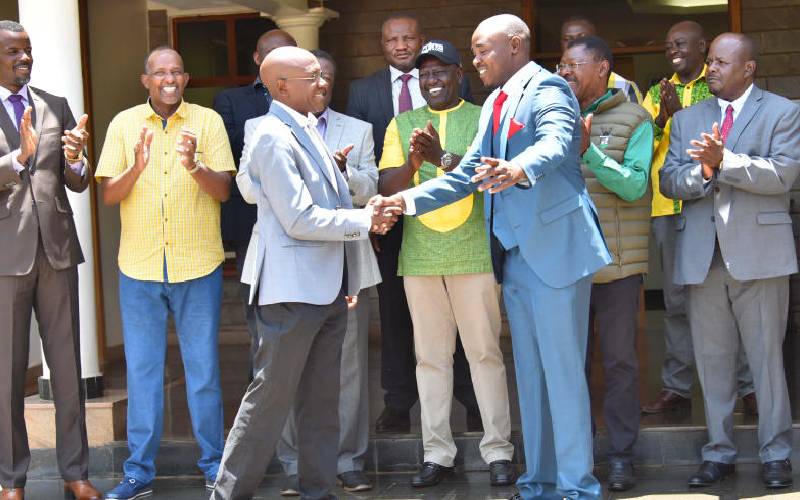 After Deputy President William Ruto brokered a truce on who in Kenya Kwanza will contest the governor and Senate seats in Kakamega, the focus now shifts to whether the team can beat Azimio aspirants.
Kakamega Senator Cleophas Malala will contest the governor seat on an ANC ticket while former Kakamega Senator Boni Khalwale will vie on a UDA ticket in the senatorial race.
In 2017, Dr Khalwale vied for governor and lost to Wycliffe Oparanya who is now serving his final term. With Dr Khalwale out of the way, Mr Malala ran for Senate.
The Khalwale-Malala truce has drawn mixed reactions.
Mr Malala's followers were elated while Dr Khalwale's supporters feel cheated. His Ikolomani constituents called a press briefing and denounced the move.
"Who did he consult before backing a junior politician like Malala? We will not vote for him for the Senate seat and will only back a senior politician for the governorship," Mr Samson Shivega said.
The aspirants' ages will play a critical role in determining who becomes Kakamega's next governor.
Most residents say they prefer an older, seasoned politician over young Turks. Mr Khalwale is 61 while Mr Malala is 37 years old.
"The coming together of Khalwale and Malala is in keeping with Kenya Kwanza's pledge to bring the people together. We could not afford to go into the elections divided. The two have a very strong following and their teaming up makes a formidable team that guarantees a win for Kenya Kwanza," Mr Isaac Otiende, ANC Chief Executive Officer Kakamega said.
ODM Youth leader Owen Musoma says the deal between Dr Khalwale and Mr Malala has little impact.
"Khalwale knew he was going to lose the gubernatorial nomination since all along we have known that the contest will be between Fernandes Barasa and Malala," he said.
There is a growing perception that Mr Oparanya is determined to tilt the balance in favour of Mr Barasa who opponents say has the county chief's backing.
During a press briefing on Saturday, Mr Malala claimed: "Oparanya wants to impose a candidate who is his sister's son on the people of Kakamega."
However, during the burial of slain football fan Isaac Juma in February, Mr Oparanya denied similar claims.
Lawyer and political analyst Kennedy Echesa says the political truce between Dr Khalwale and Mr Malala should serve as a wake-up call for Azimio la Umoja camp.
"Unless Azimio gets an extraordinary candidate for the Senate, Mr Khalwale is as good as the Senator-elect. He commands goodwill and support across the political divide."
Kakamega County is ethnically divided into North (Malava, Lugari and Likuyani, Isukha, Idakho Butsotso and Bunyala) and Southern (Butere, Kisa, Marama and Wanga), each having ethic political leanings.
Dr Khalwale has a large following in the North, while Mr Malala has a following from the South, the same as Mr Barasa. However, it looks like Mr Malala has an identity crisis fight on his hands.
During the Bukhungu II meeting in Kakamega on December 31, 2021, ODM leader Raila Odinga claimed that Mr Malala is of Luo extraction hence, unsaid but implied, he had no business dabbling in Luhya politics.
Mr Odinga's statement was made during a light moment but could become an albatross around Mr Malala's neck in his quest to become governor.
Nevertheless, should Mr Malala and Dr Khalwale manage to keep their voting blocs intact, they will make a formidable team against the Azimio la Umoja group.
By opting to go for the Senate seat, Dr Khalwale put himself in better stead.
He will be competing against Dr Brian Lishenga and politician Simbauni Ndombi who has unsuccessfully vied for Lurambi parliamentary seat in previous polls.