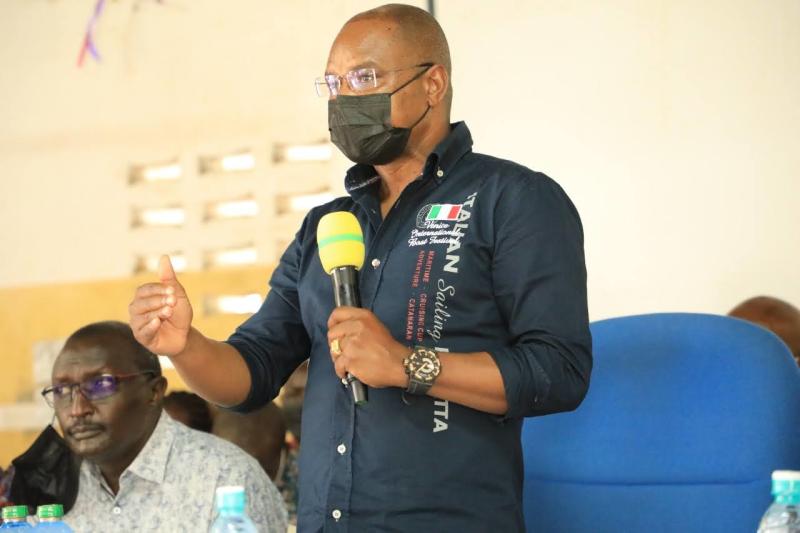 The rivalry between ODM and Pamoja African Alliance (PAA) over the control of the Coast politics has gone a notch higher despite Kilifi Governor Mr Amason Kingi's decision to back Mr Raila Odinga's presidential bid.
Mr Kingi's elevation to the position of a principal in Azimio la Umoja is expected to spark a fresh supremacy battle between him and Mombasa Governor Mr Hassan Joho.
Mr Kingi and Mr Joho have for the last nine years had an on-and-off relationship despite both being elected on the ODM party ticket.
Their differences escalated after Mr Kingi formed a Coast-based party. Mr Joho, however, rejected the move, insisting the region remains in ODM. And now, Mr Kingi seems to have cut his own political clout and embarked on a journey to chat his own political destiny through PAA, which has signed a coalition agreement with Jubilee Party.
Mr Kingi, ventured into elective politics when he clinched Magarini parliamentary seat on an ODM ticket in 2007, has worked closely with Joho until last year when he was sacked as Kilifi ODM chairman.
Undeterred, Mr Kingi and his allies registered PAA on October 18 last year. The new outfit has become a thorn in the flesh of ODM leaders as it seeks to grab political seats from the orange party that has dominated Coast for 15 years.
Political analysts argue that Mr Kingi's decision to sign an agreement with Jubilee Party and not ODM, set the stage for PAA to compete for elective seats with Raila's party at the Coast on equal footing.
Political analyst Mr Abubakar Yusuf observed that President Uhuru Kenyatta has lined up PAA, Democratic Action Party of Kenya (DAP-K) in Western Kenya, United Party of Independent Alliance (UPIA), United Democratic Movement (UDM), Wiper Democratic Movement and other parties in his effort to make Raila president.
"PAA and other parties appear to have issues with Raila but have aligned themselves with Jubilee and President Uhuru in support of Azimio. It is clear the president wants to make Raila King through offshoots of Jubilee," he argued.
He said Raila may become president with not much control because many political parties are coming to Azimio through President Uhuru and hence will give him a bigger say if the coalition forms government.
"Raila is likely to become a weak president while Uhuru will have bigger say and control Parliament through the many parties he is aligning with Azimio," he added.
Yesterday, PAA spokesman and former Malindi MP Lucas Maitha said the party first approached ODM for a possible cooperation agreement and pre-election pact but talks failed to take off forcing the Kingi-led team to reach out to Jubilee.
PAA sought to negotiate to have ODM leave the elective seats to Kingi's party particularly Kilifi County but Raila's allies at the Coast had declined.
Yesterday, political analyst Maimuna Mwidau explained that joining Jubilee was the best option for PAA to avoid being swallowed by ODM through joint nominations.
Pwani University Lecturer Prof Halim Shauri noted that Kingi is a shrewd politician seeking political relevance beyond 2022 by delinking himself from ODM and his shortcomings when he served as governor for more than nine years.
He said becoming a captain of a new political party also gives him space at the national negotiating table.
"Kingi is running away from his shortcomings as governor and ODM member by aligning himself to different party and joining Azimio through the backdoor instead of ODM," Prof Shauri argued.