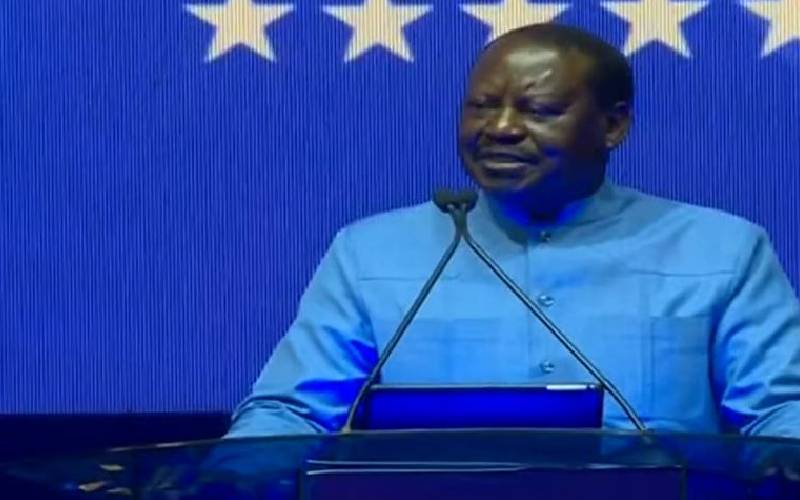 Orange Democratic Movement (ODM) leader Raila Odinga has today been endorsed by President Uhuru Kenyatta and Wiper Party's Kalonzo Musyoka for the presidency during Azimio la Umoja's NDC at the Kenyatta International Convention Centre (KICC).
Accepting the nomination to thunderous applause from Azimio supporters after the meeting's six-hour delay, Odinga pledged to lead an all-out war on poverty, unemployment and hopelessness in Kenya.
"You have handed me a strong, broad and unified platform to stand on and additional pairs of hands to help steady the ship. The nomination comes with a responsibility to lead Azimio to a resounding victory in August and put our country firmly on the path of greatness and prosperity. I will deliver, with your continued support," said Odinga.
Odinga, 77, added that he will build on President Uhuru Kenyatta's record of putting Kenya at the centre of regional, continental and global engagements and assured the movement that he will eliminate mistrust, unfair competition and negative ethnicity.
"We got here because of the March 2018 handshake between President Uhuru Kenyatta and myself. We agreed that Kenya is greater than the two of us; that Project Kenya has not quite taken off the way our founders envisaged; that we have been held back by artificial divisions," noted Odinga.
Opening up about his handshake pact with President Uhuru, Odinga said their friendship and brotherhood has been one of the most unlikely in the history of Kenya.
"Nobody ever imagined that one day, the parties and individuals that fought on opposite sides in 2013 and 2017 would unite," said Odinga, adding: "We navigated strong tides from within and without to steer the country in this transformative direction."
He affirmed fairness under Azimio and urged like-minded Kenyans to rally behind his candidature.
"These agreements are taking shape. They are the foundation of the diversity of our people coming together through Azimio la Umoja. At no time in recent history has so many parties agreed to come together in pursuit of a united country. Azimio is a family founded on conscious consent," he pointed out.
Under his leadership, Odinga revealed, a stand-alone Ministry for Youth Affairs will be established. The youth will also be granted tax holidays and incentivized to organizations. "I will strive to eradicate this feeling among a majority of Kenyans that however hard they work, nothing seems to change in their lives."
Addressing the delegates at the KICC, Uhuru said Odinga is best suited to succeed him as Kenya's fifth president. The Jubilee Party leader noted that the ODM leader will run an all-inclusive government, move Kenya to a respectable future, tackle corruption, and unite communities.
"Should he win the presidency; he won't leave any of the party leaders behind. You'll see more of Kalonzo, Charity Ngilu, Alfred Mutua, among others, in Raila's government. May God protect our fifth president," said Uhuru.
The president went on to laud Kalonzo, whose party on March 11 formally declared a coalition after affiliate parties signed a pre-election deal, for shelving his ambitions in support of Odinga under Azimio.
"There are others who are more capable than others to lead Kenyans like Kalonzo and we thank him for his bravery," said Uhuru.