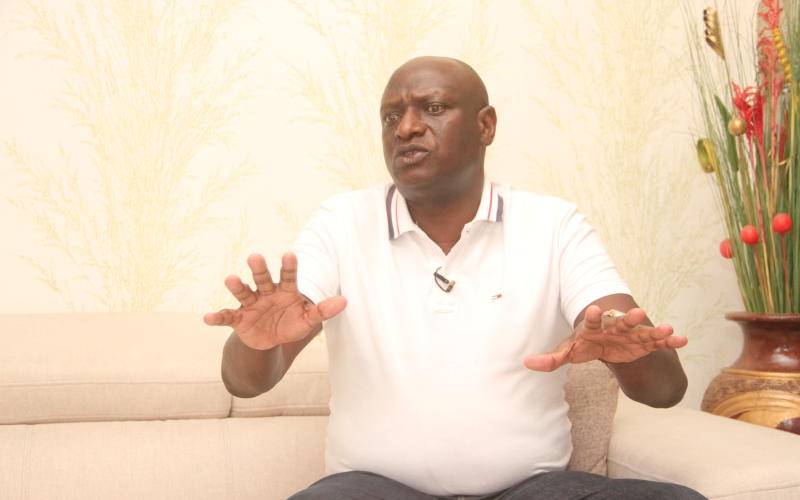 Everyone knows what happens before a Cabinet Secretary (CS) leaves office – the lofty thank-you speeches to the appointing authority and colleagues, a listing of achievements during tenure of office, then official hand over, and all.
What is less known, however, is what happens thereafter and Charles Keter, like the rest, is just beginning to find out the hard way.
The Sunday Standard team caught up with him – relaxed and in a white T-shirt – at his private office on Dennis Pritt Road, in Nairobi, which is expected to partly serve as the operational centre for his campaign to replace Prof Paul Chepkwony as Kericho governor.
Ordinarily on a working day, the CS would have checked into office by at least 7.30am, clad in a white shirt – his favourite – a suit and necktie.
And accessing him would have been another tiring ritual, involving security checks, confirmation of appointment, not to mention the long wait in the lobby.
But when we called on him on Friday at his private premises, except for a small team of four aides, there was no elaborate security detail and staffers in sight. And the former CS was relaxing on a couch and waiting.
"I would have arrived here even earlier, except for the heavy traffic and like every motorist now I have to go along with the flow. The only good thing is that even as a CS, I always planned ahead and kept time."
Keter considers the period between his resignation from government and before hitting the campaign trail as a most relaxing moment and a much needed break, from strict office routine that dominated his lifetime since joining government in 2015.
In the meantime, he can also enjoy his usual early morning jogging practice along Nairobi's Langata Road.
"I used to exercise in the gyms, but over the time, I found the environment boring and restrictive, and I opted instead for a morning run, waking up daily at 5.30 am. Of course now, I can go through my paces calmer and not necessarily very early," he says.
The experience of Keter sheds light on life after a stint in a high-profile government office. Life outside the trappings of office as a member of the Executive as per the 2010 Constitution is not necessarily odd, but it poses immediate challenges to individuals who have to adjust to new life with official car withdrawn, and security detail significantly curtailed.
Unlike Keter, Sicily Kariuki (Water), Mohamed Adan (East African Community) and John Munyes (Petrolium) who resigned last week to try their luck in elective politics, colleagues who served under President Uhuru Kenyatta's first term in office, who were dropped from the Cabinet were luckier to get a soft landing – thanks to diplomatic postings as ambassadors and High Commissioners.
The then Mining CS Dan Kazungu was, for instance, posted to Tanzania, Environment CS Judi Wakhungu (France), Sports CS Hassan Wario (Austria) and Agriculture CS Willy Bett (India), and Labour CS Phyllis Kandie (Belgium, Luxembourg and the European Union).
Jacob Kaimenyi, the then Lands CS, was reassigned to head the Permanent Mission of the United Nations Educational, Scientific and Cultural Organisation (UNESCO) in Paris, while Health CS Cleopa Mailu, who exited earlier, was appointed as to the Permanent Mission of the United Nations in Geneva.
However, the destiny of the new crop of Uhuru Cabinet "job losers" is in their own hands. And the battles ahead are not a walk in the park.
Keter, who is seeking to vie on a United Democratic Alliance (UDA) ticket, will be coming up against formidable opposition, including from Kericho Senator, Aaron Cheruyiot.
Curiously, the vocal Senator benefitted from Keter's appointment to the Cabinet in 2015. Cheruyiot won in the subsequent by-election.
But a confident Keter, who says he has never lost an election, maintains he will win. The 52-year old politician, who has reportedly already assembled a campaign secretariat and printed campaign merchandise, won the Belgut parliamentary seat on his first attempt in 2002, snatching it from his brother-in-law, Charles Kirui. He recaptured the seat in 2007 and went on to become Kericho's first Senator in 2013.
Nicknamed "transformer", by ardent supporters in his home county of Kericho owing to his expeditious rollout of electricity over the seven years he was Energy CS, Keter hopes to ride on his development record as MP, Senator and CS to become Kericho's governor.
Besides being an imagery of development in the energy sector, the "transformer" nickname literally reflects his transformative agenda in service delivery to his people, over the last two decades.
But the former CS's record at the helm of the Energy sector has been fairly challenging following the high cost of energy. In July last year, for instance, Keter was compelled to explain this disturbing trend to Parliament. His justification that the purchase of expensive electricity from Independent Power Producers (IPPs) was due to prior deals signed with Kenya Power geared at "balancing power demand and supply", was not convincing.
Appointed as Energy CS in December 2015, Keter was transferred four months ago to the Devolution docket, which in the new organisation had been stripped of several mandates, including State corporations.
Before his appointment to the Cabinet, he was was Deputy Leader of Majority in Senate from 2013 till 2015. In his political career spanning 13 years, Keter also served as Assistant Minister for Energy and Petroleum between 2008 and 2010. As MP for Belgut, his constituency was in 2012 rated the best in the management of Constituency Development Fund (CDF).
Before joining politics, the politician who holds a Global Executive MBA from the United States International University (USIU) – Africa, and a Bachelors Degree in Double Mathematics from Kenyatta University, worked in the telecommunications sector for nine years, with expertise in Information Technology, Systems Analysis and Anti-fraud, as an assistant manager of Anti Fraud Section at Telkom Kenya.
Q: Mheshimiwa, why did you abandon the electorate in Kericho – even after campaigning and getting their mandate at the ballot – to take up a Cabinet slot?
To the best of my understanding, there was neither manoeuver nor vested interests in my appointment. To me, this was a welcome gesture from the President and an opportunity to serve in another portfolio. It was also a great chance to serve as a minister – as a CEO of the (Energy) Ministry.
Q: Or was it about your experience?
That is another possibility, considering that I had previously served as an assistant minister in the same docket and probably the authorities were keen on the elements of experience and continuity.
Q: And what has persuaded you to resign and seek the people's mandate again?
I have had good exposure and learnt a lot of things over the time, first as an MP, Assistant Minister, Senator and lately as Cabinet Secretary. I now want to serve my people in another bigger capacity as their governor. I believe that what I have done for this country, I can utilise the experience earned to implement some of the projects which have been in my dreams.
Q: Please update us on your achievements at the Energy Ministry
Generally speaking, we have expanded very fast and firmly. Today, nearly everybody has electricity. There was a time – remember – when electricity was a preserve of those who could afford to pay for it. But the cost was greatly lowered and the government pumped in a lot of resources to enable access to many Kenyans.
Q: What level of success or growth are we talking about?
Today, we are doing about 75 percent as a country, from a previous 30 percent electricity cover – a rollout that has not been easy to achieve. It is one of the biggest power coverage and achievements in terms of access, not only in Kenya but across Africa. We have also boosted the transmission lines which, as in the case of Mombasa, was being served by only one line. In Western Kenya, we followed through this with a beef up in Kisumu, Kibos area, which we completed August. I mean, generally, I can say the transmission grew to about 4,000 kilometres from the previous 3,600 kilometres.
Q. What about the power generation?
Yes, we have been launching a power plant almost every year in Olkaria. So ideally, power generation also shot up. It is now about 2,800 megawatts and mostly those are through geo-thermal and not thermal power plants.
Q: What about the petroleum sub-sector?
It was during my tenure that we completed the fifth line, the new pipeline all the way to Kisumu as well as the sixth pipeline to Mombasa, among many other achievements. Despite these explanations, Kenyans are united in their protest over high electricity and fuel costs
We have done much to address this matter including using the IPPs to cushion the country against utilisation of more expensive emergency power generation options during periods of poor hydrology. Admittedly the costs are high, but at least we have managed to provide a continuous and stable supply of electricity. This comes at a cost, but power rationing and use of generators to fill that energy gap, are things of the past.
Q: Is there anything worth of mention during your four-month tenure at the Devolution Ministry?
Since moving to this station in October, one of the key transformations attributable to my efforts – and that of my team – was to synchronize our transactional systems. You know, most of the counties right now run independent systems in terms of revenue collection, because they are not linked to the national government. We have drafted relevant Bills in Parliament to have this arrangement centralised.
Q: What are some of the benefits?
Besides easing financial management in counties, the move will further enable us to have a seamless transfer of manpower. This is because right now, an employee of Machakos, for instance, is not easily transferrable to Migori without resigning and entering into a new contractual arrangement. And this affects professionals working in county governments. There is need for a seamless transfer of staffers and manpower in our counties.
Q: Back to politics, briefly – the president and his deputy have been at conflict over the performance of the so-called Handshake government, with Uhuru claiming his government performed better under partnership with Raila Odinga, and Ruto insisting the first term was more progressive before Raila's dalliance with Uhuru. Formerly as part of the Executive, what is your take on this ping-pong?
I am not in a position to audit the performance of President Uhuru Kenyatta and his deputy, or rather a government that I have served in for the last eight years.
Q: But as a CS, in which period were you most contented with your personal targets and service delivery?
First, that demarcation of UhuRuto and Handshake so-called eras does not make sense to me, and I guess for most of my former colleagues. But speaking for myself, there was absolutely no difference in Uhuru's two terms and I was similarly motivated and I performed to the best of my capabilities all through.
Q: Back to the national campaigns, UDA or Kenya Kwanza Alliance, where you belong, have promised Kenyan voters "a big poll surprise", in the few coming days. Do you think any strategic move to field another candidate, other than the DP, who has become the face of your coalition formation, could be embraced by the electorate in Rift Valley?
Please spare me such questions because you will not get a direct answer. I am only two days old since leaving office, and I am yet to even launch my bid. Besides, I haven't acclimatised myself with what is cooking on the ground. Let us have another interview on this later, once I join the teams in the field.
Q: There is no doubt you are a strong candidate, but in the unlikely event that you lose, what…
Wait! I have never lost an election and I doubt that this will be the first. They say charity begins at home, and so far so good. Besides my wife Winnie and I, this year I have new voters in my household – two daughters and a son aged between 18 and 26 years. Don't you think this is a good starting point?