Kimemia rolls out ward committees to monitor development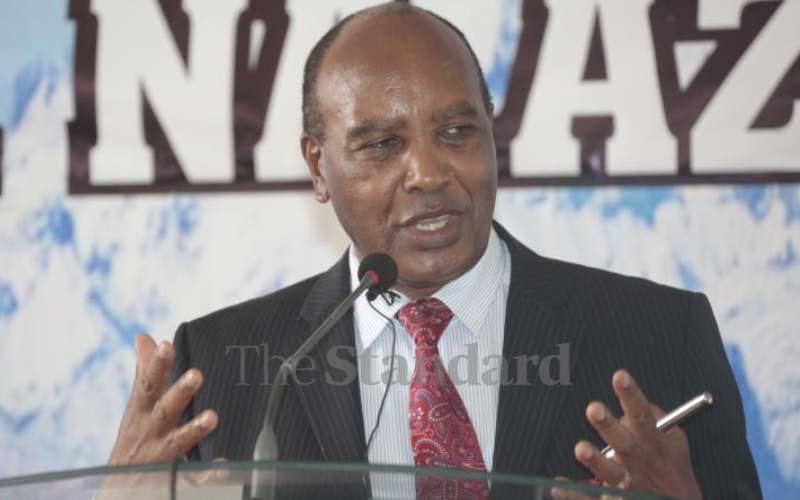 Nyandarua Governor Francis Kimemia has rolled out a comprehensive mechanism of monitoring and assessing his government's projects at the grassroots.
While operationalizing Ward Development Committees at Catholic Hall in Ol Kalou, Kimemia said the team of eight per ward will advise his administration on the progress of projects as well as the challenges encountered.
He said the team that also has representatives from the national government will also interact with the residents on priority projects, which they will help identify.
"Members have been selected from diverse backgrounds across all the 25 wards. Due diligence was followed to ensure that we get a clear picture of what is happening in our villages," said Kimemia.
He said the teams have been empowered to confirm that the right standards were adhered to during the implementation of projects at the ward level.
"We want to get value for money. That is why we want the committee members to be active in following the implementation process for the development projects. If a kilometre of the road requires 50 trucks of murram, the teams should ensure that is what is delivered and used," he said.
The governor said the Department of Public Administration and Information Communication Technology will come up with an operation manual for the Ward Development Committees, which will guide them on how to carry out their mandate.
"When I assumed office, I instructed the Department of Public Administration and ICT, in collaboration with the County assembly, to lay down modalities to develop a policy and create Ward Planning Committees," observed Kimemia.
Apart from monitoring projects, the committees will tackle issues on peace, cohesion, environment and resource allocation at the grassroots.
Kimemia said poor road network that has perpetually been used as a campaign tool was now a thing of the past in Nyandarua after his administration acquired Sh500 million worth of equipment to rehabilitate the roads in all the 25 wards.
He said although energy was not a devolved function, he had managed to push for implementation of several rural electrification projects with the latest being acquisition of 125 transformers.
"When I took over, power supply in the county was very minimal but with time we have managed to increase the accessibility to cover more area," he stated.