'You are an Omondi', Raila claims he is more Luhya than Malala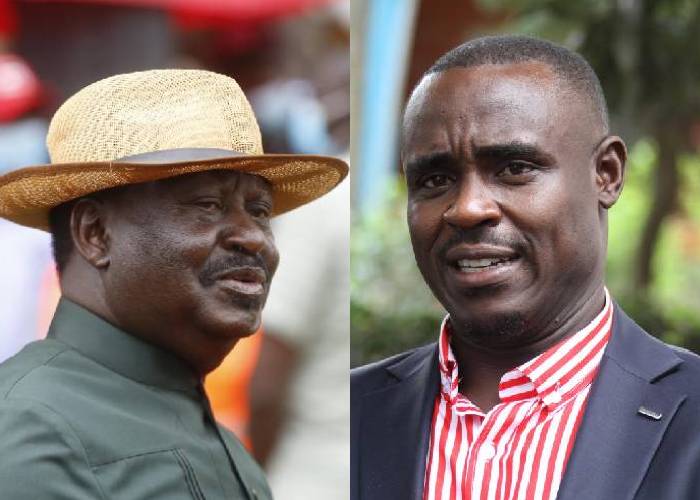 ODM leader Raila Odinga has today told off Kakamega Senator Cleophas Malala for threatening to stop the Bukhungu Stadium meeting.
Speaking on Friday at Bukhungu Stadium, Raila told the senator to stop playing tribal politics, adding that he [Raila] was "more Luhya" than Malala.
While referring to Malala as Omondi, the ODM leader told the Luhya community to ignore leaders who were out to divide the nation along the tribal lines.
"Tell that Omondi that he is from Ugenya, his grandfather was buried in Ugenya, Siaya County while my grandfather is buried in Matungu, Kakamega, I am a Kenyan and the only Nabongo remaining," Raila said amid cheers from the crowd.
Malala, on Sunday, December 26, vowed to block the former Prime Minister from holding a political rally at the Bukhungu Stadium on December 31.
According to the senator, Raila ought to have received permission from the Amani National Congress (ANC) party leader, Musalia Mudavadi, to access the stadium.
"I want to tell those people that if they will not get permission from Musalia Mudavadi, they should not go there on December 31," he stated.
Referring to Kakamega as his "bedroom", Malala said he had the key to the stadium.
The senator expressed displeasure with Raila's faction, claiming that it had planned to use the meeting to bring members of the Luhya community to endorse his candidature.
"If you want to endorse Raila, why don't you go and do it in Kondele, Siaya or Yala? Kakamega is a no-go-zone," Malala said.
The remarks landed the legislator in trouble with the National Cohesion and Integration Commission (NCIC), which summoned him following his remarks.
"We have today summoned Senator Cleophas Malala to answer for his regrettable and unwarranted statements that allegedly meant to lock out a political candidate from holding a meeting at Bukhungu Stadium in Kakamega slated for December 31, 2021," NCIC chairperson Samule Kobia said in a statement.
Malala, however, surrendered to police after the summons over his alleged inflammatory remarks.
He, thereafter, pledged to maintain peace, saying his Sunday remarks were purely political, and that he never meant to whip up emotions.
The senator took himself to Kakamega Central Police Station.
"He (Malala) clarified that what he said during the Maragoli Cultural Festival was a political statement, and that he does not intend to use violence or incite his followers into chaos during the rally," Kakamega Central Sub-County Police Commander David Kabena told The Standard.