When cracks in Jubilee finally tore party apart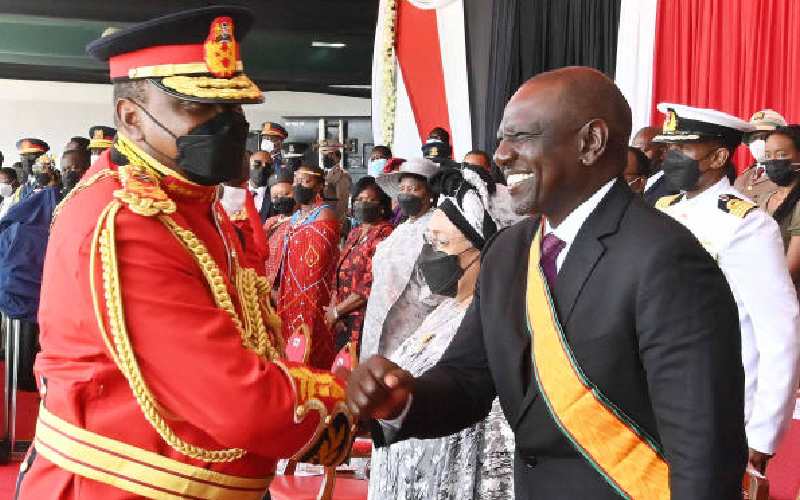 On September 10, 2016, President Uhuru Kenyatta and his Deputy William Ruto persuaded 12 parties to dissolve and join the Jubilee Party with a seemingly national outlook.
During the JP launch which was a flamboyant ceremony with over 10,000 delegates who filled Kasarani Sports Center, the President and his Deputy announced that it was a new dawn for Kenyan politics.
Amid applause from the delegates, the party leader and his deputy claimed they had for the first time in Kenyan history laid a firm new foundation for politics, leadership and the management of public affairs and had made a great stride in dealing with tribal parties.
The stadium was dotted with the party's thematic colours, red and yellow while Uhuru and Ruto had stormed the stadium in style both wearing red jackets and capes confident that they were ready to face their opponents Raila Odinga and his National Super Alliance (Nasa) brigade.
For President Uhuru any of his opponents who could not use a national party to seek for Presidency were advancing the politics of division and negativity that was dividing Kenyans.
"For those who sell the politics of division and negativity you have had your chance you have wasted it again and again always opting to divide Kenyans rather than unite them, indeed for us we say today that their time is done," he said.
He added: "We are here as a Jubilee family to proclaim the meaning of our party. The party we launch here today is an expression of our unity by launching it, we renew and strengthen our ties that bind Kenyans together. We rise from the ashes of conflict to express the beauty of reconciliation and collective purpose."
During the ceremony, Ruto took a swipe at opposition leaders and challenged them to dissolve their own parties and form one formidable party with a national outlook so that they could be engaged not on tribal or ethnicity lines but on policies and manifesto.
Ruto termed the mass merger of parties as historic and pointed out that they managed to bring different parties and Kenyans from various parts of the country together to join a single party with a national agenda.
He went ahead and assured all those who were seeking various seats through the unveiled party that the primaries would be conducted by the Independent Electoral and Boundaries Commission (IEBC) to ensure fairness.
After it proved futile that the electoral body would not conduct the primaries for Jubilee, they procured millions of cards that would be apparently be used in party primaries and majority of aspirants rushed to procure the cards. That too proved futile and IEBC register was finally used to conduct the polls.
And despite the hue and cry of bungled primaries, the party whose slogan was Tuko Pamoja (We are together) with a logo of handshake managed to get almost half of the governors in Kenya. It also got 172 MPs out of 349 and 34 Senators, out of 67.
Indeed, the formation of one party had solemnised and consummated UhuRuto's political marriage of 2013 when they had joined hands with each having his own party; The National Alliance and United Republican Party (URP) respectively.
Vision carriers
If you told the two Jubilee party's vision carriers that there was no need for the razzmatazz and opulence in launching the party since its death year would be 2021, they may have probably cursed you for watering down their efforts.
Signs that the ruling party would not live as promised by its party leaders were witnessed on March 9, 2018, a year after the duo were re-elected when Uhuru decided to shake hands with his long time political nemesis, Raila Odinga with Ruto and his followers disapproving the move.
While Ruto and his allies warned the President to deal with Raila with his caution, Uhuru was determined to "unite the country and to seek solutions on how to end the violence cycle after every election".
The President said they sought to create a united nation for all Kenyans living today, and all future generations and even formed a taskforce to tackle the nine-point agenda that informed the two leaders to shake hands.
The growing schism within the party divided the once touted national party and some leaders were left with Uhuru while others decided to support Ruto. The two factions were christened Tanga Tanga and Kieleweke factions.
Those in Tanga Tanga were removed from the prestigious parliamentary positions while others like governors were impeached but instead of Ruto's team fading, they grew a thicker skin to a point of registering their party United Democratic Alliance (UDA).
Ruto has since taken control of the party and declared that he shall use it to further his Presidential ambitions next year. This was despite his vow that he would not allow Raila to chase him from ODM and then follow him to Jubilee to dethrone him.
Ruto has since launched a charm offensive mission to drum up support for UDA urging them to ditch Jubilee the party, claiming that Raila is responsible for its disintegration.
"Jubilee party is dead, it's a shell, people have moved from it to UDA and we have left them the party to auction it to Raila," Ruto said in a political tour in Nyeri County early this month.
The Jubilee remnants have since initiated efforts to remove Ruto from the position of the Deputy party leader in what they termed as removing the bad elements that have been undermining the party.
The new logo spots red and white colours, with the symbolic handshake on the previous crest, also dropped for a dove with an olive branch in its beak.
Also tweaked is the party's slogan, which now reads Mbele Pamoja (Forward Together), a slight twist from the previous Tuko Pamoja (We Are Together).
Former Kigumo MP Jamleck Kamau who was vying for Muranga governorship believes the confusion in the Jubilee party and to an extent, Mt Kenya region was a result of muddled Jubilee nominations in 2017.
Kamau said the nominations were filled with irregularities, which led to deserving leaders being locked out.
He said the nominations failed to produce the desired leaders, which resulted in confusion in the region.
While Ruto allies blame Uhuru for destroying the party, Uhuru allies blame Ruto for Jubilee woes and disrespecting his boss.