Will Musalia bow to pressure and step down?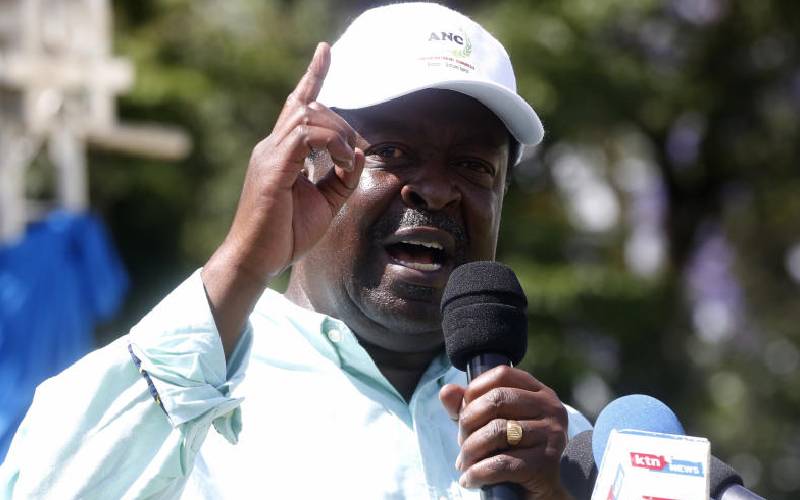 ANC leader Musalia Mudavadi faces a tough battle in the presidential race against Deputy President William Ruto and ODM leader Raila Odinga.
Like was the case in 2013 when Mudavadi squared it out with President Uhuru Kenyatta and Raila, the former Vice President appears determined to face his competitors.
Mudavadi has been categorical that he will not play second fiddle in 2022 and has warned competitors to brace for a bruising battle.
He has in the past been accused of being indecisive and speculations are rife that Mudavadi is under intense pressure to quit the race in favour of Raila.
"We cannot be forced to support someone and we refuse to be intimidated so that we can support another candidate. Let Kenyans decide on a leader they want. OKA is the alternative and genuine leadership to steer Kenya forward," Mudavadi told supporters in Kakamega town where One Kenya Alliance principals held a rally last weekend.
Mudavadi went on: "We are a strong democracy, let everyone sell his manifesto to the electorate and may the best candidate shall carry the day."
The ANC boss has maintained that Raila is the one who should support whoever will be picked as OKA flagbearer and not another way round.
Kalonzo Musyoka (Wiper), Moses Wetang'ula (Ford Kenya) and Gideon Moi (Kanu) are the other OKA principals.
Uhuru has had several meetings with the four leaders in a spirited attempt to persuade them to join hands with Raila and form a formidable coalition that will form the next government.
Sources have indicated that at least two OKA principals are willing to shelve their ambitions and support Raila but Mudavadi seems determined to chart his own political path.
"From the look of things, Mudavadi is determined to be on the ballot. He has assembled a team to design and execute his communications strategy. He has also hired top-notch technocrats to set up campaign structures," said one of Mudavadi's insiders.
According to the source, Nairobi Senator Johnson Sakaja, who in the recent past has become a Mudavadi diehard has been given a senior role in the ANC leader's presidential campaigns. Sakaja, a former TNA chairman played a critical role in 2013 presidential campaigns.
The former deputy Prime Minister appears determined to stay the course. ANC legislators have indicated that they could easily support anyone else but not Raila in case Mudavadi opts out of the race.
"We have supported Raila in 2007, 2013 and 2017 but he betrayed us. Our presidential candidate must come from OKA but if you decide to support Raila, we shall abandon you and chart our own way," said Lugari MP Ayub Savula.
Savula also told OKA leaders to expedite the process of choosing the flagbearer so that they can start the vote hunt in earnest.
Making inroads
Political analysts are of the view that a reunion between OKA and Raila who has been making inroads in Central with President Kenyatta's blessings could be the surest way of defeating Ruto, perceived to be a front runner in 2022 elections.
But there are those who believe that Mudavadi could spoil the 2022 succession arithmetic if he vies for the top seat.
"Mudavadi spoiled Raila's chances of ascending to presidency in 2013. President Kenyatta avoided a runoff by a mere 8,000 votes. In case Mudavadi or any other OKA candidate will be on the ballot, we may have a runoff," said Emmanuela Mulaa.
Pull a surprise
According to the analyst, Mudavadi could have a key role to play should there be a run-off.
"For Raila to be assured of a first-round victory, then his 2013 and 2017 support bases must remain intact and galvanize the Central Kenya support failure to which DP Ruto will have a field day," said Mulaa, a political scientist from the University of Nairobi.
In the 2022 polls, Western Kenya (including Trans Nzoia) will have at least 2.9 million votes and Kalonzo backyard will have over two million votes.
"If the OKA principals play their cards well, then they can pull a surprise as the third force with support from other regions and win the presidency. They should remain united in order to make an impact," said Benard Barasa, a political analyst.
Barasa argues that in case Mudavadi, Moi, Wetang'ula and Kalonzo starve both Ruto and Raila of votes in the four principals' strongholds of Western, Rift Valley and Eastern, then a runoff will be imminent and that could lead to post-election political alliances.
"Mudavadi appears determined and more serious than ever and cannot be taken lightly. He still commands a huge constituency in Western region and by working closely with Wetang'ula, it further complicates the matrix for Ruto and Raila," said Barasa.
Malava MP Malulu Injendi echoed Barasa's sentiments saying that votes from Western, Rift Valley and Eastern are enough to produce the fifth President of Kenya. According to Injendi, a former Ruto ally turned foe, MPs elected on Jubilee party in Western could decamp to ANC soon.
"The stakes are so high for us in Western and we are working towards attracting other communities to support Mudavadi's presidential quest," said Injendi.
According to Prof Amukoa Anangwe, a political analyst, the numerical strength in Western could play a crucial role in determining the winner in 2022.
In 2007 and 2013, the region supported Raila and in 2017 Raila and Mudavadi joined forces and worked together where the region voted 65 per cent in favour of Raila and 30 per cent in favour of Uhuru in the region.
In 2013, Raila got 46.03 per cent of the presidential votes from Trans Nzoia County against Uhuru's 37.24 per cent and Mudavadi 12.3 per cent.
In Kakamega, Raila got 63.84 per cent, Uhuru got 2.63 per cent and Mudavadi 30.53 per cent while in Bungoma, Raila got 52.83 per cent, Uhuru 12.25 per cent and Mudavadi 30.73 per cent.
In 2017, Mudavadi and Wetang'ula supported Raila under the National Super Alliance Coalition (NASA).