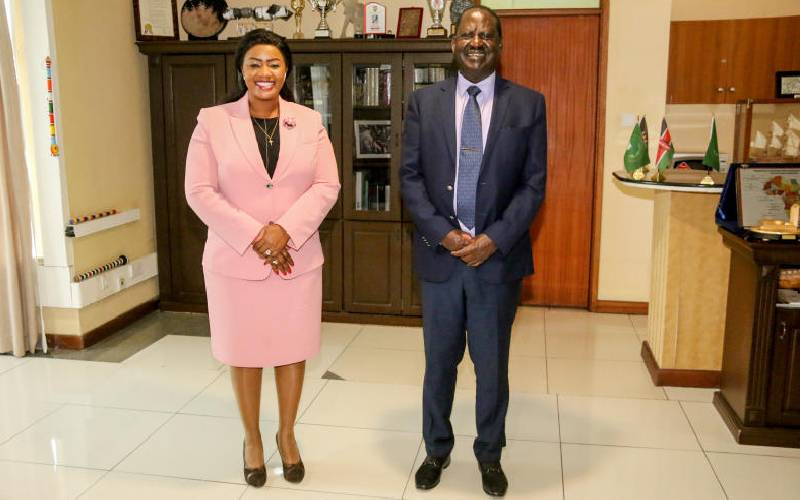 Laikipia Woman Representative Cate Waruguru said she left Jubilee Party because it was clueless, rudderless and out of touch with the reality in Mount Kenya.
Speaking days after announcing her move to United Democratic Alliance (UDA), Ms Waruguru claims ODM leader Raila Odinga was being duped by Jubilee leadership, and by the time he comes to reality it will be too late.
She said Deputy President William Ruto had gained ground in the Mt Kenya region for the last seven years, and that this could not be undone by the few roadshows and rallies that Raila had been staging in the recent days.
The Woman Representative is expected to be formally received at the DP's Karen residence in Nairobi later in the week. She followed in the footsteps of Kirinyaga Governor Anne Waiguru, who left Jubilee two weeks ago. "Jubilee is not organised as a party, and is led by incompetent people. The only competence they have displayed is bashing the DP and organising town hall meetings. I can't wait and sink with it," she said.
She said the party is headed the way of other "special purpose" vehicle parties like the National Rainbow Alliance for Change, the Party of National Unity and The National Alliance, which died after clinching power.
Waruguru claimed Raila had teamed up with "well known political rejects," in his quest to climb the mountain, sidestepping credible, elected and experienced local politicians.
"He has no idea what awaits him. If I were him, I would shake off those rejects. I would also shake off the project tag as much as I can. In a way, I feel for him because he has been duped into dropping his selling points. He's now carrying President Kenyatta's burden on his shoulders," she said.
She argued that the young people Raila sought to impress in Central had no attachment to the history he had been replaying. She said the youth want to be given hope for a better future, jobs and opportunities to create sustainable wealth.
"It's been difficult for us to sell Raila on history terms alone. My generation has zero regard for long stories and history. And this is where Ruto has beaten them to it. He's giving all of us hope," she said.
Waruguru was formerly an ardent Ruto supporter, who never spared any moment to ask Raila to quit politics. She often told the ODM leader he had outlived his purpose in Kenyan politics.
That was until the Jubilee purge against Ruto allies, when she dropped the DP and showed up at Raila's Capitol Hill office.
Handshake stalled
The Woman Rep embraced the handshake and was rewarded with the leadership of a parliamentary committee. "Handshake stalled a lot of things. Not only did Raila cease his Opposition role, for which Kenyans knew and respected him, the government itself stopped functioning properly. All major programmes suffered under the Handshake," Waruguru said yesterday.
Asked what had taken her to change allegiance and why it took this long to figure the things out, Waruguru said "only a fool does not change their mind". "I made the decision based on the prevailing circumstances. When the weather changes you do not continue wearing the same cloth, just because you had already picked them. I must also be on the right side of history," she said.
Political analyst cum communication strategist Barrack Muluka argued that the defections were just the beginning.
"From around Christmas through February next year, you are going to see a storm of defections. Hii ni dalili ya mvua," said Dr Muluka.
He said the defections by politicians were mere moves of "political self-preservation" from politicians who had no benefit sticking with President Uhuru Kenyatta, whose tenure is ending.
The migration to UDA can also be attributed to the party's growing popularity countrywide, especially after it scooped a Member of County Assembly seat in London Ward, Nakuru County, and won the Kiambaa by-election after beating Jubilee Party.
Muluka argued that following a publicly declared promise of handing over the leadership baton to Ruto, it would be difficult for the President to undo that at this stage of his tenure.
"With every passing day, the President becomes the past. His faithfulness to his friends might not mean anything to him, but to the people, the promise they made years ago means something," he said.