PNU officials divided over CS Munya and Governor Muriithi's intentions to steer the party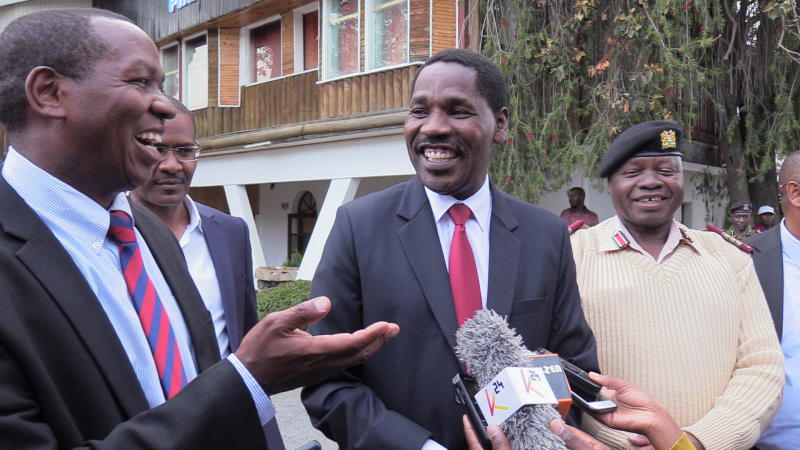 Officials of the Party of National Unity (PNU) are divided on whether to support Agriculture Cabinet Secretary Peter Munya or Laikipia Governor Ndiritu Muriithi to lead the party.
In the 2019 party elections, all the 28 party positions were filled at Kasarani but the position of the party leader was not since both Munya and Ndiritu were serving either as Cabinet Secretary or governor elected on an independent ticket.
Amenya who supports Muriithi yesterday confirmed that the officials were pulling from different fronts but were not divided on their mission of supporting ODM leader Raila Odinga's Presidential bid.
"It's a normal sibling rivalry as two factions try to angle themselves in efforts to be in the next government, but both camps are united in endorsing Raila to be the next President," Amenya said.
At a meeting with party delegates from Nyeri County at ACK Guest House yesterday, Amenya pushed to have Muriithi picked by Raila as his running mate even as the ODM and PNU continue for negotiations for a pre coalition pact.
But Muriithi who attended the function downplayed the division claims saying he and Munya were building the party at different levels and capacities.
"Munya is my friend and there are no cracks we are only building formidable party in teams because the national officials can't be everywhere every time as for the party leader that is an issue of a later date when the national delegates' conference convenes," Murithi said.
Munya declined to comment on the matter.
The governor said he would defend his seat on a PNU ticket but was also interested on leading the party to form a formidable nationalist party with like-minded parties.
The first-term governor told the party members that only the PNU and ODM political parties understood the Vision 2030 and hence the reason for the two parties to chat a similar political destiny next year.
"Our agenda is to be a middle-income democratic industrializing country with a high quality of life Kenyans where the average income of a Kenyan will move from 2000 dollars per person per year to 12000 dollars," Muriithi said.
The Vision 2030, the governor said would only be realized by those who took part in drafting it and took the opportunity to claim that Deputy President William Ruto opposed the 2010 Constitution claiming that he does not understand the Kenyan agenda.
He castigated Ruto for disregarding regional political parties categorising him as a leader who believes that political parties are vehicles of convenience.
"Political parties are building blocks of a functioning democracy and if you don't support them, then you don't support democracy," said the governor.
He said the party was ready to fight Raila phobia in the region by undoing all the false accusations they leveled against them to have him hated by the electorate.