Opposition leaders now hint at joint presidential ticket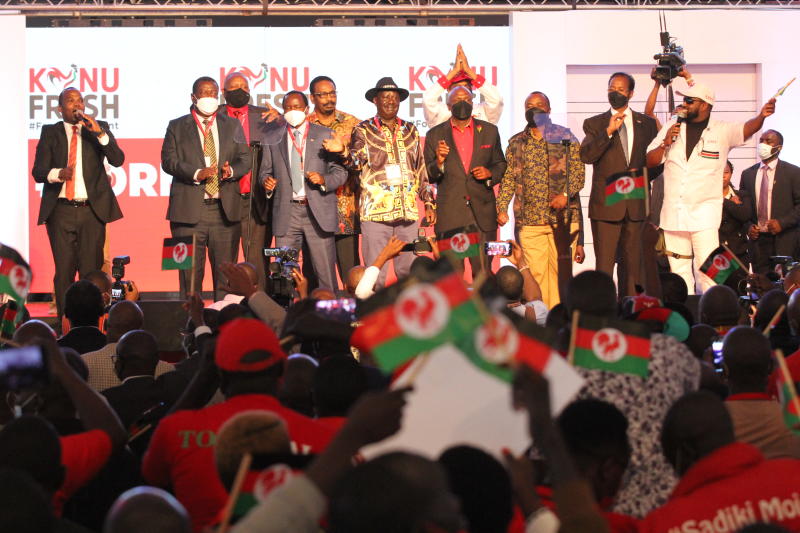 Heavy undertones of consensus-building characterised the Kanu National Delegates Conference (NDC) that endorsed Senator Gideon Moi's bid for the presidency in the 2022 General Election.
Their remarks recounting their past stints at the independence party suggested a high likelihood of fielding a joint presidential candidate in the next polls.
Various figures drawn from the opposition camps indicated that they will work together in President Uhuru Kenyatta's succession plan and ensure the team forms the next government.
In a rare show of unity, ODM leader Raila Odinga and One Kenya Alliance (OKA) principals Musalia Mudavadi (ANC) and Kalonzo Musyoka (Wiper) joined Kanu delegates who unanimously nominated Senator Gideon to run for the presidency.
President Uhuru has been pulling strings behind the scenes to have Raila, Gideon, Ford Kenya leader Moses Wetang'ula, Mudavadi, and Kalonzo forge a united front to face off against his estranged deputy William Ruto.
According to the ODM chief, Gideon and his co-principals in OKA have the right to run for the presidency, their economic backgrounds notwithstanding.
Kalonzo hinted at a possible merger bringing together all the opposition politicians in forming the next government. The former vice president said they have resolved to walk as a team as they prepare for next year's polls.
"I want to assure you we will walk this journey together; we have already started walking it together under One Kenya Alliance. Even if others will leave you, you know I cannot abandon you. I also know you can't leave me. I am able and ready to walk this journey with Gideon, and I see after 2022, a possible merger of all of us," he said.
Kalonzo added that they cannot afford to let the country be run by corrupt individuals.
Mudavadi said the endorsement of the Kanu boss for the top seat was a confirmation that OKA was solidly in its journey to form the next government.
He said that Kanu's agenda on the economy and the fight against corruption mirror ANC's blueprint in reviving the country's ailing economy as well as slaying the corruption dragon.
"This event indeed confirms to detractors that OKA is an ongoing conversation. Many Kenyans – political parties, professionals, trade unions and associations, and even welfare groups – are lining up to join OKA. We are not about to shut the door on them," said Mudavadi.
He accused their political detractors of attempting to push them into settling on a presidential candidate, stating that they still have time for engagement.
"It appears that some have forgotten that in the history of Kenya's coalition formation, coalitions usually come to maturity very near to the date of the elections. In OKA, we are making deliberate steps and at our own pace towards a strong alliance, but keeping an eye on IEBC time frames.
"I stand with him in saying that I am ready to work together in making Kenya a better place. We will continue engaging moving forward. The position taken by Kanu on growing the economy is the same position by ANC. We will walk together in this journey," said Mudavadi.
Raila defended Gideon against the "dynasty" narrative, stating that being the son of the late President Daniel Moi should not prevent him from vying for the top seat. He told the over 3,000 delegates gathered at Bomas of Kenya that the tag was discriminatory and should not be used to slow down Gideon's ambition.
"When we went to bury Mzee at Kabarak, I told him to stand firm; nobody should tell you that you are a dynasty. Mzee Daniel Moi, Gideon's father, was an ordinary teacher. Mzee Jomo Kenyatta was a meter reader. Both rose from lowly positions to become Heads of State," said the former premier.
He also vouched for strong political parties as a means of strengthening democracy.
"The strength of our democracy is the strength of our political parties. There must be tolerance among political parties. Political competition is healthy in our country; it strengthens democracy and that is the best way to make our country grow and prosper," Raila said.