Gideon Moi's 2022 bid gets clerics, elders blessing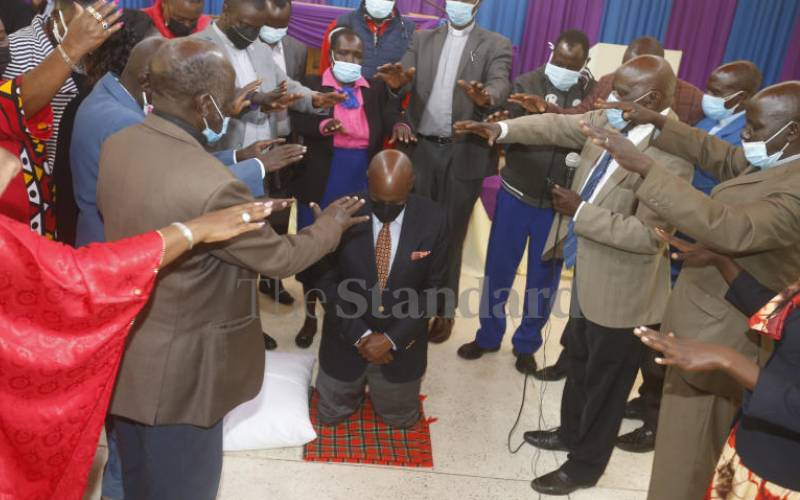 Kanu Chairman and Baringo Senator Gideon Moi yesterday sought the blessings of his constituents to seek higher mandate after serving in Parliament for two terms.
Gideon, who hosted delegations in his rural home in Sacho, said all eyes were now on Bomas of Kenya, where the party will on September 30 chart the political path ahead of the 2022 General Election.
"I have come here today as your son. You sent me to Parliament for 10 years. I have come back to get your views. This is not my own journey, but for all of us. If I succeed, we have all succeeded," he said.
"I have now got to a level I feel there is a lot I should do for you. Not for Sacho or Baringo alone, but for the whole country. I will listen to the delegates, after which we shall get into the battle," he added.
The senator declared that development was paramount over political ambitions.
"Whatever the Bomas outcome shall be, development shall come first. I will return here to communicate their decision and the way forward," said Gideon.
He urged Baringo residents to stand with him in the coming General Election.
"I am ready for any consequences in this new journey we are about to begin. All I beseech you is, as my people, don't stab me in the back as I move forward," said Gideon.
Senate Majority Leader Samuel Poghisio said the Kanu chairman was the right man to succeed President Uhuru Kenyatta.
"Today, people vote based on the confidence they have on a person's capability to perform and trust he has built. Respect can't be bought. Gideon has earned all this, which makes him the right person for State House next year," said Mr Poghisio.
The Senate Majority Leader urged Kenyans to consider integrity of a presidential candidate over their agenda. "We must elect a person who will not sell us or our country. Do not elect someone who has shown that they put personal interests before the interests of the people who elected them," said Poghisio.
Kanu Secretary-General Nick Salat said it was time for Kanu to field a presidential candidate after backing others since 2007 polls.
"We, too, have come of age. Those who we have been supporting should now support us. We are a party that can deliver through our chairman Gideon," said Mr Salat.
"We will soon roll out our master plan. We urge party members, supporters and Kenyans to prepare as we plan to set foot in every corner of the country," he added.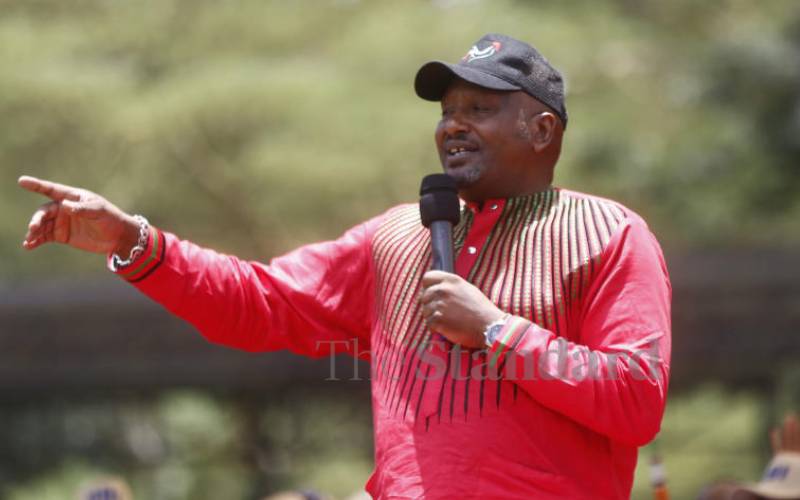 Salat urged Baringo residents to walk with Gideon, terming him the saviour for the region and the country.
"Stand with one of your own. Gideon comes just like the good Samaritan to save this country. We have come to Sacho to tell you to release Gideon to seek a higher mandate beyond Baringo," said Salat.
Former Kanu Nominated Senator Zipporah Kittony commended Gideon for beginning his journey from home, noting that this would bring blessings to him in his quest to lead the country.
"As a woman leader, I urge all women and youth not to lose focus. Gideon is the right man to follow. He has shown respect to his people by seeking their approval first. Cast your vote where it will count," said Ms Kittony.
Baringo Woman Representative Gladwell Cheruiyot urged Kanu members to remain steadfast amid party hoping wave. "My stand will not be shaken. I will stand with Gideon to the end. If other leaders will bolt out, I will remain with him. If we don't stand with our own first, who will," posed Ms Cheruiyot.
"He is among the greatest leaders in the Rift Valley. We won't allow others to dim his light. We won't let others to tell us to keep our bull off the field when it has the ability to floor the rest," she added.
The Woman Rep urged Rift Valley to remain united, noting that other regions were also strategising for one of their own.
"Other regions have been fielding multiple candidates for the presidency, but we don't see them insulting each other. Nothing stops us from doing the same with respect. We want Gideon to be coming home sure of support from his own backyard," said Cheruiyot.
Elders from Baringo County said Gideon had demonstrated capacity to lead the country.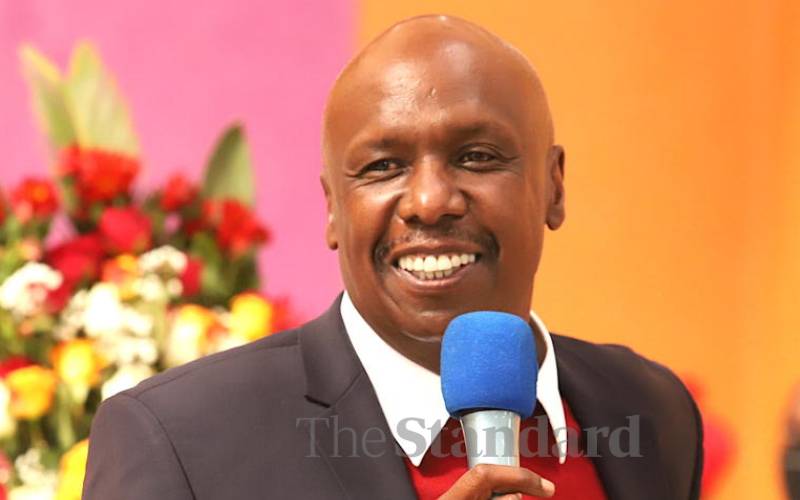 "We have confidence in your leadership. Your work has impacted lives in Baringo County. As elders from Sacho, we now support you to seek a national office," said Wilson Komen.
Michael Korir, another elder, said they would fully support Gideon for any seat he seeks, adding that they had issues that only the national government could address.
"As elders and people of Sacho, we have a memorandum that we shall hand to Gideon. We have great expectations from the next government, which we want to be part of," said Mr Korir. Prior to the meeting, Gideon presided over a funds drive for programmes of AIC Tandui church. "Generations that were there before us built the churches we use today. It is now our responsibility to stand with the churches and the clergy," he said.
The senator, who steered clear of politics at the pulpit, said the church had the responsibility of taking care of the clergy to enable them serve better and guide the country. "Our clergy play a critical role in guiding all other leaders, whether civic or political. It is our duty to facilitate their work and ensure they live a decent life," said Gideon.
The AIC clergy, led by Rev Francis Chesire, offered prayers for Gideon and wished him well in his political journey, terming him one of their own.