Wait for big announcement next week at Bomas, promises Gideon Moi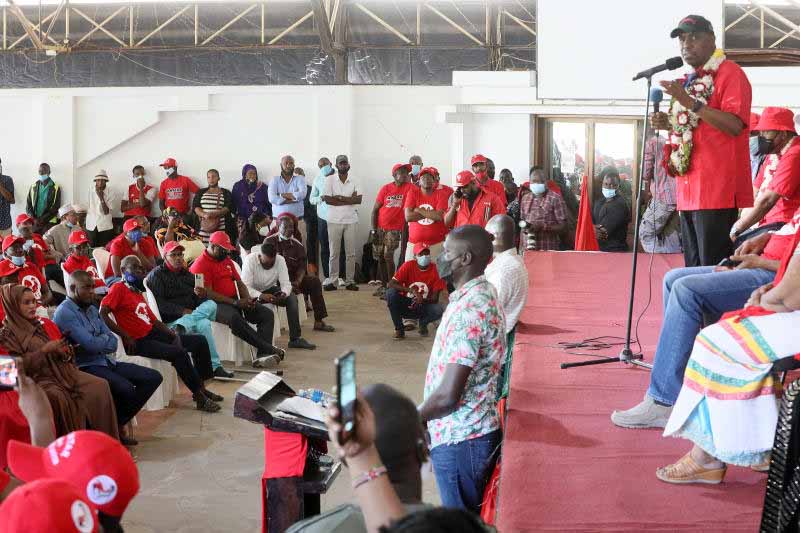 KANU Chairman Gideon Moi yesterday said Kenyans should expect a major announcement after the party delegates conference slated for next week.
Speaking in Mombasa, Gideon said the independent party will do things differently as it seeks to return to power after 19 years. He said Kenyans should expect a "big announcement."
"The journey began from the Coast and it will end on September 30 when the delegates will make 'extremely shocking pronouncement'. This is exactly what we need," said Gideon. KANU delegates are set to converge at Bomas of Kenya on Thursday next week where they are expected to unveil their presidential candidate.
The KANU chairman who was flanked by Secretary-General Nick Salat, National Organising Secretary Abdulrahman Bafadhil, Fafi MP Abdikarim Osman and Mombasa party chairperson Ms Rukia Rashid was addressing more than 400 delegates at the Wild Waters Centre in Mombasa.
The party members unanimously endorsed the chairman to contest the presidency in next year's General Election.
He told members to get ready for a gruelling political battle as the party prepares to return to power saying Kenyans' lives should change for the better.
Gideon urged KANU members to get their ammunition ready and oil their machines as the party goes for the top office.
"We are going to raise dust this time round. We will be in the super league even if it means buying star players," he said.
He said he has no business with the loud minority, but will instead focus on the fight for the interest of the silent majority.
"Things cannot be done the same way and expect different results. We have embarked on the war to change the lives of our people. I am urging all KANU foot soldiers to get ready. You should work very hard," he said.
Gideon said KANU was working closely with political allies under the banner of One Kenya Alliance (OKA) and ODM leader Raila Odinga has also stayed close to the team.
He said it was hard to work in isolation and win the big prize but noted that the primary focus was to win back the presidency.
"We have friends in OKA like Kalonzo Musyoka, Musalia Mudavadi and Moses Wetangula. Baba is not far away. We are working together. No one can succeed without friends. We need all friends. We have united for a purpose," he said.
He added, "We love all political parties but we are in love with KANU."
Salat said the country required a Good Samaritan to be united and enjoy peace and that KANU would offer Gideon to vie for the presidency because he is the most suitable.
He said some of the leaders who have offered themselves to be elected president have no intention to unite the country.
Mr Osman said KANU has stood the test of time and stands out as the only party that has not been 'auctioned' since 1963 and told Kenyans to return to it as a steady outfit.