Speaker Muturi, Karua and Kituyi join Kibwana to craft third force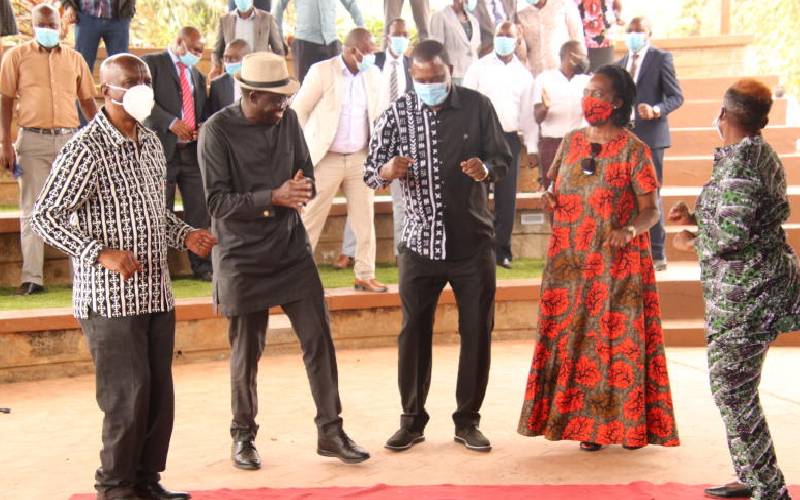 A third political alliance could be in the works to compete with ODM's Raila Odinga, One Kenya Alliance (OKA) and Deputy President (DP) William Ruto's United Democratic Alliance (UDA).
The new formation is reportedly being fronted by National Assembly Speaker Justin Muturi, Makueni Governor Kivutha Kibwana, Narc-Kenya's Martha Karua and former United Nations Conference on Trade and Development (UNCTAD) boss Mukhisa Kituyi.
The group is exploring a third political force to field a presidential candidate to face off with Dr Ruto and Raila or a member of OKA, which brings together ANC's Musalia Mudavadi, Wiper's Kalonzo Musyoka, Kanu chairman Gideon Moi and Ford Kenya's Moses Wetang'ula.
The emerging alliances are geared towards political survival, especially after the Court of Appeal declared the Building Bridges Initiative (BBI) push null and void.
The proposed changes to the Constitution could have created additional positions through an expanded Executive, including prime minister and two deputies and official leader of opposition.
According to Multimedia University lecturer Gitile Naituli, one of the strategists working on the "third force", the team will reach out to specific leaders from various parts of the country.
"We're in touch with like-minded politicians, not regional kingpins or tribal leaders. We want focused leaders keen on empowering citizens and committed to protecting public resources," Prof Naituli told The Sunday Standard.
Naituli, a professor of management and leadership, said the alliance would offer voters an alternative that is focused, moderate and will protect public resources from theft.
Plans to succeed Uhuru
Prof Kibwana, Dr Kituyi and Muturi have all declared their bids to succeed President Uhuru Kenyatta.
The team is in touch with Kwale Governor Salim Mvurya, former Agriculture minister Kipruto arap Kirwa, a prominent bishop from Nyanza, among others.
"We are in touch with a number of leaders who share in the same ideology of moderate leaders, non-confrontational and not tainted with corruption. I cannot say who now but we are in talks," said Naituli.
He added: "The idea is to create an alliance of Kenyans not beholden to any tribe... The team could easily push for a presidential run-off and then form a coalition government thereafter."
During their meeting in Makueni, the leaders promised to work together in building what they term an alliance "espousing patriotism."
Ms Karua said they were committed to delivering suitable leaders. "We commit to unite in making sure we contribute in delivering the most suitable leader to this country," she said.
Kibwana said the journey of uniting Kenyans and improving their lives had begun with the group and other like-minded leaders.
Kituyi said they are driven by the urge to have a country where leaders find solutions for problems facing the people.
Muturi said the team would engage Kenyans directly in their quest to offer alternative leadership.
Karua, who joined Parliament 1992, contested for presidency in 2013.
She has gained a reputation for her contributions to development of constitutional, administrative and family law, and served as Minister for Justice until her resignation in 2009.
Kituyi was elected to Parliament in 1992 and re-elected twice. He was Kenya's Minister for Trade and Industry from 2002 to 2007.
He served as secretary-general of UNCTAD from September 2012 to February 2021 when he stepped down after declaring his presidential ambition.
Kibwana was Minister for Defence, Environment and a former MP for Makueni Constituency. He served as an adviser to retired President Mwai Kibaki.
But critics say history and present-day political dynamics indicate that no political third force can have a meaningful impact in an election.
"One does not go into a General Election to become number three. Any serious politician in a race has one primary objective: to capture state power and run a government on the basis of manifestos," said Andrew Nyabuto, a political commentator.
Mr Nyabuto said that the "moderates" must demonstrate that they are working towards forming a government and must be clear about what formula they want to use.
"A party can capture power single-handedly or in partnership with others. So saying that you are a third force is not enough. You must demonstrate to Kenyans how you intend to manage the country," he said.