Leadership battle starts after removal of Kisii County Assembly Speaker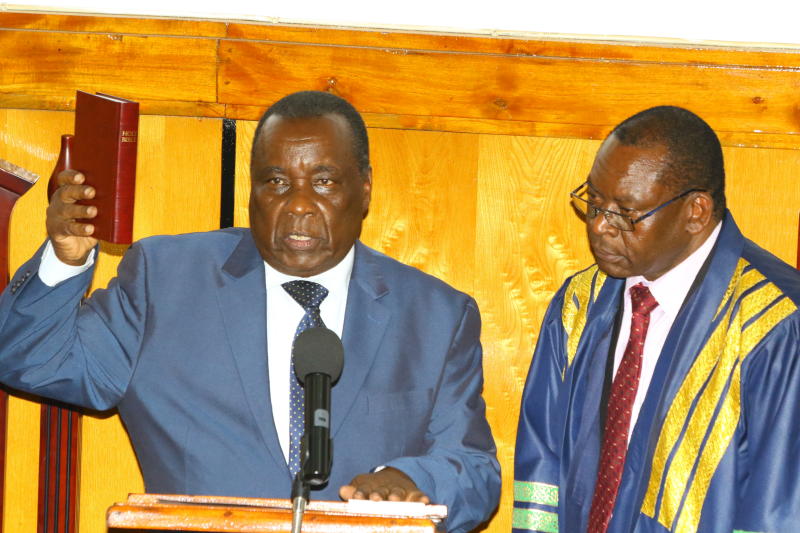 Leadership wrangles have started at the Kisii County Assembly following the removal of Speaker David Kombo by a section of MCAs.
The political differences, which began in November last year, escalated early this year when MCAs aligned themselves into two camps; one supporting Kombo and the other supporting Assembly Clerk James Nyaoga.
The assembly sittings are being presided over by Deputy Speaker Davins Ngoge, with Kombo having filed a case in court to challenge his impeachment.
Ngoge has also filed another case asking the court to declare that the speaker was procedurally removed from office.
"We have wasted time fighting over leadership positions affecting service delivery to our people.
"Members decided that I preside over the assembly as we wait for the verdict of the two cases currently pending in court before we take another step," said Ngoge.
Lady Justice Rose Ougo is set to make a ruling on the case filed by Kombo challenging his impeachment and the one filed by Ngoge who wants the court to validate the removal of Kombo from office.
Trouble at the assembly began after the death of Kiamokama Ward MCA Kennedy Mainya, with the discovery that the Kisii County Assembly Service Board had failed to establish Group Life and Group Personal Accident Insurance benefits for MCAs.
Bogiakumu Ward MCA Ismael Matundura filed a motion to remove Kombo from office in November last year after he was accused of, among other issues, gross violation of the Constitution.
A vote to kick out Kombo in December last year failed after MCAs tore ballot papers and house business was adjourned following violent confrontation.
Boochi Borabu MCA Samuel Onukoh was then elected to act as the temporary Speaker.
Kombo had in June this year vowed not to resign from office after his seat was declared vacant in a gazette notice issued by Nyaoga on May 27.
He said his position belongs to the people of South Mugirango Constituency as per the 2017 pre-election agreement.