Kirinyaga delegates back Gideon Moi's bid for top seat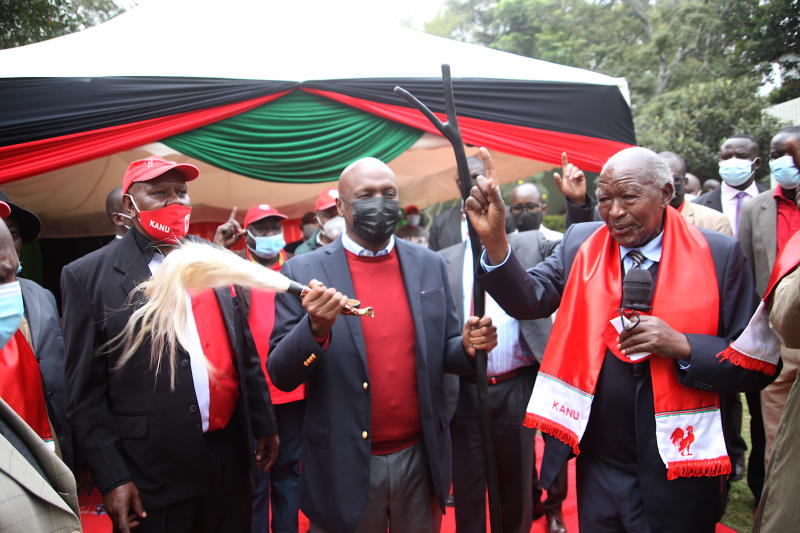 Kanu delegations from Kirinyaga County have rallied their support behind Baringo Senator Gideon Moi in the race to succeed President Uhuru Kenyatta. According to them, Senator Gideon, who is also Kanu chairman, is a clean leader who has never been caught up in any scandal.
Speaking during a consultative meeting yesterday, leaders drawn from the county said they have no doubt in Gideon's leadership as he is best fit to fill the shoes of his late father, retired President Daniel Arap Moi.
Jane Muthee, a delegate representing women caucus in Kirinyaga, said the development and inclusion of women ended with the 24-year rule of President Moi.
She stressed that they want a leader who believes in women and the best bet was through the former Head of State's son.
"We trust you as women to go for the top seat because through your father women benefitted the most. It's through your father that women started collecting their IDs and we believe that once you get to power, you will continue with what Mzee started," she said.
It was also revealed that there were plans to revamp the party ahead of the 2022 polls so as to return it to its past glory, as 'chama ya mama na baba', the independence party.
In their submissions, the leaders said the party should and must be on the ballot and it must be well represented in the next government.
Gideon on his part said Kenyans should come together for the sake of peace and unity.
According to him, all this will be achieved through the Building Bridges Initiative (BBI) seeking to amend the 2010 Constitution.
The High Court ruled against the initiative birthed through the Handshake between President Uhuru Kenyatta and ODM's Raila Odinga.
The two principals have appealed and the judgement is set for August 20. "It is through BBI that inclusivity will be created, which is a very important part of our country," Gideon said.
He went on to say that everyone has the right to work as they please since the last word lies with the voters. "For the few who want to walk alone, let them be. Let it be us versus them and when the time comes, let them not reappear and demand a seat at the table. They have the opportunity now," he said.
Youth are important
Gideon also maintained that the youth were important in the country's leadership hierarchy and should be fully supported. He said they should be helped where necessary so that they can earn a living to help fend for their families.
Some of the delegates dismissed the bottom-up approach and wheelbarrow politics being popularised by Deputy President William Ruto, arguing that Kenyans were educated and what they needed was capacity building.
Kanu Secretary General Nick Salat wondered why people would search for other parties when they have one.
"I wonder why people from the region are busy looking for parties elsewhere yet they already have a party that is for the people. This is not just any ordinary party, it's a national party," he said.