Litmus test for Ruto in picking running mate for 2022 contest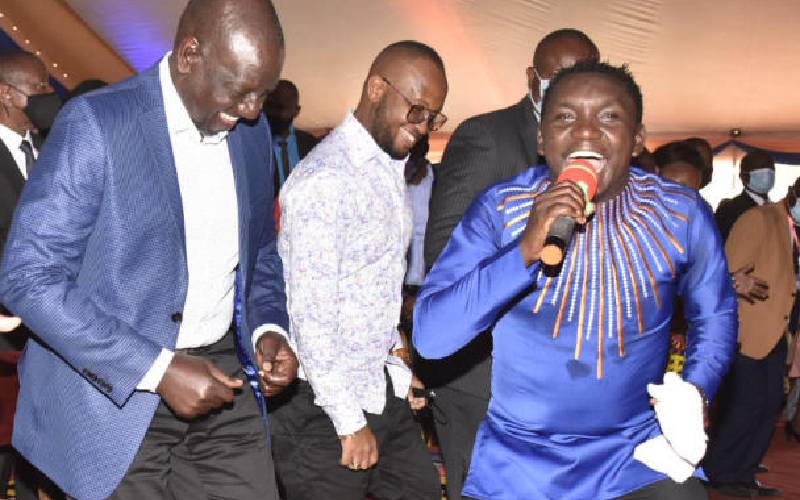 After winning the Kiambaa parliamentary seat by-election, focus now shifts to the thorny question: Who will be Deputy President William Ruto's running in the UDA party?
Political analyst Prof. Amukoa Anangwe argues that he may not look far from the Mt Kenya region because of the numbers involved and the effort he has put in the area. Political leaders allied to him in the region may be basking in the sun after the party's narrow victory, but pundits now expect a vicious fight for supremacy to ensue soon.
With the 2022 elections drawing even closer, key UDA leaders such as Gatundu South MP Moses Kuria and Mathira MP Rigathi Gachagua are angling to be Ruto's running mate in the 2022 presidential race. To complicate matters further there are other serious contenders for the job like former Cabinet Secretary Mwangi Kinjuri and Kikuyu MP Kimani Ichungwah.
Observers also argue that Senator Mithika Linturi is so far the only leader from Mt Kenya East who is seeking for prominence in UDA against his Mt Kenya West protagonists. Others are angling for gubernatorial offices and parliamentary seats through the UDA wave as they drum up support for Ruto in the populous region.
Selfish interests
But Professor Peter Kagwanja, Chief Executive Officer of the Africa Policy Institute that MPs parading themselves behind Ruto will fail because they are advancing their own interests.
"They are behaving like small girls who are preparing themselves to be married but politics is about looking larger interests. It is more than cat-walking," says Kagwanja.
He gives credit to the Deputy President because he has managed to mobilise the support he has so far but cautions that the scramble for him will crumble like a house of cards when the region produces a candidate. Anangwe, however, thinks Kuria and Gachagua want to be the running mates and that is why they are flexing muscles as they seek to demonstrate to Ruto that they deserve it.
He describes the Mt Kenya region voting pattern as "unpredictable" because leaders and indeed voters are not guided by euphoric support for any leader. Senator Linturi is the main UDA actor from Meru, a region that has since independence played second fiddle to their Kikuyu cousins in the country's politics.
Prof Anangwe opines that the trend will most likely continue in UDA and Mt Kenya East voters will most likely be used to enhance numbers as has been the case in past elections.
"The centrepiece of Mt Kenya politics will remain in the Central region because they have the numbers and we should not expect any major political shifts," says Anangwe.
Prof. Kagwanja however insists that the region will vote as a block will all the five communities standing behind the person who will have the blessings of all stakeholders.
"The region will front one person, who may not necessarily be President, but a man or woman who will ensure that it gets commensurate positions equal to what it will offer," says Kagwanja.
A divided mountain
Leaders from the region led by governor Kiraitu Murungi and Linturi have vowed that it will not be business as usual unless they are supported to present a presidency candidate.
"Kama ni kupasuka, wacha ipasuke" (if it is splitting the region, let it split), Linturi warned recently after it emerged that the Mt. Kenya West clique was against a Mt Kenya leader ascending to the throne.
Out of the leaders emerging from Central region, Kuria appears to have stuck out his neck early since 2018 by repeatedly accusing President Uhuru Kenyatta of allegedly neglecting the region. The outspoken politician has been sulking especially after he was asked to withdraw his Peoples Empowerment Party (PEP) candidate from the Kiambaa by-election race.
"He campaigned for the UDA candidate but it was evident that he was not happy that he was urged to withdraw his candidate," says an MP in the Ruto camp.
So although some UDA leaders are putting on brave faces and pretending that all is well, the truth is that what is happening in the Mt Kenya region could snowball into ego battles. And that will have an impact on how the party will fare not only in the Mt Kenya region, but in other parts where several leaders rank themselves as equals.
"In the course of time, these fights could turn ugly and these are early warning signs of a potential fallout in Ruto's party around Mt Kenya," says Anangwe.
The party has done well by engaging in aggressive member recruitment drive around the country through its secretariat led by Secretary-General Veronica Maina. In May, Maina dismissed the tensions that were simmering in UDA between Kuria and his Mt Kenya siblings as friendly fire and therefore nothing to worry about.
But political observers argue that the bickering was only cooled down by the campaigns during the Juja and Kiambaa by-elections but will explode unless the party holds elections as soon as possible. Kuria begrudgingly withdrew PEP candidate Raymond Kuria from the Kiambaa by-election to stop the bitter wrangles that had enveloped the UDA party in Kiambu.
The candidate had lined up against UDA's John Njuguna Wanjiku who won the election by a small margin of about 500 votes against Jubilee's Karanja Kariri Njama. Seemingly dejected after meeting Ruto to announce the withdrawal, Kuria said: "We wanted to present a message of hope and renewal that was endorsed by the people of Juja to the people of Kiambaa also for approval."
"The good news is that we will now focus on a nationwide tour to meet candidates who will be vying for various seats in next year's General Election on PEP ticket," said Kuria.
Imaginary rift
Asked to react to Kuria's grumbling, Ichungwah laughed and said the PEP leader was comfortable because he had joined them on the campaign trail in Kiambaa.
"It is bloggers who are creating an imaginary rift between leaders from the region but we all know that Kuria graciously withdrew his candidate and was supporting UDA in the by-election since day one," said Ichungwah.
He also dismissed the notion that that being a party leader, Kuria holds more clout than other UDA allied MPs in the Mt Kenya region.
"I know my party leader, I know the qualities of my party leader and I'm also clear on what I want and how I will do it," said Ichungwah.
But there is real danger of the party being bogged by competing political interests of the DP's most trusted lieutenants in the region. Analysts give Kuria an edge because he is an abrasive and shrewd go getter but there are other players like former CS Kiunjuri who is also a party leader in his own right.
It is Kuria who observers are watching keenly because he now has the clout of having an elected MP and some elected members of the county assembly. It appears he wants to use his influence as a credible party leader to negotiate for some power sharing agreement with Ruto next year," said the MP supporting UDA.
His opponents, however, look at him as an equal in the UDA Mt Kenya political matrix with the likes of youthful MP Ndindi Nyoro, Ichungwah and Rigathi staking their own claim. Being the willy fox that he is, Kuria probably thinks, the publicity PEP received after the Juja by-election is enough for him to be taken seriously by other presidential candidates in coalition building.
That informs the decision why he will be going around the country hunting for candidates to vie next year.
How that will impact on Ruto's standing in Mt Kenya is not clear, but UDA will be watching Kuria's moves even as they engage him because he is among the party's strongest pillars in that region.
"The DP likes him and I have seen him help Kuria when needed and so we will resolve any emerging issues," said Bahati MP Kimani Ngunjiri.