Orengo, Owino clash over Siaya gubernatorial contest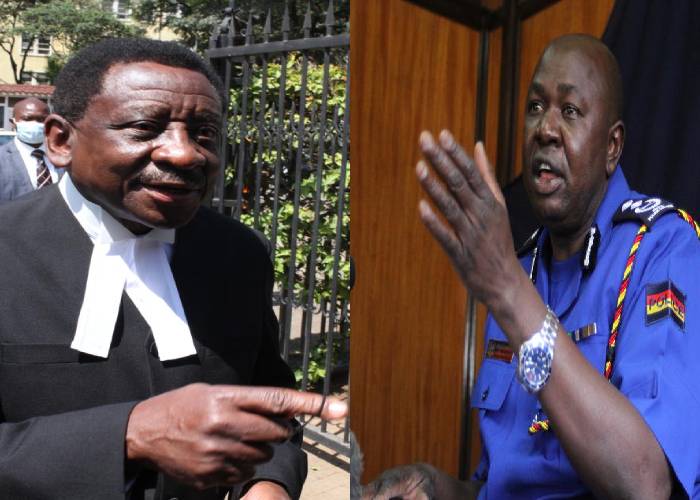 Two aspirants eyeing the Siaya Governor seat on Saturday clashed over who was best suited to succeed outgoing governor Cornel Rasanga.
Former National Police spokesperson and Siaya Senator James Orengo tore into each other's candidature during the burial of a former police officer in Ugenya Sub-County.
Owino termed Orengo's gubernatorial candidature a betrayal to ODM leader Raila Odinga's 2022 State House bid.
The Kenya National Focal Point on Small Arms and Light Weapons deputy director said it was laughable that Orengo, a national politician, who is supposed to play a key role in Odinga's campaigns ahead of 2022 polls was also interested in Siaya governor seat.
"If Orengo believes Odinga is going to win the presidency, he must stick with him until he wins so that he can be the Attorney General or a Cabinet Secretary in that government," said Owino.
He said Orengo's candidature will be a vote of no confidence against Odinga's 2022 stab at the presidency and maybe fodder for his opponents.
"Odinga's opponents will use some of these moves to attack his candidature and show other people he is not in the race to win," he added.
He challenged Orengo to tell Siaya locals why he is running for governor seat when he is one of the senior politicians from the region helping Raila in national politics.
"If he is coming to run for governor seat, he is sending a dangerous message about Raila's 2022 bid, it is a message of betrayal."
Tried and tested
Owino's remarks came after Orengo had downplayed his candidature, saying he was in the race because he was almost retiring.
Speaking at the same burial, the Siaya senator had cautioned Locals against electing people who have not been tried and tested, adding that the current politics needed brave leaders.
"You don't just come to politics because you want to retire, you must be tried and tested," he said.
He told Owino to go slow in his quest to become Siaya Governor because politics was not like a job.
"Politics is very tricky, unlike government jobs, there is defeat, victory and all manner of things."
Orengo, however, called for peaceful campaigns to allow Siaya voters to decide who will take after Rasanga.
The former National Police spokesperson also cautioned politicians who have expressed their interest in the Siaya governor seat against insulting one another and instead sell their agenda to the electorate.
"We should stop politics of name-calling and tell locals what we plan to them should we ascend to the seat."
Owino in February announced he will be contesting for the Siaya Gubernatorial seat in 2022.
He said he is the best candidate for the job, adding that anyone who goes up against him will become irrelevant politically.
Owino hinted he could contest under the ODM ticket, a move that could complicate things for those jostling to succeed Governor Cornel Rasanga whose term is ending in August 2022.
Other politicians rumoured to be eying the seat include Ugunja MP Opiyo Wandayi, former Rarieda MP Nicholas Gumbo, Orengo among others.