Maasai leaders in unity talks ahead of next year elections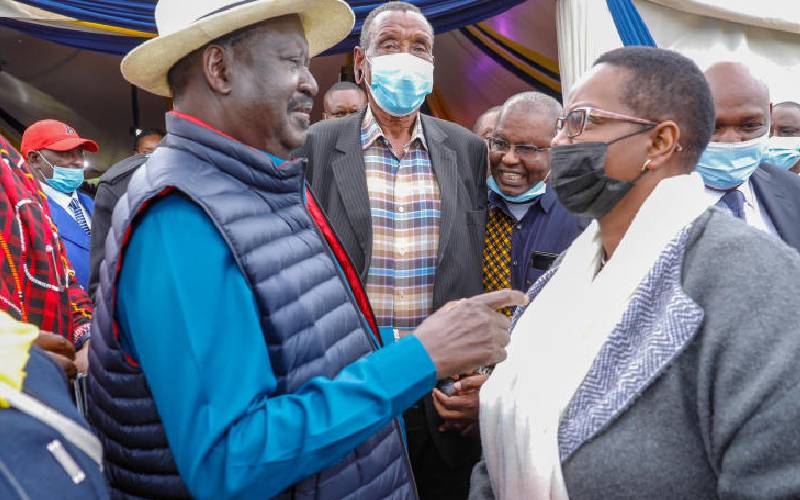 Top political leaders of the Maa community have kicked off talks that will see them work together ahead of the 2022 General Election.
According to the leaders who include governors, senators, MPs and ward representatives from five Maa-speaking counties, the move is aimed at motivating the community to vote as a bloc and boost their political bargaining power.
The leaders ignited the talks in Narok County on Saturday during the funeral of Dorcas Ntimama, widow to the late William ole Ntimama, the fiery community spokesman who died in 2016.
Efforts to unite Maa-speaking people from Narok, Kajiado, Samburu, Laikipia, and Baringo will not only enhance their political stake, but also decide who will carry the leadership mantle, a position last occupied by the late Ntimama for decades.
Kajiado Governor Joseph ole Lenku, who is the chair of the recently formed Narok-Kajiado Economic Bloc, stirred the debate when he called on the Maa leaders to put their political differences aside and unite the community to vote as a bloc come next year.
"Since independence, central Kenya, Nyanza, North Rift and Coast have been voting as a bloc thus increasing their bargaining power in government. As leaders we should also follow suit and put our votes in one basket come next election," said Mr Lenku.
With the 2022 leading presidential candidates led by Raila and UDA allied to Deputy President William Ruto each having a section of the community leaders by their side, the community's unity remains uncertain.
Narok Senator Ledama ole Kina said the community's political support should not be taken for granted.
"If anyone wants to get the Maasai vote he should be ready to show us what he/she has done or will do for us to warrant him or her our vote. We recently saw President Uhuru Kenyatta take goodies to Ukambani. We also want him to bring us goodies," Mr Ledama said.
The senator's sentiments were echoed by Narok North MP Moitalel ole Kenta, who said the community will only work with a presidential candidate who has the interests of the community at heart.
"If you have shown that you detest my community then definitely you should not expect any vote from us," Mr Kenta said.