Raila allies now hit out at Ruto as war of words over graft escalates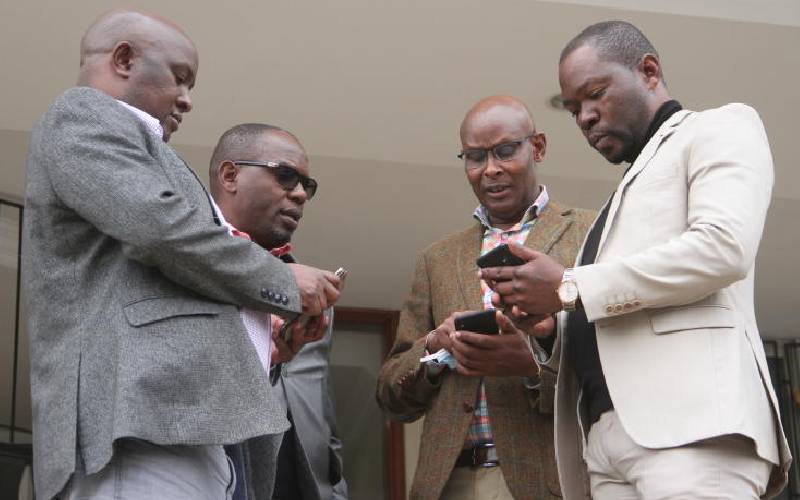 Members of Parliament allied to ODM leader Raila Odinga have questioned why Deputy President William Ruto gets agitated at the mention of the fight against corruption.
The leaders yesterday said that it was baffling that Dr Ruto resorted to attacking Raila for declaring that he would jail corrupt government officials should he ascend to power in 2022. They described Ruto's attempt to link the ODM leader to alleged graft in the Jubilee administration as desperate efforts to run away from the government baggage ahead of the next polls.
MPs Opiyo Wandayi (Ugunja), Caleb Amisi (Saboti), Antony Oluoch (Mathare), Godfrey Osotsi (nominated) and Moitalel Ole Kenta (Narok North) dared the DP to resign if indeed there was runaway graft in Jubilee, where he is the second-in-command.
"Raila did not mention Ruto in his statement. He simply said the corrupt will be jailed. I wonder why Ruto would be agitated and defensive when corruption is mentioned. Does it mean that his name is synonymous with corruption?" Posed Osotsi.
He said Ruto cannot to benefit from government salary, allowances, privileges, residences and machinery when he is doing nothing to support President Uhuru Kenyatta.
"He should be guided by his conscience and honourably resign. When he says he can't leave government because he formed it, then equally he should be ready to carry its baggage. He cannot blame Uhuru for the failures of Jubilee regime while he continues to enjoy the goodies of the same government," added Mr Osotsi.
The Nominated MP claimed that half of the government was being run by Ruto's allies in various powerful positions, including Cabinet Secretaries, Principal Secretaries and heads of parastatals.
Mr Amisi said that some people had become synonymous with graft that any fight aimed at ending it is perceived to be targeting them.
The lawmaker said that Raila has been consistent in the fight against corruption and should be supported for declaring his intention to deal with it when he assumes power. "What Raila said was when we get to Canaan we will deal with corruption. What's wrong with fighting corruption? Does fighting graft mean fighting certain individuals? Why is it that whenever there's attack against corruption you come and say you are being fought," posed Amisi.
Mr Kenta cautioned Ruto against dragging Raila into the Jubilee mess.
He wondered why many of the DP's associates were facing graft charges. Raila on Saturday declared that he would jail corrupt officials in the Jubilee administration and accused certain individuals who he did not name of dishing out stolen money to churches, youth and women groups.
"What is the source of the millions of shillings they carry around and donate to churches? You see them come here in sheep's clothing and claim they will fundraise for women and the youth. They are moving from place to place donating stolen money," he said.
"When we take charge, all the thieves will be taken in. We will ensure that they are arrested and jailed in Shimo La Tewa," said the ODM leader in Mvita constituency, Mombasa County, on Saturday.
But Ruto hit out at Raila accusing him of being a major beneficiary of graft. The DP linked the ODM leader to the Kemsa scandal where certain firms allegedly received millions of shillings for Covid-19 supplies.
"When they were in government, they were stealing from the youth; now they are in the opposition, they have stolen from the sick through the so-called 'Covid billionaires," he claimed.
"It is only in Kenya where the opposition pretends to run the government. The same opposition runs corruption cartels in government and the same opposition tries to run lectures on how to fight corruption. What an irony," added the DP.
Yesterday, Wiper Democratic Movement leader Kalonzo Musyoka told the church to fight against corruption.
He said that religious leaders should be in the forefront to scrutinize monies that are donated to them by certain individuals to avoid being used to sanitize proceeds of graft.