We're assembling a 'heavy machine', Raila says, warning of a 'Tsunami' in 2022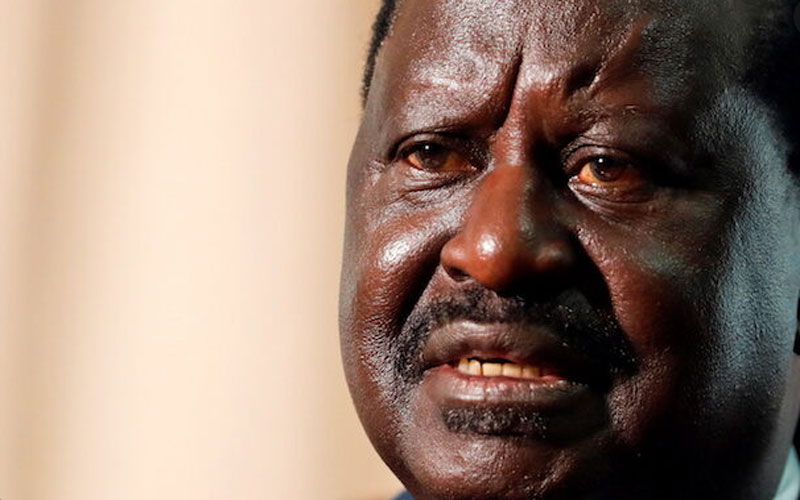 ODM leader Raila Odinga has urged his supporters to trust his political decisions, saying he is assembling a team that no one would want to face in the 2022 General Election.
Speaking in Gem, Siaya County during the burial of former area Member of Parliament Jakoyo Midiwo, Odinga said the line-up he is assembling would sweep across Kenya the same way the Tsunami causes disruptions in areas that it hits.
Odinga also criticised Deputy President William Ruto's bottom-up approach of stabilising the economy, arguing a country's financial health can be only be improved by strengthening policies at the macro level.
"Bottom-up economics should be taken to the dustbin," he said on Saturday, June 26, adding: "There's nothing like bottom-up approach when it comes to the economy."
"What would you be doing with a wheelbarrow or a handcart [in the quest to improve the general economy]?" posed Odinga.
Speaking metaphorically about the 2022 General Election, the former prime minister said: "We are assembling a heavy [political] machine. They (opponents) don't know what is in store. There's a Tsunami coming. I'm urging you [my supporters] to trust me, we know where we are going."
Of late, multiple reports have emerged that President Uhuru Kenyatta has settled on backing an Opposition candidate in the 2022 presidential election.
Kenyatta is said to have asked the Opposition politicians to unite and pick one person whom he will root for in next year's polls.
The President reportedly made those remarks during his meeting with Ukambani leaders on June 14 at State House, Nairobi.
What remains a tall order is bringing on board the former NASA principals, who fell out after unsuccessful stabs at the presidency in the 2017 and 2013 general elections. Ever since the disputed 2017 poll, none of the principals has publicly agreed to work with the other, with different formations and realignments being experimented.
ANC Party leader Musalia Mudavadi, his Wiper counterpart Kalonzo Musyoka and Ford Kenya's Moses Wetangula have all expressed interest in the 2022 presidential race.
During the burial of former Kibwezi MP Kalembe Ndile on June 11, Kitui Governor Charity Ngilu warned Kalonzo Musyoka against going it alone in 2022, saying he needed to team up with Odinga to reduce DP Ruto's chances of winning the presidency. During the event, both Odinga and Musyoka said there was no bad blood between them, and that they could team up again in the 2022 presidential contest as they did in 2013 and 2017.
Musyoka, however, in a subsequent interview with NTV, aired on June 16, said he would be "stupid" to support Odinga again in the 2022 presidential race, vowing to be on the ballot.
Another formation, which has been mooted, is the One Kenya Alliance (OKA), bringing together Mudavadi, Musyoka, Wetangula and KANU's Gideon Moi.
OKA activities have, however, reduced in intensity of late, with rumours of its collapse mounting, especially after Kenyatta reportedly said he would only back an Opposition candidate, who would have been endorsed by all the Opposition parties' leaders.
Speculation is rife that Odinga could be the President's choice after Jubilee Party Secretary-General Raphael Tuju said on June 18 that there were plans to form a coalition between ODM and Jubilee ahead of 2022.
Raila eulogies Midiwo
In his eulogy to Midiwo Saturday, Raila Odinga described the late MP as an "effective debater" during his time as Gem MP between 2003 and 2017.
The ex-lawmaker died of kidney failure at the Nairobi Hospital on June 14. He was aged 54.
"Jakoyo is my relative and my son politically," Odinga said.
"He first tried his hand at politics [in 2002] after putting up a successful hotel business in Nairobi.
"There are some people who are elected to Parliament, but they never speak in the House. When they go up on their feet, they only leave for the toilet. But Jakoyo was an effective debater. When he stood to speak, even the Speaker [of the National Assembly] knew he was about to say something important. He left a good record in Parliament," said Odinga.
Midiwo unsuccessfully attempted to defend his seat on an ODM ticket in the 2017 General Election. He lost in the ODM Party primaries to Elisha Odhiambo, who got 13,400 votes against Midiwo's 8,900 votes. Odhiambo would eventually win the Gem MP race, unseating Midiwo in the process.
Odinga's brother, Oburu Oginga, also lost in the then-primaries. Oburu, who was seeking to run for Bondo parliamentary seat, lost to Gideon Ochanda, the current Bondo legislator.
Raila Odinga said he really wished Midiwo and Oburu would have won the ODM nominations, but "the people had decided".
"I could not impose them on the people after they (Midiwo and Oburu) lost in the ODM nominations," said Odinga.
"We have changed the ODM electoral board. We hope to have a proper nomination process in the run-up to the 2022 General Election," said Odinga, vowing the BBI process, which he and Kenyatta initiated in 2018, will overcome the court hurdle.