Where Raila has gone wrong, says Duale dismissing coaliton against DP Ruto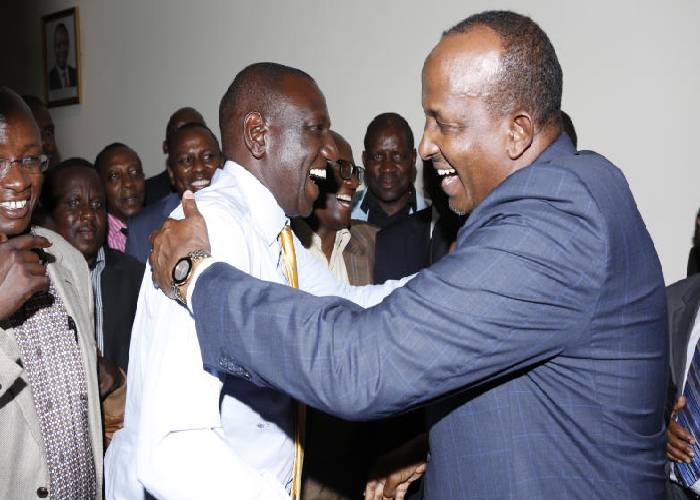 Former National Assembly Majority Leader Aden Duale has poured cold water on the proposed unity talks among presidential contenders against Deputy President William Ruto ahead of the 2022 polls.
In an interview with The Standard Duale dismissed Kitui Governor Charity Ngilu's recent remarks asking ODM leader Raila Odinga and his Wiper Democratic Movement counterpart Kalonzo Musyoka to form a coalition, saying by the time the two will form one, it will be too late to challenge the DP.
He told Governor Ngilu not to bother about Ruto and instead focus on uniting her many candidates for political protection, adding that she is being an opportunist.
"Ngilu is an opportunist who wants to be part of every government, she was in Narc in 2002, with Raila in 2007, with us in 2013 before she was sacked and now with Uhuru to protect herself," he said.
"What she is looking for is a winning team to join but let her leave DP Ruto alone, she can discuss her many candidates but leave ours alone."
Incumbency baggage
Asked who stood a better chance to clinch the presidency in 2022, Duale said the race will be between Raila and DP Ruto, adding that the latter has an edge because of his recent predicaments in the Jubilee government.
"Look at Parliament in terms of numbers, the three powerful politicians are President Uhuru Kenyatta, Raila and Ruto, but President Kenyatta is retiring," said Duale.
Duale said the ODM leader's main undoing in 2022 polls will be the handshake that has caged and forced him to defend the government something he said was unlike the Raila Kenyans have known over the years.
"Raila's credentials as a man of the people and a defender of ordinary Kenyans are gone, he now shares the incumbency baggage with President Kenyatta," Duale added.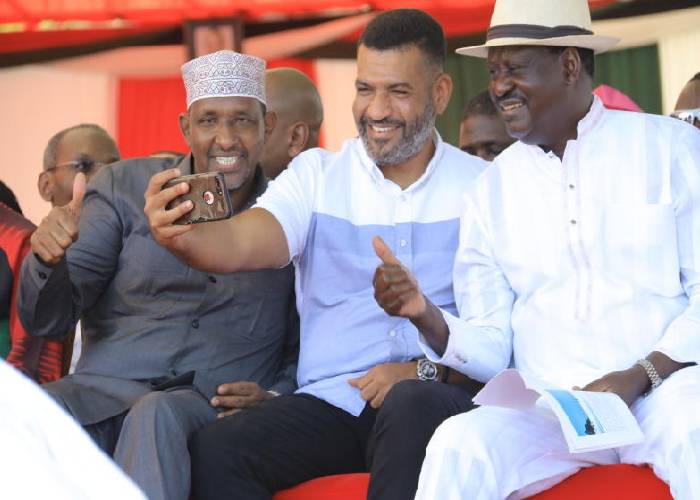 He said the former PM is trying to re-invent himself citing his Saturday statement where Raila asked President Kenyatta to share with the Judicial Service Commission his concerns against the six judges left out in the recent appointment of 34 judges, but time is not on his side.
The outspoken legislator said the ODM leader did not perform well in 2013 and 2017 compared to 2007 because their coalitions (Cord and NASA) took too long to identify a candidate, adding that the same mistake could play out in 2022 polls.
He said unlike Raila and other presidential contenders, the Ruto camp have a candidate in the DP whom they identified as early as 2015 and have started marketing to the voters.
"We have a candidate in Ruto but they still don't have one yet time is running out, it affected them during Cord and NASA and will affect them in 2022."
He dismissed the One Kenya Coalition which has brought together KANU chairman Gideon Moi, ANC's Musalia Mudavadi, Ford-Kenya's Moses Wetangula and Kalonzo as a weak one that cannot defeat DP Ruto.
He said the Ruto campaign team were not worried about the One Kenya Coalition and was busy preparing to face Raila in 2022.
"We in the Ruto camp are not worried about any other contender, our strategy is about a Raila candidate, that the only candidate who can scare us," he said.
On why he went silent after being removed as the National Assembly Majority Leader, Duale said he was an experienced politician who commanded respect across the political divide hence the sobriety with which he handled the removal.
He, however, said he was doing a wonderful job behind the scenes in the Ruto campaign team and expressed confidence ahead of the 2022 presidential race.
"I am a senior politician who commands respect across the political divide, therefore I have to behave like my age, but I am doing things behind the scene in the Ruto campaign team," he said.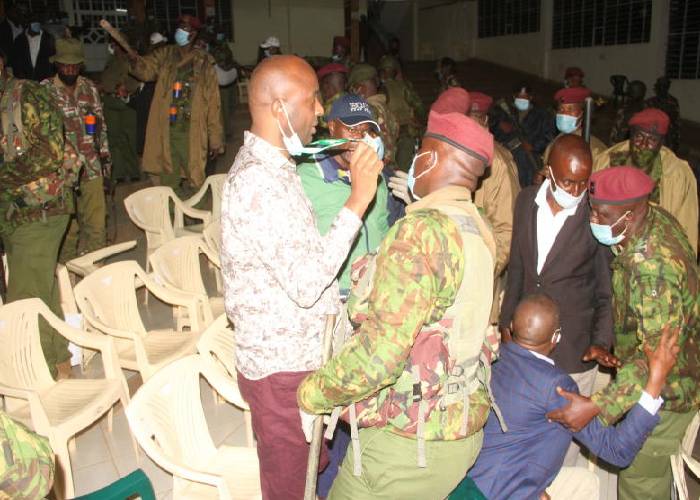 On whether the DP could clinch the presidency without the backing the state machinery, the Garissa Town MP dismissed the deep state talk as an illusion being used by a few people in government to scare their opponents
He cited the recent Juja and Bonchari by-elections where Jubilee candidates lost despite heavy police deployment.
"It is possible, look at what happened in Juja recently and how ODM won in Kisii despite heavy deployment of police and the intimidation that came from the state. These are clear indications that deep state is an illusion."
He also cited the 2017 nullification of the presidential vote as a clear indication that the courts have come off age and will allow no one to meddle with the free will of Kenyans.
"If you rig elections, the courts will do what they did in 2017, so there is no cause for alarm in our camp. We will face the deep state head-on," he said.
IEBC preparedness
Duale said his only fear ahead of the 2022 General Election is how prepared the Independent Electoral and Boundaries Commission (IEBC) and the police service for the election.
He said if the two agencies cannot put in place measures to handle the election, the country could slide into another post-poll chaos like was witnessed in 2007 and 2017.
Duale also named the division between President Kenyatta and his deputy as a concern ahead of the 2022 polls, saying it could lead to chaos during and after the polls.
"My worry is how prepared IEBC and police and the division between President Kenyatta and DP Ruto, if not dealt with in time, the country might slide into post-election violence," he said.
Rising public debt
On the 2021/22 Budget, Duale expressed concern with the ballooning huge public debt, warning that if not addressed could affect the economy negatively.
He challenged the National Treasury to restructure the country's borrowing and go for negotiated loans that take longer to mature and attract low interests.
"We need to restructure our borrowing and loans to reduce our public debt. We must go for bilateral loans that take longer to mature and don't attract higher interests, it is possible," he said.