DP Ruto: Political parties are ethnic ghettos run by tribal kingpins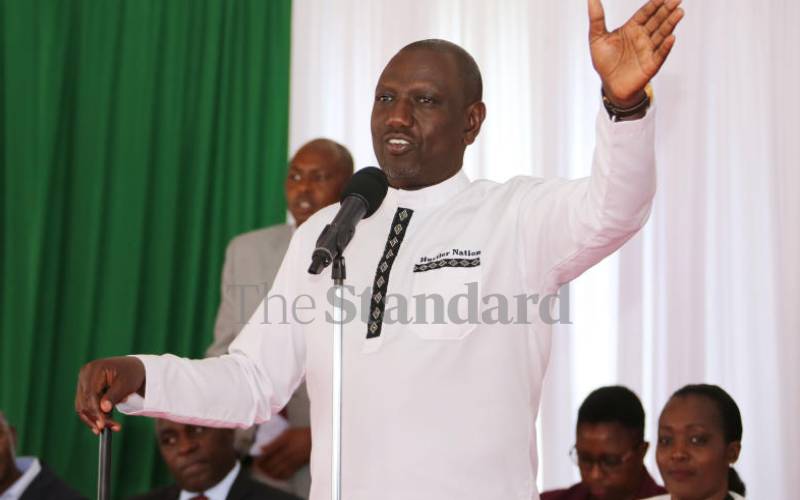 Deputy President William Ruto (pictured) has likened political parties to "ethnic political ghettos", which he said hurt residents' participation in political processes.
Ruto on Sunday shared a statement on Twitter saying political parties today are chaperoned by "tribal kingpins" who care little about decisions that influence the future of many Kenyans.
He said it is time to "engineer a fundamental shift from the perennial politics of personalities, positions, and power to a candid engagement with the people on the economy".
"On this non-ethnic, non-regional and non-divisive political foundation, it is necessary to proceed to a conversation about ordinary Kenyans, the hustlers - the traders, boda boda, mam mboga, farmers, pastoralists, wheelbarrow, taxi-drivers and mkokoteni owners among others-a new conversation that is not about leaders, their positions, their ambitions and their private and personal interests," Ruto said.
His comments come on the backdrop of the United Democratic Alliance (UDA) challenging President Uhuru Kenyatta's Jubilee Party's decision to end its coalition.
Instead, the party linked to Ruto and his Tangatanga wing now want the matter before the Registrar of Political Parties Ann Nderitu left to the internal mechanisms of the two parties.
Part of Jubilee Party's grievances with UDA is that it has been taken over by Ruto's allies and their 'hustler movement', something Jubilee is at odds with.
Secretary-General Raphael Tuju said, "We have found ourselves as strange bedfellows especially with the UDA use of their identity as "hustlers" which has a negative dictionary meaning and connotation."
­Jubilee insists that UDA is stoking class and ethnic divisions by claiming to represent downtrodden hustlers, a contrast to Jubilee's Tuko Pamoja motto, which Tuju said sought to unite Kenyans.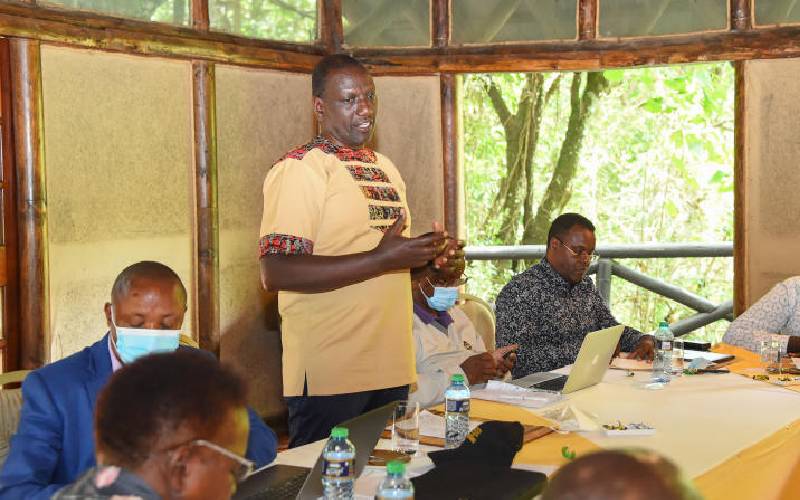 Ruto's statement comes in the wake of meetings with leaders of 11 Mt Kenya region counties between April 30 and May 2.
As he continued to preach the Hustler gospel, the Deputy President added that the number of excluded Kenyans is in the order of 10 million, half of the national workforce.
"To get these 10 million out of the rut, a new approach is not only necessary and desirable, but it is also an existential imperative."
Ruto said after having met a committee of leaders representing 11 counties from Mt Kenya region, the engagement will progressively cover all counties and sections of the economy.
"We have planned similar engagements with Western, Northern, the Coast, Nairobi, Eastern, Nyanza and Rift Valley regions."
The conversations will culminate in a national economic charter that embodies the aspirations of Kenyans at the grassroots, he said.
Ruto is now engaging a fresh political strategy to consolidate support across the country by creating regional caucuses ahead of next year's General Election.
In his statement on Twitter, DP Ruto added, "Over the years, political positions have been created, power has been shared … leaders' interests have been catered for but this has not improved the lot of the overwhelming majority of Kenyans."
He said the trickle-down model excludes millions of citizens from the economic mainstream.